Estimated read time: 3-4 minutes
This archived news story is available only for your personal, non-commercial use. Information in the story may be outdated or superseded by additional information. Reading or replaying the story in its archived form does not constitute a republication of the story.
SALT LAKE CITY — Utah is seeking repayment of approximately $1.5 million in unemployment benefits that were incorrectly paid out during the COVID-19 pandemic, according to data that was sent to federal regulators.
Utah paid $1.2 million in overpayments for Pandemic Unemployment Assistance and $340,000 in overpayments under the Pandemic Extended Unemployment Compensation, the unemployment office reported in October to the Office of Inspector General.
Under the two unemployment programs from the CARES Act, Utah paid out more than $60 million in total claims. The payment accuracy rate for the two programs is more than 97%, according to the Utah Department of Workforce Services.
For a historical perspective, in 2019 Utah had the third-lowest improper payment rate (4.1%) for unemployment insurance when compared to the national average of 10.7%.
"Utah is very proactive about trying to collect those overpayments," said Kevin Burt, director of Utah's Unemployment Insurance Division.
Burt added his office works diligently at the beginning of the process to prevent bad claims from being processed.
"The best way to collect overpayments is to never have them go out," he said. "We were able to identify a lot of identity theft attempts prior to paying them out."
Utah's Unemployment Benefits Guide also indicates that overpayment should be immediately paid back.
"Failure to do so may result in recovery of the overpayment by garnishment of your federal and/or state tax refunds, wages, or a lien against your property," the guide says.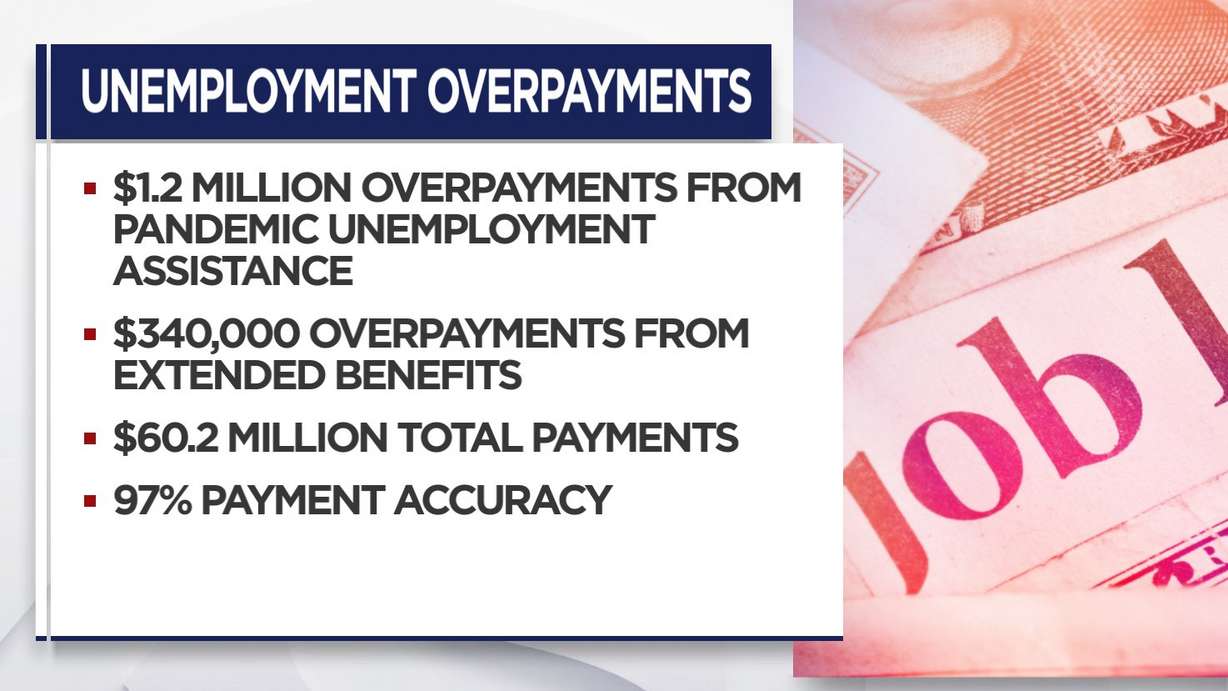 Richfield resident Jesse Camden told KSL-TV he is on the hook to pay back $11,050 in unemployment benefits. He's created a GoFundMe* account and is looking for ways to earn extra money.
"It's not a very good feeling," he said.
Camden said he applied for benefits at the beginning of the pandemic when he couldn't work while waiting for the results of a COVID-19 test.
"I hurt my back 10 days after filing," Camden's GoFundMe description said.
Camden said hurting his back made him ineligible for unemployment benefits since he wasn't capable of working. However, he said he wasn't told that until after he received payments into the summer.
"If they would have told me on April 12 — or even within a few days of then — I would have stopped filing," he said.
Camden said he lost his first appeal and is now warning others to pay attention to the process.
"Ask extra questions, live chat, give them a call, anything you can do," Camden said. "Because you don't want to end up in the same boat as me."
Burt said the state needs to be aggressive in collecting overpayments so that they can keep the unemployment trust fund healthy and taxes low for Utah employers. Outright fraud is also referred for criminal prosecution, Burt said.
To avoid any overpayments, Burt instructs to follow the claims process carefully every week and to accurately report all job contacts and any wages earned.
---
*KSL.com does not assure that the money deposited to the account will be applied for the benefit of the persons named as beneficiaries. If you are considering a deposit to the account, you should consult your own advisers and otherwise proceed at your own risk.
×
Related links
Related stories
Most recent Coronavirus stories