Estimated read time: 8-9 minutes
This archived news story is available only for your personal, non-commercial use. Information in the story may be outdated or superseded by additional information. Reading or replaying the story in its archived form does not constitute a republication of the story.
SALT LAKE CITY — It's believed Utah's population grew by more than half a million over the past decade but there are signs of growth stabilization, according to a new report released Thursday.
At the same time, it appears Utah County is growing faster than Salt Lake County for the first time.
The University of Utah's Kem C. Gardner Policy Institute released its annual state and county population estimates, which projected there were about 3.273 million people living in Utah as of July 1. If that's true, it would be an increase of 509,115 people in the span since the 2010 census was completed — an increase of 18.4%
Of course, the findings of the report are more of a placeholder as the U.S. Census Bureau completes information from the 2020 census. The enumeration for all states is expected by the end of the month, which is when an official count of the population of all the states is revealed. The enumeration for all counties in the country is expected in the spring.
The institute's report provides a possible sneak peek as to what to expect when the census information is released. Although, it's still too early to know what it would mean for one of the most important byproducts of the decennial census: congressional apportionment.
Inside statewide growth
The year 2020 threw a curveball for researchers on this project, just like everyone else. The annual report typically looks at data to make the estimate for July 1 every year. This year, about three-fourths of the information came pre-pandemic, while the remaining quarter came afterward.
As a result, researchers looked at multiple data sources, from birth and death information, tax information, housing data, school enrollment, and even membership records from The Church of Jesus Christ of Latter-day Saints — before and after the start of the pandemic — to come up with a possible answer. Ultimately, they projected a population of 3.273 million, which is an increase of 52,829 people, or 1.64%, from the 2019 estimate.

It's believed that the state's population has grown every year since 2010, but the growth has slowed down a bit. The 1.64% increase in 2020 would be the lowest year-over-year increase since it was 1.37% in 2014, according to the report. The largest growth rate of the decade came in 2017, at 1.93%. It was listed at 1.69% in both 2018 and 2019.
"Utah closed out the decade with another year of strong population growth, a consistent pattern since 2013, although this growth has mostly stabilized since 2018," researchers wrote in the report.
Decrease in births; increase of migration
There are two factors for the population rise, which also help pinpoint this stabilization: birth and migration.
First, there were more babies born in Utah than total deaths reported, but the data indicate the gap — known as natural increase — is slowly shrinking. That's because the number of new births has slowed down while the number of deaths in the state has increased.
There were 52,899 births and 14,302 deaths in 2010, the report says, citing Utah Department of Health data. It estimates 46,510 births and 18,937 deaths in 2020, as the number of births has declined and the total number of deaths has gone up in the years between 2010 and 2020. The birth decline is a trend that's existed since 2008 and exists nationwide, as well, researchers pointed out.
Emily Harris, a demographer for the Gardner Policy Institute, explained that people generally have fewer children in times of uncertainty. In this case, the Great Recession changed trends in births. There were fewer teen pregnancies — which she pointed out could also be seen as a good thing — and people were waiting to have children, which leads to smaller family sizes in the end.
"We're seeing that wave of people just having less children over the course of their entire life, and there's also generational waves that occur just in general," she said. "You have a large generation like the Baby Boom. They have a lot of children happen, and then you have a lull; and then those children become childbearing ages, and then you have more births that happen, and then you have another lull. We see that in the data, as well."
As a result, the projected natural increase for 2020 was 27,573, which is down from 38,597 in 2010. In fact, it's the lowest it's been since the mid-1990s, the report finds.
The second reason for the growth is more people arriving in Utah than departing. Net migration, which is the number of people moving to the state compared to the number of people moving out, continues to be high; this figure was estimated at 25,256 on July 1.

This statistic, experts said, shifts yearly but has remained consistent over the past few years. The year 2020 is the sixth-straight year Utah has ended up with a number between 20,000 and 30,000 new people through net migration.
Utah County leading the way
Southern Utah, northern Utah and the southern portion of the Wasatch Front highlighted year-over-year growth, according to the report. No county saw more percentage growth from 2019 to 2020 than Washington, which grew an estimated 4.06%. It was followed by Daggett County in northeastern Utah at 3.11%. Utah (2.98%), Iron (2.67%) and Tooele (2.54%) counties rounded out the top five.
Utah County's population increased by an estimated 19,437 people from July 1, 2019, to July 1, 2020, which led all counties in total growth. It's the first time Utah County has ever surpassed growth in Salt Lake County, Harris said, and net migration is a key factor for that change. Net migration growth was estimated at 10,531 for the county, which was nearly 4,000 more than any other county in the state. The county also led in natural increase.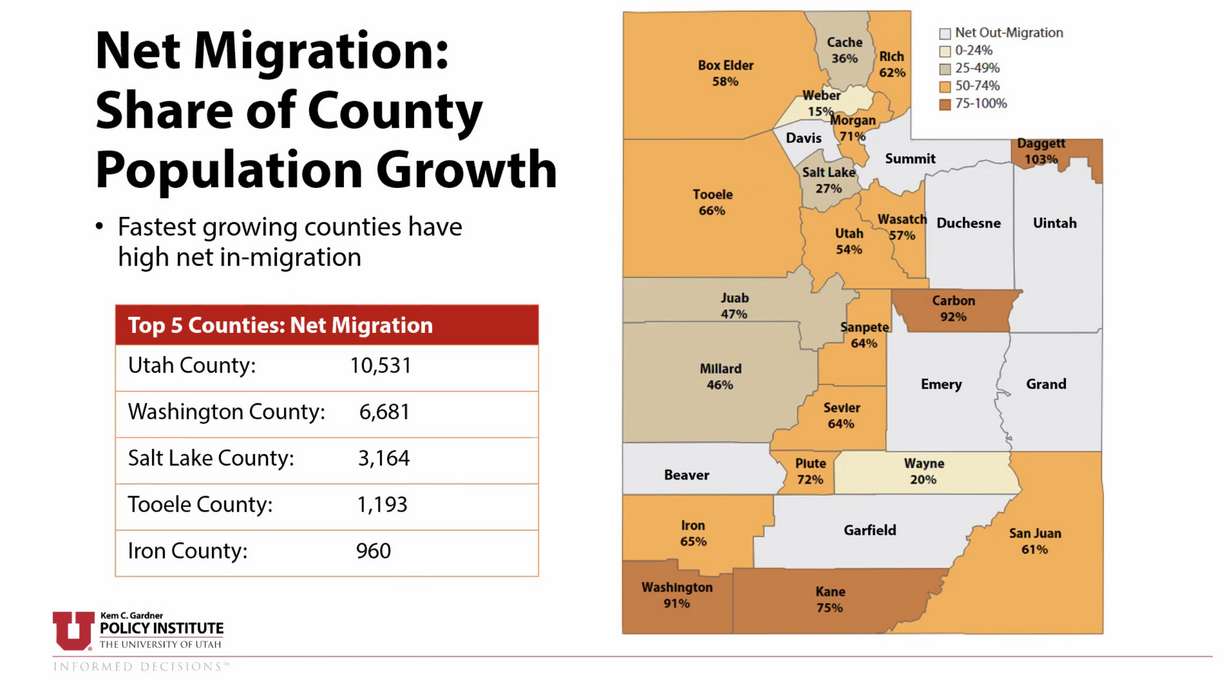 Harris said BYU and Utah Valley University are big draws to the county, but so are more affordable housing and suburban lifestyle.
"(People) want to be able to afford where they live and, right now, Utah County is providing a lot of more affordable housing," Harris said. "There's also a lot of development going on in northern Utah County and that southern Salt Lake County border ... and I think people are jumping at the chance to live in these new homes — places that are a little less expensive."
Emery and Grand counties experienced population decreases of a combined 21 people.
But, what about trends over the past 10 years?
All but three of Utah's grew in population over the past decade, according to the estimates. More impressive, the report projects that 20 of the state's 29 counties experienced double-digit percentage growth over that period of time.
Percentage-wise, Wasatch County experienced the largest population boom in the span of 10 years. The report lists its growth at 42.1%, or 9,914 more residents from 2010. Washington (36%), Morgan (31.2%), Utah (29.9%) and Tooele (24.9%) counties round out the top five, according to the report.
Utah County is believed to have the largest population increase in terms of total people added since 2010. Researchers believe it grew by 154,280 people over that time period. In fact, the Wasatch Front counties continued to outgain the rest of the state in sheer population.
Salt Lake (135,204), Davis (53,446) and Weber (24,232) counties were listed as second, third and fifth in that category.
Washington County in southern Utah had the largest projected population increase outside of the Wasatch Front. The report estimated that its population grew by 49,763 people in 10 years.
Meanwhile, Daggett County, which experienced the second-highest year-over-year growth from 2019 to 2020, was still listed with a 3.3% decrease from 2010 to 2020. Emery (-2.8%) and Wayne (-0.3%) were the two counties projected to have lost residents since 2010. All three combined, it's an estimated drop of 358 people.
Will COVID-19 alter the future?
One of the biggest looming questions is how the COVID-19 pandemic will factor in future population growth. It's still too early to know if it will shake up previous projections for the state, Harris said. The institute plans to release its revised population projections of Utah next summer.
There are some studies showing countrywide movement as a result of the pandemic, but it's unclear how long those moves will last. There isn't much information available about the locations people are flocking to, either. Are they moving away from cities to suburban or rural areas as a result of the pandemic? Experts just don't know yet.
"There are a lot of little studies coming out, using national data, that indicate that people are moving (and) the reasons why they're moving, but there's not a lot of information about where they are moving to," Harris said. "It's really, really hard to know what is real — what are permanent moves, not just temporary moves."
Some preliminary reports also indicate a decline in births for 2020, but there is a nine-month lag before experts can pinpoint if the pandemic will impact births, she added. Therefore, it's still to be determined if the pandemic will result in any significant changes to natural increase in the coming years. It's possible a pandemic-related recession would slow down births in the same way the Great Recession did.
COVID-19's impact on Utah will be interesting nonetheless. State leaders have worked for years to plan ahead for 2050, with projections that the population of Utah will double in the next 30 years. That includes plans for massive overhauls to freeways, transit and housing.
It will take time to figure out what the trends that occurred as a result of COVID-19 are and how they could alter the future. If the 2020 census — which people filled out during the pandemic — captures any of the trends tied to COVID-19, researchers may be able to update models sooner.
It's just as possible that COVID-19 will have no major impact on the long-term future, Harris said.
"These are long-term trend projections; and when you have blips that occur, you don't have to necessarily want to project those 50 years into the future because you know that's not necessarily how people are going to behave and act for 50 years into the future," she said. "We're still collecting data to try and understand how this might happen to impact our projections or if it will at all.
But people are still moving to Utah. People are still having kids. A lot of those are long-term patterns that we don't anticipate will change drastically in the future."
×
Most recent Utah stories