Estimated read time: 3-4 minutes
This archived news story is available only for your personal, non-commercial use. Information in the story may be outdated or superseded by additional information. Reading or replaying the story in its archived form does not constitute a republication of the story.
LOGAN — Genetically engineered golden Syrian hamsters developed by Utah State University researchers played a key role in animal trials of a possible vaccine to protect against the virus that causes COVID-19.
The Rega Institute in Leuven, Belgium, has used the hamsters produced by professor Zhongde Wang and his lab at USU to test the safety and effectiveness of a possible vaccine.
Details of the research conducted by the Rega Institute and its findings were published online in the journal Nature this week.
The candidate vaccine was found to be safe and effective in several animal models by a team of scientists at the institute.
Animal models play a vital role in vaccine research "because we cannot directly test them in humans. We need to use animal models, (it's) very critical," Wang said.
Wang said two pairs of hamsters were shipped to the Belgium lab in 2018 to start a breeding colony in an agreement with his lab.
"The scientists in my lab and I are very gratified that our research is contributing to combating this raging COVID-19 pandemic," Wang said in a statement.
"We also feel grateful for the excellent support from USU's Laboratory Animal Research Center to help us to carry out the research."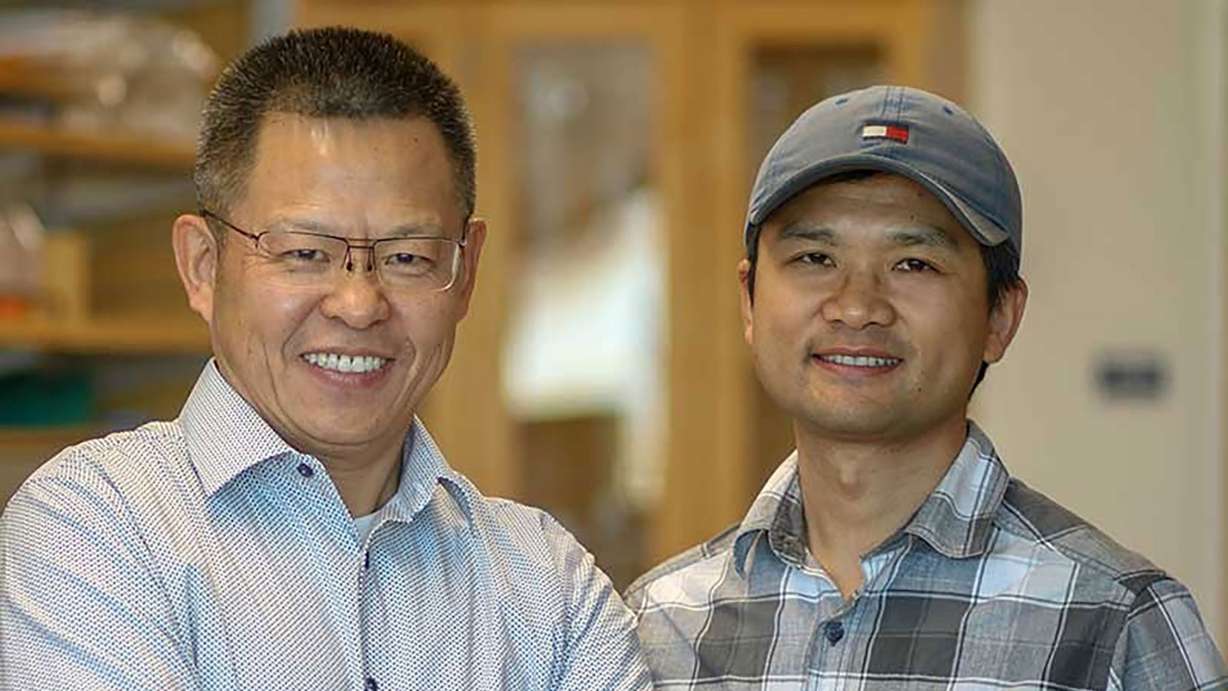 The Wang lab, established at USU in 2012, developed the first genetic hamster models in the world. The models are used in more than a dozen labs and institutions including the National Institutes of Health, the U.S. Army Medical Research Institute of Infectious Diseases, and Public Health Agency of Canada.
Hamsters from Wang's lab are also utilized in COVID-19 and other studies in USU's Institute for Antiviral Research.
"We pioneered development of genetic engineering techniques in this species and now we have about 30 different models. These are 30 different genetic modifications," Wang said in an interview Wednesday,
Typically, rodents carry many disease-causing organisms without becoming sick. The USU lab genetically engineered the golden Syrian hamsters to be susceptible to viruses that infect humans.
Viruses frequently attach to receptors in humans that are not present in animals, which limits effective testing of potential drugs to prevent or treat diseases. Hamsters from Wang's lab have a human gene inserted into their DNA for the receptor to which this coronavirus binds to facilitate testing, according to a university press release.
Because the hamsters are designed specifically to react to disease challenges more like humans, it takes fewer experiments to verify results, which expedites the process and can reduce numbers of animals used in research.
"We take animal welfare extremely seriously, and only the minimum numbers of animals required are used," said Wang, a professor in the Department of Animal, Dairy and Veterinary Sciences, in an article posted on a university website.
"In addition to that, all procedures are approved by Institutional Animal Care and Use Committees. It is essential to use these animals in vaccine studies before trials can be done in human subjects."
×
Photos
Related stories
Most recent Coronavirus stories