PROVO — In some spots, the BYU football team's world has been thrown into disarray.
In others, though, it's still status quo.
The Cougars, like most of the media, were shocked last week when the College Football Playoff selection committee released their initial rankings. On Sunday, it was more of the same.
The weekend after the committee first seeded BYU at No. 14 nationally — a spot that is far from guaranteed a spot in the New Year's Six bowl games, per tradition — BYU held strong at No. 8 in the Associated Press Top 25 and USA Today Coaches Poll. Little changed in the poll ahead of the Cougars, though Ohio State's recent cancellation of a game at Illinois could have ramifications on the playoff, if the Buckeyes become ineligible for the Big Ten championship game.
The Cougars (9-0) are just behind Group of Five power Cincinnati in both polls after the Bearcats' game against Temple was canceled due to a rising infection rate of COVID-19 within both programs. Due to the high number of positive tests, Cincinnati will also be unable to play a game during its bye week Dec. 5 — meaning a potential matchup with BYU that both teams could use for better playoff poll positioning would be off.
Still, head coach Kalani Sitake said the school is actively working to add at least one more game to the schedule. The Cougars are currently scheduled to host San Diego State in the regular-season finale Dec. 12.
Tuesday's ranking didn't change that, and neither will Sunday's.
"Great motivation for our guys," Sitake told ESPN after the rankings release Tuesday. "Love our team, love our players — I think we play a great brand of football with excitement and passion, and we have a lot of work to do and a lot to prove, obviously, in a short amount of time, and hopefully we can get that done."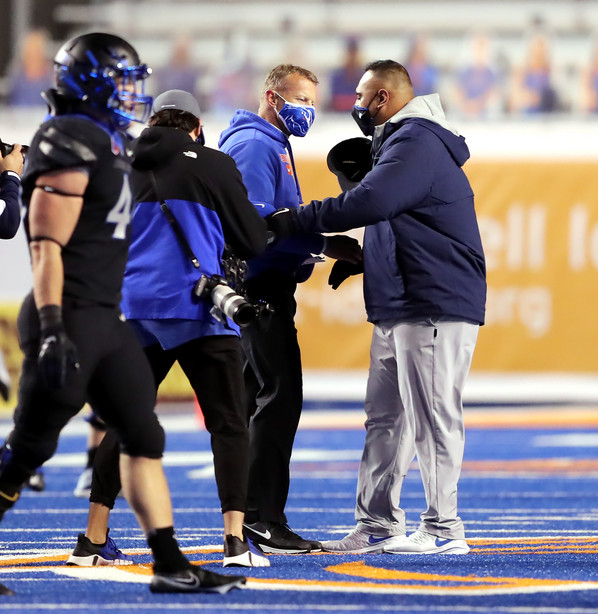 The Aztecs (3-3) went to Colorado after the Buffs' previous opponent, USC, canceled their game Saturday due to COVID-19 — the league's first nonconference game since resuming play in a conference-only schedule a month ago. Colorado never trailed in improving to 3-0 behind the 20-10 win.
The game, however, makes the Cougars' imperative to add another game — preferably against a Power Five team like the Pac-12 — even more essential. BYU was working with Washington on a game last week, but the move "fell through," Sitake told reporters, declining to elaborate further. According to several reports, BYU wanted a guarantee that the game would be played (i.e. a contract) — an agreement the Huskies could not finalize due to Pac-12 regulations.
"When we told them there was a possible game, we had a lot of people cancel plans with hopes it would happen," Sitake said. "When it didn't, our team was very disappointed. But the narrative that we were ducking or hiding or waiting for an announcement to happen is clearly not true. It's a false narrative.
"If it was up to our players, this game would've been scheduled and played as soon as possible. Unfortunately, Zach Wilson and the players don't schedule games."
Instead, by the end of the week, Washington was paired up to host Utah in Seattle, a game the Utes led 21-0 before falling 24-21. It was a move foreseen by the Cougars' own athletic department — and most in the media, in fact — as Arizona State struggled under the heavy toll of the coronavirus, including an infection to sexagenarian head coach Herm Edwards.
So BYU will go back to the drawing board, but more motivated to add another game or two. After Miami's game against Wake Forest was canceled and the ACC indicated the Canes could consider a nonconference opponent to fill the date, offensive line coach Eric Mateos cheekily tweeted at Miami head coach Manny Diaz about a last-minute addition — shades of 1990, indeed.
Sup @Coach_MannyDiaz

— Eric Mateos (@CoachMateos) November 28, 2020
The social media outreach failed late Sunday night, when the ACC announced that Miami (7-1, 6-1) will instead travel to Duke next Saturday, Dec. 5. Kickoff for the Hurricanes' second-straight season with a game against the Blue Devils will be at 8 p.m. ET on the ACC Network.
The search for an opponent continues, but BYU athletic director Tom Holmoe will continue looking.
"We remain open to exploring options to add football games, and have been throughout the season," Holmoe said in a statement. "In that exploration process, there are a variety of factors that need to be considered, including location, prep time for the game, the chances of the game being played, the testing protocols that are in place and what the game would do for our resume.
"At this point of the season, having played nine games and being nationally ranked, we are involved in discussions for possible matchups with other teams, on common open dates, for the benefit of both teams."
Holmoe followed up Sunday night on Twitter.
I feel ya, Coug fans. Feelers are out, teams and conferences are aware and another week in 2020 college football season begins," Holmoe tweeted. "Our plan: work to stay healthy and be ready to go if the opportunity is presented. Players and coaches are ready to play."
Josh Furlong's AP Top 25:
×
Related Links