PROVO — By most accounts, BYU football was the biggest loser Tuesday night when the College Football Playoff selection committee emerged from its in-person meetings in a hotel conference room in Texas during a global pandemic and released its initial top 25 list of teams in the country.
The Cougars, who have ranked in the top 10 by both Associated Press voters and coaches in the USA Today/Amway Coaches Poll for a month, found themselves in the same position they did when the Pac-12 invited Colorado and rival Utah to join the Power Five conference: on the outside, looking in.
BYU head coach Kalani Sitake tried to smile through it all, first with an on-camera interview with ESPN moments after the rankings were released — donning his best blue dress shirt and suit normally reserved for occasions far beyond the weekly media briefings and interviews he's done in the five years since taking the top job at his alma mater — and a few minutes later on a conference call with local media.
"We were excited about the season, about the schedule, about the depth to this team," Sitake said after the Cougars were proclaimed the No. 14 team by the CFP powers-that-be. "We've had to pivot quite a bit as an athletic department and football team, and had to make a lot of adjustments to the schedule.
"I remember watching the basketball team and the success with them, and track and field, cross country, volleyball. It's a good time, and it's nice to be mentioned with all of those sports in terms of success."
Gary Barta, the Iowa athletic director who chairs the selection committee (and whose Hawkeyes were ranked No. 24 on the same week they finished 3-2 and received 15 votes in the AP poll, an unofficial ranking of No. 30 in that oft-discussed ballot), was complimentary of the Cougars.
"The committee is very impressed with BYU. Zach Wilson is definitely a Heisman candidate playing at a high level," Barta, who was the athletic director at Wyoming from 2003-06, told ESPN. "But as you look at their schedule, with the best win against Boise State that was short-handed in that game. The committee is very impressed with BYU, but certainly (the Cougars') schedule compared to the teams around them came into play."
Good job, good effort. Here's a pat on the head; now go enjoy your three-week break before playing San Diego State in the season finale Dec. 12, were essentially the words Barta spoke.
Barta praised the Cougars' quarterback, extolled their schedule, and made mention of how "impressed" the committee was — which also includes Wyoming athletic director Tom Burman and Oklahoma's Joe Castiglione on the 10-member panel that includes just one woman and two people that have not spent time as FBS athletic directors or head coaches.
Barta even offered a backhanded compliment to the Cougars' 51-13 win at Boise State.
"Well, to start with, when you look at the schedule, look at the teams, as I mentioned earlier tonight. Right now, BYU's best win is over Boise State, and in that game I think they got down to their third-string quarterback," Barta said. "BYU has played three teams against .500 or better opponents, but when you move over to Cincinnati, they're 4-0 against .500 teams and had quality wins as recently as this past weekend against Central Florida but also earlier against SMU."
Sitake saw those comments on ESPN. He was not impressed.
"Last I checked, I didn't know the quarterbacks for Boise State play defense," said Sitake, referring to backup Jack Sears, who was concussed in the first half against BYU, and third-string freshman Cade Fennegan, who debuted against the Cougars. "We know how hard it is to win with your third-string quarterback. We did it last year. I just know that we have a team that is really deep.
"We've never been full-strength, but we don't cry about it, either. We just go on and play."
If the committee, through its chair, was bringing up schedules, perhaps they were referring to a reported spat the Cougars had with Washington days earlier.
There were several reports, many of them confirmed by Patrick Kinahan, about a proposed game with Washington this week. After the Huskies' Apple Cup rivalry was shut down as a result of COVID-19 within Washington State's program, Washington approached the Cougars with an invitation to play over Thanksgiving weekend in Seattle.
More from Patrick Kinahan:
According to several reports — most coming from reporters that cover either the Huskies or the Pac-12 — BYU was "resisting" the invitation. Those reports were turned over to the press and reported Sunday night, when at least one source saying the deal was "off."
But was it?
"When we told them there was a possible game, we had a lot of people cancel plans with hopes it would happen," Sitake said. "When it didn't, our team was very disappointed. But the narrative that we were ducking or hiding or waiting for an announcement to happen is clearly not true. It's a false narrative.
"If it was up to our players, this game would've been scheduled and played as soon as possible. Unfortunately, Zach Wilson and the players don't schedule games."
One source inside the BYU program said the Cougars were hoping for a guarantee from the Huskies — a contractual obligation that the two sides would play that week. Of course, Washington couldn't do that; under Pac-12 rules for nonconference games, any conference opponent that needed a game by Thursday night would be automatically paired with another Pac-12 foe with an opening. If the Huskies had a game set up with BYU and, say, Utah had an opening by Thursday, the Cougars would be out a game.
On Tuesday evening, with Arizona State struggling to field a roster due to COVID-19, the Sun Devils canceled their game with Utah. That meant the Utes and Huskies were matched up.
Still, even without the game scheduled, the Cougars gathered on the practice field Monday afternoon and held court. They busted out the black helmets — the ones they are supposed to wear against the Aztecs in December — and went through several game plans. The opponent in those plans? The Huskies, Sitake admitted Tuesday.
The game wasn't official, but Sitake thought it could still happen. So he wanted to be ready; COVID-19 has forced cancellations and last-minute adjustments before, after all.
"We had to pivot and work and maneuver. … When the Mountain West joined, I'm grateful they allowed us to play two of their best teams. That's awesome," Sitake said. "North Alabama stuck with our game. I'm grateful that all of those guys stuck with it. But we couldn't control any of that.
"We've never not wanted to add games. That's been our chant from the very beginning. That's kind of a deal for 2020."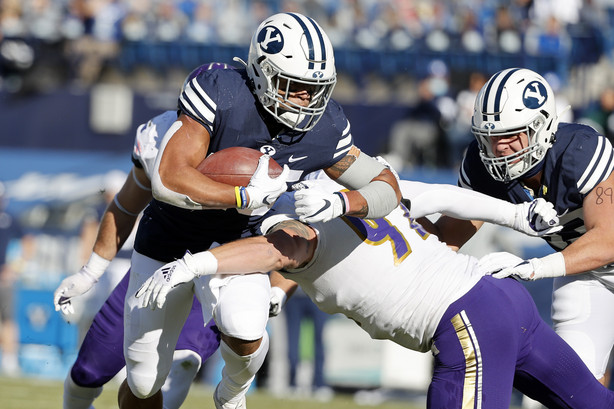 The committee may be "impressed" with the Cougars, but not enough to give them anything conclusive in their initial rankings. That drew the ire of several in the college football media, principally among those who don't cover BYU locally.
If any media felt like BYU was "ducking" Washington a few days prior, most of them were firmly back in the Cougars' camp by the end of the day Tuesday.
"If the committee 'watched the games,' they'd certainly have BYU ahead of some of these other teams," tweeted Matt Leinart, former NFL quarterback and FOX Sports broadcaster.
"My gosh, BYU, No. 14?" exclaimed ESPN's David Pollack on the set of the Worldwide Leader. "That is absolutely nuts to me, just watching how dominant they are, not just analytically but physically when you run the tape."
ESPN's Mike Golic Jr. called the "disrespect" the committee showed for BYU "insane."
"I'm genuinely surprised the eye test year didn't reward BYU more," Golic said on Twitter. "The 'I know what I see' portion of that room let me down here."
"I'm still blown away we've got BYU down at No. 14, and Indiana at 12," said ESPN's Kirk Herbstreit, who called the Cougars' opener against Navy, during the broadcast. "BYU's AD better get on the phone with Seattle and get as many games as it can."
"I have an answer for Kirk: no, this committee hasn't watched the games we've watched," said FOX Sports broadcaster Tim Brando, who called the rankings "pure playoff privilege." "BYU being where they are (is) nonsensical, regardless of schedule. Watch the games. It's almost as if they're punished for leaving the Mountain West. I didn't like the move!"
9-0? Ranked 14? But that's none of our business... 🐸☕️ https://t.co/dU5xZlJ1h9pic.twitter.com/gpvDEZCjID

— BYU Sports Nation (@BYUSportsNation) November 25, 2020
To be clear, the Cougars' dreams of earning a berth in the College Football Playoff were always that: a dream. With just four teams eligible for the seven-year tradition that crowns the sport's national championship and three spots all but guaranteed to Alabama, Ohio State and at least one of Notre Dame and Clemson, the chances of BYU — really, anyone but a small fraction of teams in the country, including No. 7 Cincinnati — making college football's final rounds were slim, at best.
But the committee also determines the New Year's Six bowl contenders, the list of honorees sent to multimillion-dollar bowl games over the New Year that finish outside the current power structure. It's a consolation prize, but one worth $6 million for each institution, plus the prestige and privilege that comes with playing on the sport's biggest stage.
In the history of the CFP, the top 12 have been all but guaranteed a spot inside that structure. At No. 14, BYU is one again in that same territory: on the outside, looking in.
×
Related Links