SALT LAKE CITY — Donovan Mitchell has lived the dream; he'll be the first to admit that.
Every kid fantasizes about being in the NBA, every draft pick visualizes himself as a star. Mitchell is no different — and like most everyone else, he didn't expect it all to come true.
"What I did my rookie year, I was in shock, to be honest with you," Mitchell said. "I didn't expect it all to happen so fast. I'm just gonna continue to do what got me here, and then continue to be the same person, same player, same work ethic and everything else will kind of just fall into place."
That's been his approach since storming the league as a rookie and it'll be the same approach he takes now as he becomes part of the NBA's maximum deal club. On Friday, Mitchell signed a five-year extension with the Utah Jazz. The deal will kick in at the beginning of the 2021-22 season and pay him up to $195 million (the fifth year on the deal is a player option).
With the new distinction, Mitchell now expects even more from himself.
"It's an honor, but it doesn't stop there for me," Mitchell said. "I look at it as we blew a 3-1 lead this year, I look at it for myself as we need to find a way to get over that hump in the first round, find a way to push and get to a championship. That's really on the forefront of my brain."
He likes Utah's chances, too. He was happy with the moves to re-sign Jordan Clarkson and to bring back his old friend Derrick Favors. He thought the team showed well in the bubble in Orlando even without second-leading scorer Bojan Bogdanovic. That all gives him confidence that greater things are ahead.
But he, like just about everyone, knows Utah's ceiling depends on him. If he can be the superstar-like player that he showed in the first round of the playoffs, then the Jazz can be contenders.
The good news for Jazz fans: he thinks he can get better.
"Everybody saw the 50-point games, whatever, but what I saw was I was making plays that were not even just scoring but finding guys, putting guys in position to score, doing the same thing for others that I hadn't done in my first three years," Mitchell said. "So for me, that was really the jump that I saw and I could continue to make."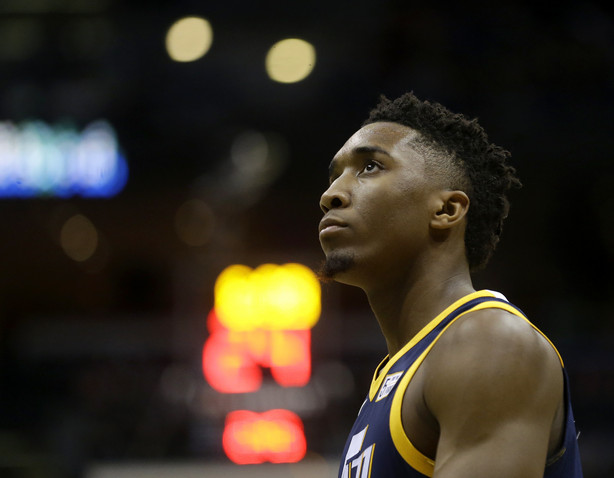 Mitchell will have some incentive to put together a special season. Right now, Mitchell is in line to make $163 million on the five-year deal. If he earns an All-NBA nod this season, it jumps to $195 million.
"It's a goal that I've set for myself, don't get me wrong, but at the end of the day, when you're winning everything else falls into place," Mitchell said. "It's not just in the regular season we have to win, we need to win in the playoffs. We need to do things to put ourselves right there for the championship. That's the ultimate goal."
As for getting the option on the fifth year, a sign that many Jazz fans have pointed to as a worrisome sign that he is looking to leave the organization, Mitchell said he simply wanted to do what's best for his family. It might be less about loyalty and just about smart business. Mitchell could be eligible for a supermax extension following his eighth NBA season, which is right after fourth year of the new deal.
Mitchell said the extension is "life-changing" for both he and his family. He might be able to add a few more people to that list, too. Mitchell is already considered one of the more generous players — both with his time and money — in the league.
He surprised local students with backpacks and shoes. He donated $25,000 to the daughter of one of his elementary school teachers so she could finish college. He's paid for repairs, for groceries and gifted jerseys and shoes at random birthday parties. During the beginning days of the pandemic, he even paid for school meals for the Granite School District. And those are just some of the ones we know about.
"I'm in a position now where I can do things on a higher level," Mitchell said. "As far as giving to kids who are maybe going to college who can't afford it, giving back to schools, giving back to kids who can't even afford groceries or different things — think that's really where my focus is. … I'm gonna continue to do what I've been doing."
×
Related Stories