SALT LAKE CITY — COVID-19 has been present in Utah for eight months, giving us more information about the disease than we had when it emerged in March.
Many questions about the virus remain, with even more misinformation being spread across social media. The KSL Investigators wanted to find truth to some of the most pervasive rumors, starting with: "The flu is worse than COVID."
Spoiler alert – that is false. It's a COVID-19 misconception.
How the rumor started
In February 2020, when COVID-19 had infected almost no one nationwide, National Institute of Allergies and Infectious Diseases Director Dr. Anthony Fauci made statements to different media outlets that the flu was more worrisome than COVID-19.
As cases grew, and more research on this novel virus became available, Fauci reversed those statements, indicating COVID-19 "is 10 times more lethal than the seasonal flu." The information he initially provided in February seemed to stay in people's minds.
More are hospitalized from COVID-19
The KSL Investigators went to Utah Department of Health's Becky Ward to find answers on Utah's COVID-19 vs. influenza data. Ward is a health educator in the department's Bureau of Epidemiology.
"COVID is so much more serious," said Ward. "It spreads easier, and it is more infectious."
Looking at the state's influenza report, the 2017-2018 flu season was the most severe of the last six years. That year saw a cumulative hospitalization rate of 71.06 per 100,000 Utahns.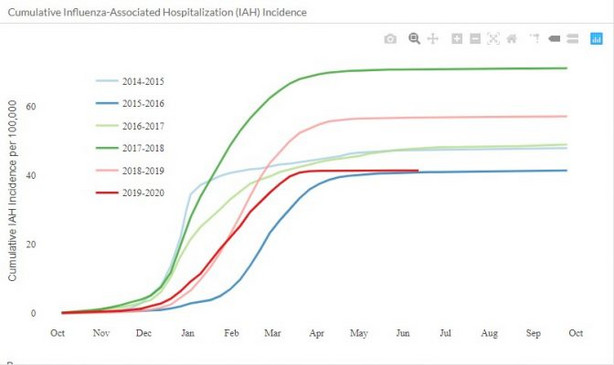 Ward indicated COVID-19 hospitalizations since March 2020 have a cumulative rate of 213.95 per 100,000 Utahns.
That's three times higher than the flu rate.
"What we have been seeing is that COVID causes more hospitalizations, and it has caused more deaths," said Ward.

COVID-19 deaths much higher than flu in Utah, nationwide
Getting good records for flu deaths is not easy in Utah, as Ward told us the state only tracks pediatric deaths caused by the flu. Adult flu deaths are lumped in with pneumonia and other respiratory illnesses when keeping track of deaths for vital statistics records.
Ward referred KSL to the Centers for Disease Control and Prevention for that data. The most recent CDC data available from 2018 shows 353 Utahns died from influenza and pneumonia that year.
COVID-19 has already killed more than twice that number in Utah, with 808 deaths as a result of the virus as of Nov. 24.
Nationwide, flu and pneumonia killed 59,041 people in 2018. The national death rate from COVID-19 is four times that. In fact, the 257,016 deaths across the U.S. have now exceeded the combined total of nationwide flu deaths in the past six years.
In fact, Johns Hopkins University and Medicine estimated the U.S. death toll to be 259,641.
Related:
Vaccine on the horizon
The flu vaccine helps limit the spread of the disease each year.
"We know they work," said Ward. "That vaccine helps prevent severe complications of people who are sick. So, just even getting an influenza vaccine does not mean that you're absolutely not going to get influenza, but if you do, you're much less likely to be hospitalized and you're much less likely to die from influenza."
Currently, three companies with COVID-19 vaccines are seeking FDA approval, and health officials are optimistic they will be available for phased disbursement, beginning in December.
Until the general public can access those vaccines — which could likely be in late spring for Utah — Ward urged continued caution and hygiene.
"Because we still don't know a lot about this virus, we need to follow these recommendations to try to keep it from spreading and keep those cases from increasing," Ward said.
Have you experienced something you think just isn't right? The KSL Investigators want to help. Submit your tip at investigates@ksl.com or 385-707-6153 so we can get working for you.
×
Related Links
Related Stories