BOUNTIFUL — Bountiful High School Principal Aaron Hogge will announce on Monday, Nov. 30, his decision whether to keep the school's Braves mascot or start the process to select a new one.
School administrators embarked on a process to review the high school's mascot starting in August, seeking the input of representatives of the Northwestern Band of the Shoshone Nation; current Bountiful High School students, faculty and staff; as well as community members who live within the school's boundaries with children who attend feeder schools, according to a statement from the school district.
The school conducted two listening sessions in October and has received written comments from the school community and others interested in the issue.
A consultation committee was empaneled to identify and discuss concerns that have been presented regarding the mascot, listen to the various perspectives of stakeholders on the issue, and discuss potential solutions moving forward, according to the statement.
"Because the decision of school mascots and school colors are made at the school level, the decision to keep the mascot or choose a new one — in this instance — is being made by Bountiful High School Principal Aaron Hogge," district spokesman Christopher Williams said in the statement.
Hogge will share his decision at 4 p.m. in a prepared video to be shared on the school's YouTube channel.
Earlier in the day, Rep. Elizabeth Weight, D-West Valley City, announced that she will carry a nonbinding resolution in the 2021 general session of the Utah Legislature that acknowledges the harm done by using Native American school mascots, urges public schools to retire those mascots, and encourages the State Board of Education and local education agencies to provide instruction in Native American culture and history.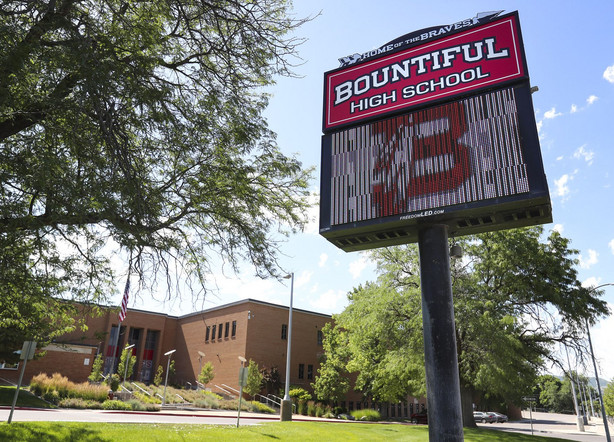 The Native American Mascots and Equality in Public Schools resolution, or NAMES resolution, is still being drafted and not yet available for public view.
Weight, a Bountiful High alumnus, said even in her days as a student 50 years ago she found the mascot "embarrassing" and "uncomfortable."
"And now it's become shameful for me," Weight said in a press conference at the school Tuesday.
Anticipating Monday's announcement, Weight said, "I would be so excited to hear if Bountiful High has decided to retire that mascot and ease into another one. This has been a really interesting awakening for them this summer."
Earlier in the school year, the school painted over several images at the school that depicted "savage Indians and language that promoted this identity," Weight said.
The announcement will occur on the last day of November, the final day of National Native Heritage Month, which some say may be a hopeful sign, she said.
"I don't know. But I do know that if their decision is not to retire the mascot, there will be ongoing interest in encouraging them to reconsider," Weight said.
James Singer, a representative of the Utah League of Native American Voters, spoke in support of the resolution.
---
I'm sick and tired of seeing racism as something fun.
–James Singer, Utah League of Native American Voters
---
Singer said the use of Native American mascots by public institutions is dishonorable "because they are inaccurate and dehumanizing. They end up mocking the hundreds of distinct Native American societies and peoples, our beliefs, our culture, our practices and our essence."
Some claim the depictions of Native Americans are done in the name of fun, he said.
"I'm sick and tired of seeing racism as something fun," he said, adding, "No native kid, no white kid or kid of any ethnicity suffers from psychological or sociological harm when schools do the right thing and get rid of their Native American mascots. The same cannot be said when they are maintained."
Weight's resolution challenges all Utahns to better understand their shared history and better understand one another, said Singer.
"Representations matter and it's time to show some courage to change the name," he said.
---
We can right a wrong here. We know better now than we did in 1951. It's time for us to do better.
–Mallory Rogers, Bountiful High graduate who started petition to change the mascot
---
Mallory Rogers, a 2013 graduate of Bountiful High School who started a petition in July to change the mascot, said she is hopeful that the school's administrators will agree to retire the Braves mascot.
"I'm hopeful. I'm hopeful that they saw the resolution and they wanted to send the message that they're on board. That's my hope," she said.
The mascot dates back to 1951 and "like many other Native mascots, was put into place by white people," at a predominately white high school, Rogers said.
Over the years, critics say it perpetuated inaccurate stereotypes and exploited Native Americans.
"We cannot expect our indigenous brothers and sisters to fix the problem that we created and continue to uphold. We can right a wrong here. We know better now than we did in 1951. It's time for us to do better. Therefore, we need to demonstrate our commitment to equality and justice for all and dismantle Native mascots in Utah," Rogers said.
×