Estimated read time: 5-6 minutes
This archived news story is available only for your personal, non-commercial use. Information in the story may be outdated or superseded by additional information. Reading or replaying the story in its archived form does not constitute a republication of the story.
SALT LAKE CITY — One game into its season, Utah will be forced to make a change at quarterback.
Starter quarterback Cameron Rising, who left Saturday's game in the second quarter due to an apparent shoulder injury, has suffered a season-ending injury, Utah head coach Kyle Whittingham said Tuesday morning.
"Obviously a disappointing loss in Week 1. The biggest loss is Cam Rising," Whittingham said. "It looks like he's done for the season, at least that's what has been indicated to me. Barring a miracle, he's not going to be back with us. And so we move forward and Jake Bentley is our guy. We'll just continue to get ready and go through the season, so that's where we're at."
The extent of Rising's injury or the timetable for his return were not immediately known.
Rising was named the team's starter two weeks into fall camp but it was not made publicly known until he went out for the first snap of the game against USC Saturday. His first start was a mixed bag as he completed only 3-of-6 passes for 45 yards, and had an interception and fumble in just over one quarter of play. Rising left the game on the play where he fumbled the ball.
In his absence, Utah brought in Bentley, a senior transfer from South Carolina, to lead the team. He, too, struggled to get the offense moving initially, but finished throwing for 171 yards and one touchdown on 16-of-28 passing. Bentley also contributed two interceptions in the loss.
"We have full confidence in Jake moving forward, and it'll be a big benefit to him taking all the reps with the ones this week," Whittingham said. "He should be more comfortable and settled in this next game.
"He performed very well in the SEC, so it's not like it's an unknown commodity," Whittingham added. "We can build the offense around Jake now and his skill set, and away we go."
Bentley, who was named a team captain during fall camp, took ownership for Saturday's loss.
"It's always tough, especially, the opening drive after the defense has been — they've already got their opening drive out of the way," Bentley said. "But it's not an excuse at all. I was fully prepared before the game to go out there and execute, and took a little while to get going there as an offense. That's something we'll definitely look at for sure and get better at that.
"It's definitely something that we can fix, and we're going to be committed to fixing it," he added. "Because it's something that we have to be better at if we expect to win games, and that's as a group — everyone included."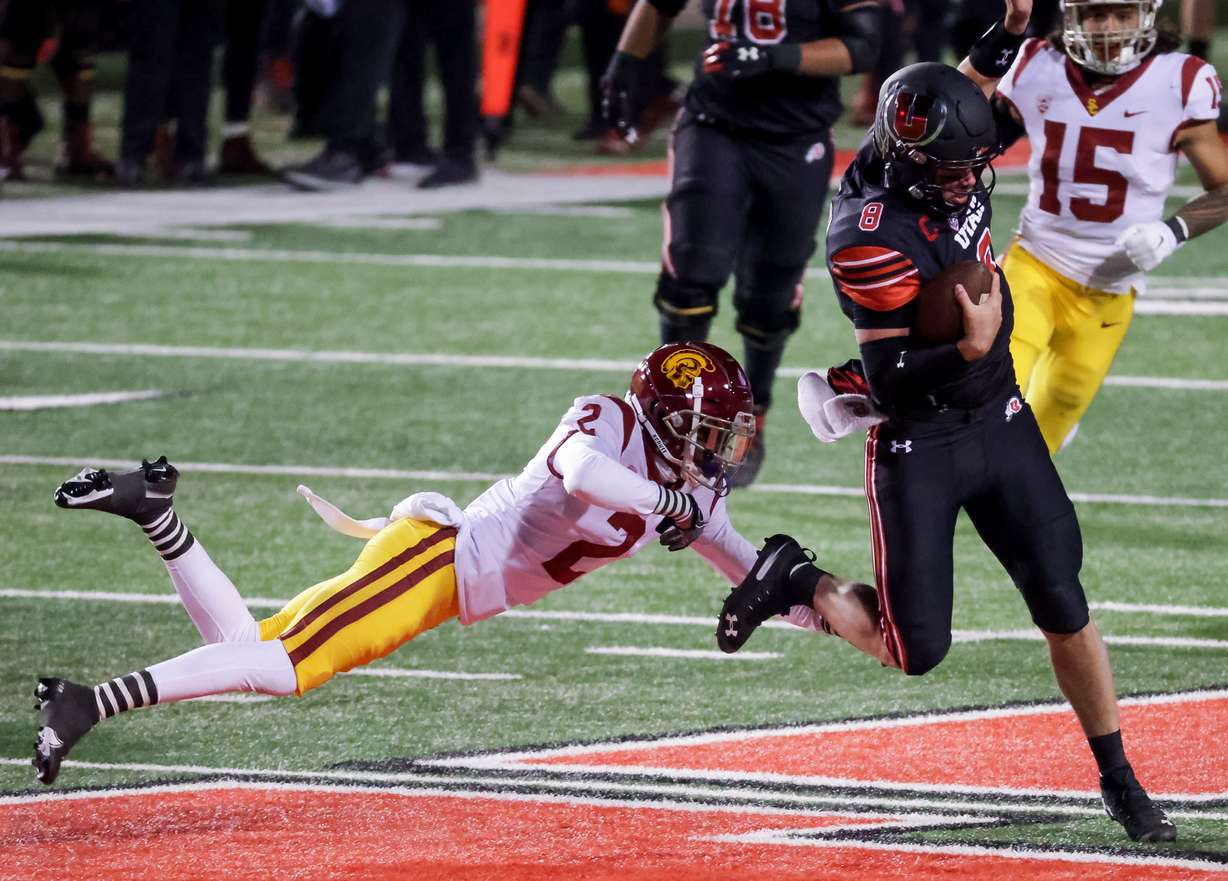 Coming into the season, Whittingham said he expected the offense to be further along than the team's defense that had to replace nine starters. But Utah didn't get much production from the offense and said much of that was due to the offensive line not getting the push up front like he had expected.
"Well, there was other factors as well, but that was the main problem," Whittingham said. "We didn't control the line of scrimmage like we expected to — credit SC, they did a nice job with the defensive line in the front seven, in general. We were expecting much more control at the line of scrimmage, and better push, and we didn't get it. That was really the most pressing issue and the thing that was the biggest, most problematic force in that game was exactly that.
Whittingham added that the No. 1 issue, though, was Utah turning the ball over five times — three interceptions and two fumbles.
"We turned the ball over five times, that's the biggest statistic in the game. If you play a team like SC, you can't turn the ball over five times and have a chance of winning, which doesn't happen, so that was No. 1 as far as what occurred execution-wise."
Utah will look to bounce back Sunday when the team is expected to travel to Tempe, Arizona, to take on Arizona State. The game was pushed back a day as Arizona State hopes to have enough players available due to the effects of positive COVID-19 cases running through the team, including head coach Herm Edwards.
The game, however, is anything but guaranteed and there's a chance Utah will be traveling to Washington. The Huskies already lost a weekend contest against rival Washington State, who was forced to cancel the game due to the virus. Whittingham said his team is preparing for Arizona State, but has some Washington prep in case the game is switched later in the week.
"I understand that we'll be on the road, regardless of who we play — at ASU or at (Washington)," Whittingham said. "It looks like the possibility of a home game doesn't exist for this week. And it will be either — Washington would be on Saturday, whereas ASU would game be on Sunday. That's my understanding."
Nothing like short prep for two different teams, but 2020 has a way of throwing a curveball at any chance it gets.
"Well, all the focus, right now, is on ASU until we're told differently; that's where we're going to put the majority of our attention — I say the majority because you still have got to pay attention to the other possibility — but that's what our primary focus is. And we hope to find out sooner rather than later. It would be ideal if we could find out today.
"As the week moves on it becomes more of a difficult situation without having some clarity, but we have no control over that, as far as I'm told. So we're just waiting for a definitive answer. And until that point, like I said, the main focal point is, Arizona State."
×
Most recent Utah Utes stories