PROVO — At first glance, there was little to note after BYU's 66-14 win over North Alabama.
The margin of victory was consistent with what one might expect from a team ranked No. 8 in the Football Bowl Subdivision facing a squad transitioning to the Football Championship Subdivision in a winless fall season.
But head coach Kalani Sitake was just happy his squad got to play. Truth be told, he wanted to play this game — not just for his guys, but for the Lions.
When the Cougars' schedule was thrown into chaos over the summer due to the coronavirus pandemic, North Alabama (along with Houston) was among the only teams that stuck to its contract to play BYU. The Lions even canceled its spring season after the FCS shifted seasons, becoming one of three Big South schools to do so (it likely helps that UNA as ineligible from postseason consideration).
Sure, schools like Boise State and San Diego State came back to fill out BYU's slate, leaving a 10-game schedule that has a very real possibility of sending the Cougars to their first 10-0 start since 2001 with a win over San Diego State (3-2) on Dec. 12.
But BYU wanted to play Saturday's game, the one against a team that seemed overmatch from the first play of the game — a 50-yard bomb from Heisman Trophy darkhorse Zach Wilson to ace receiver Gunner Romney — to the last kneel down by backup Baylor Romney. Whatever the contract was, whether it was for a guaranteed payout or travel expenses or whatever, the Cougars were going to hold up their end of the bargain — even if it was played on BYUtv in front of a nearly-empty stadium in perfect weather at the base of the Wasatch Mountains in late November.
A lot of people connected to other schools have mentioned playing BYU in recent days. The Lions actually did, just as they were contracted to do long ago. BYU athletic director Tom Holmoe has told Sitake he's working on the schedule and could add up to two more games, if available.
But for a while, the Cougars were the only team west of the Rocky Mountains — and the only team west of Texas, save a shortened, academy-only schedule by Air Force — playing college football. So adding teams like Troy, Louisiana Tech, UTSA and others made sense. Those were the teams that were playing — not the Pac-12, Big Ten or Mountain West.
Sitake has said the Cougars will be ready on a week's notice to fill out what is becoming a special season. But the next step isn't completely up to BYU, either.
"There's a lot of talk from a lot of different people about our schedule, and I just want to remind everyone that we were the only ones committed to playing football in the west in August," Sitake said after Saturday's win. "If you want to assume anything, you should assume we want to play games. Tom's not a hard guy to get a hold of.
"Tom worked really hard to get a schedule together, so when conference's decided to start playing again, it wasn't hard for the Mountain West, Boise and San Diego State to add us. It happened really quickly … We have been that way. When teams we're looking bleak for a lot of times, we stuck with it."
North Alabama coach Chris Willis was just happy to play, too — even if it did move his Lions to 0-4 in their only games of the combined 2020-21 season. An FCS team with 63 scholarships always faces long odds against a full-fledged FBS program of 85, yet alone one ranked in the top-10 by both the AP and coaches' polls.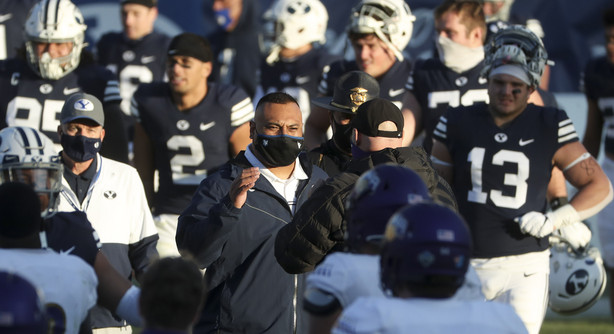 "Listen, my guys, I'm proud of them," Willis said. "They competed for four quarters and we did the best we can against the No. 8 team in all of college football. So, good football team. We'll be rooting for BYU. They're a class act, and I thought we were treated very kindly on this trip — they're a first-class group of guys."
So what becomes of the next steps for BYU? With the Pac-12's new protocol that will allow their schools to add nonconference games at home sites if no in-conference alternative exists, the Cougars have become the popular "break glass in case of emergency" school on the west coast.
A game against the Pac-12 — or any Power Five school, or even a top Group of Five contender like No. 7 Cincinnati or No. 15 Marshall or even No. 21 Liberty, which lost its first game Saturday against North Carolina State — could help BYU's schedule. It could especially help in the eyes of the College Football Playoff committee, which will meet Tuesday in-person during a pandemic to enumerate their version of the 25 best teams in the country for the first time.
Of course, not just any team will help, either.
They'll also meet, though, after BYU's 52-point victory over an FCS foe in the first 60-point game of Sitake's five-year career as head coach. You want style points? Here they are.
The Cougars just want to play, whether it's North Alabama or its more popular in-state school in Tuscaloosa, a team on the west coast or one in the mid-south.
Like the headband worn by quarterback Zach Wilson on Saturday says: "any team, any time, anywhere."
Holmoe's working on it. Sitake's job is to keep the Cougars working to be ready for it.
"Tom has told us since the beginning that he's going to try and fight for us and get us as many games as possible, and you just heard Kalani say the same thing," BYU center James Empey said. "He just said that we've always been ready to play, we've been committed to play since the beginning, and so it doesn't make any sense that we wouldn't want to have more games.
"I think everybody on the team wants to keep playing ball, and keep doing our thing, and so we welcome any opportunity that we get to play football."
BYU only has one more game scheduled, and that after a two-week break through Thanksgiving and early December. It still owes Army a game, after canceling the first of a two-game, home-and-home series in September due to COVID-19 protocols. The Black Knights held off Georgia Southern 28-27 on Saturday, and won't play again until the annual Commander-in-Chief's Trophy showcase Dec. 12 against rival Navy.
"We want to play as much as we can," BYU center James Empey said. "We're going to get after it this week, and these next few weeks, really, and do our best to be ready for that next game. We're going to get after it and try to get the best we can be. We got a bunch of guys that enjoy the grind and enjoy getting better, and that's really what our focus has been this last little bit.
"We know that they're still scheduling, and we're still trying to play people, and we're ready to play anybody, any day. Whether we'll have three weeks before our next game, I don't know, but we're just going to hit it and start working, and keep grinding for that next game, and just keep our rhythm going."
Next up
No. 8 BYU (9-0) vs. San Diego State (3-2)
Saturday, Dec. 12
Kickoff: TBA
TV: TBA
Radio: BYU radio, KSL NewsRadio 102.7 FM/1160 AM
×
Related Links