EAGLE MOUNTAIN — In the middle of the season, Orem High's football team found itself in the most unenviable of positions of a unique high school football season: a month-long layoff.
Between the Tigers' Sept. 11 loss to Lone Peak and an Oct. 14 win over Lehi, Orem found itself in a run of five-straight cancellations related to COVID-19 and contact tracing. Some of the cancellations were related to the Tigers' program, while many were connected to the other school.
It was bound to happen in a strange season, but it didn't make things any easier — especially when one of those cancelations came in Week 8 against Region 7 rival Timpview, a game that would've been a rematch of last year's Class 5A state championship.
Still, Orem pressed on. They knew that if they did, they could make up that game against the Thunderbirds, possibly in the state championship game.
After four-straight postseason wins, here they are.
The Tigers and Thunderbirds will face each other Friday at 3 p.m. MT, the second game of a day-long championship weekend that starts with the Class 6A final at 11 a.m. between top-ranked Corner Canyon and Lone Peak.
"We said it last year, that we'd be back. And here we are," Orem running back Targhee Lambson said. "We've been working. This has been the goal the whole year, and we wanted to finish it out right."
But for Orem, making it back to the Tigers' fourth-straight title game speaks to this year's squad, interim head coach Gabriel Sewell, Sr. said.
"I think it says a lot. The resilience, their ability to persevere," Sewell said. "I don't want to sound cliche at all, but only had three or four regular season games; we've had almost as many playoff games as we did regular-season games. I think in and of itself, it just goes to show how focused they are at achieving their goals, at not only being in this game, but also giving us a chance to win."
Have yourself a night Joe Smith!!

His 79-yard TD run was impressive, but it was his 77-yard TD catch that stole the show!@OremTigerFball@OHSTigers@joesmith910pic.twitter.com/xzyufABcTU

— Deseret News Rewind (@DNewsRewind) November 14, 2020
That didn't make the the monthlong layoff easy. Far from it.
It just makes Friday that much more worth it.
"At the time, it was devastating," Orem running back Joe Smith said. "It was really hard on our spirit. But no one stops Orem Tiger football."
There's no better way to end a season than against a rival, even if it's the first matchup of the season for the two region opponents.
COVID-19 has made the 2020 season a weird year, unlike anything coaches and players have seen. But a rivalry is still a rivalry.
"Every year, obviously, that's our goal," said Timpview coach Andy Stokes, who had to miss several weeks after his wife contracted COVID-19 while battling cancer. "We want to be and expect ourselves to be in a state championship. This year's been different, obviously. Every week that we get to play another week is just a blessing, to my own family, to these guys. We're just grateful."
If 2020 deserves an asterisk, it's not an asterisk of game cancellations, postponements and half-strung lineups (though each team was tested Wednesday to play in compliance with Utah Gov. Gary Herbert's executive order, so potential COVID departures could arise Friday).
But the asterisk is deserving, not only because each champion battled through a full bracket following a regular season, outlasting each opponent and round along the way.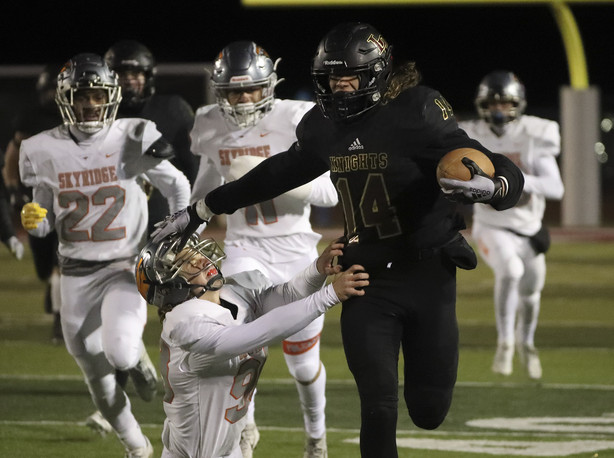 Each champion also outlasted the coronavirus.
"COVID is tough," Stokes said. "This has been a tough year for everybody. So when you can be around a family group, that's the best."
The players and coaches have had to make adjustments. Most have sacrificed school engagements, for others the routine of a social life, and even some have been forced away from their team for a time due to a global, once-a-century pandemic.
And yet, Friday will roll around with as much anticipation as any other year, especially for the Knights, whose only loss of the year came when Corner Canyon rallied from a 13-0 deficit to stay unbeaten with a 35-25 win on Sept. 24.
"It's going to be a dogfight," said Lone Peak star pass rusher John Henry Daley, a BYU target. "They're a great team, we're a great team, and we both want it. We know we're gonna get their best shot, and they're gonna get ours."
A championship would mean everything to these teams — COVID notwithstanding.
"This team has won a lot," said Corner Canyon quarterback Jaxson Dart, a four-star prospect with offers from Arizona State, BYU, and USC, among others, who has thrown for 4,353 yards and a state-record 63 touchdowns. "My dream has always been to win a state championship. I'm just grateful to be a part of this program, and to carry on the dynasty. We want to keep our win streak going."
UHSAA Football Championships
Class 6A @ Cedar Valley HS
Corner Canyon (13-0) vs. Lone Peak (12-1), 11 a.m., Friday | Watch here
Class 5A @ Cedar Valley HS
Orem (7-2) vs. Timpview (7-4), 3 p.m., Friday | Watch here
Class 4A @ Dixie State
Sky View (12-0) vs. Pine View (12-1), 2 p.m., Saturday | Watch here
×
Related Links