Estimated read time: 7-8 minutes
This archived news story is available only for your personal, non-commercial use. Information in the story may be outdated or superseded by additional information. Reading or replaying the story in its archived form does not constitute a republication of the story.
EAGLE MOUNTAIN — Momentum can be a funny thing in football.
Just ask Skyridge, which seemingly had all of it along with a 17-7 lead over Lone Peak at halftime of the Falcons' Class 6A state semifinal Thursday night.
But just as it gives, momentum can also take away.
John Henry Daley blocked a punt in the second half, Luke Durfey scored on two short rushing touchdowns, and Lone Peak outscored the Falcons 21-7 after the break en route to a 28-24 win at Cedar Valley High School.
"We went into the half and knew they had the momentum, so we had to flip things our way," said Daley, who has two blocked punts this year. "We needed a big play. Luckily I was the one able to make that play, but I think any number of players on our defense could have made it, too."
Kao Hansen had a 96-yard kick return touchdown to win the game for the Knights (13-1), who advanced to face Region 4 rival Corner Canyon in next week's state championship with defense and special teams — a hallmark of Lone Peak's 2020 season that included a suffocating 37-20 win over Skyridge in the regular season.
"We play such great defense and then inevitably we give up a big play or a penalty; those are things we can fix," said Lone Peak defensive coordinator and acting head coach Ryan Denney. "We recognize what we've got coming in next week with Corner Canyon. They're a high-powered offense, with so many different weapons. We know we've really got to bring a perfect game to hang with those guys."
Playing without head coach Bart Brockbank, who tested positive for COVID-19 along with one assistant and two starting linemen, the Knights' offense started off sluggish. A defense that rated among the best in 6A blocked the Falcons' game-opening field goal attempt, and allowed just 7 points in the first quarter in Hillstead's 6-yard strike to Mitch Adamson.
But after Lone Peak tied the game on Jonah Heimuli's 27-yard touchdown to Luke Tucker, Skyridge took control.
The Falcons held the Knights to back-to-back three-and-out drives, and took a 17-7 lead into halftime on a 10-0 run that included Jeter Fenton's 3-yard run that capped a 10-play, 71-yard drive over nearly six minutes of the second quarter.
Everything changed in the second half, starting with Daley, as the 6-foot-4, 215-pound BYU target one-hand palmed a punt that flipped the game on its head.
Durfey laughed after admitting that Brockbank did not — unfortunately, he added — FaceTime with the team at halftime, even though he would've been allowed to do so.
"It definitely hurt, not having coach Brockbank to have those classic halftime speeches," Durfey said. "But players stepped up individually, and told us to keep our heads in. They said it wasn't going to be our last game of the season, and to just ball out."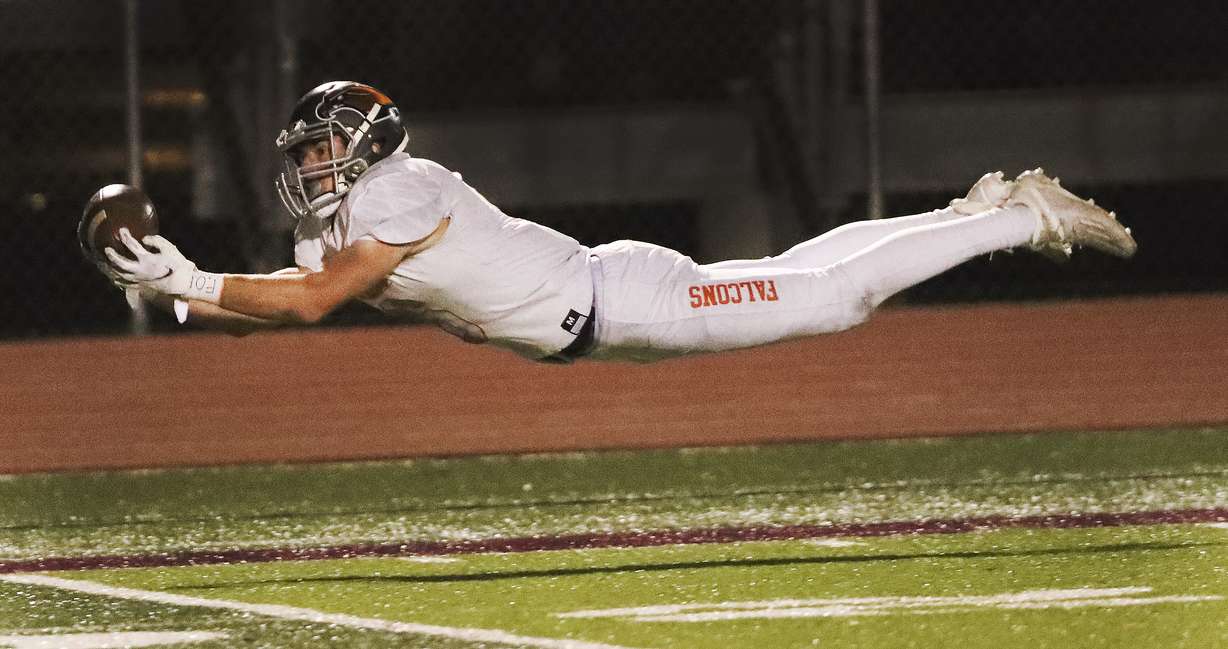 Instead, the Knights' senior leadership stepped up, and a defense led by former BYU defensive standout (and acting head coach) Denney took command.
"He's incredible," Daley said of Denney. "He's just an amazing coach, and I'm grateful that we have him and not somebody else."
Durfey converted his first of two touchdowns moments later with 8:54 on the clock in the third quarter. The 6-foot running back then added a 1-yard dive to end the third, plunging in after Kao Hansen's fumble return.
"Those touchdowns were all thanks to our defense," Durfey said. "They set us up inside the 10, and we just ran that ball in. We knew we could get a couple of yards every play, and scored those touchdowns."
Skyridge nearly flipped the momentum again, when Hillstead capped a long drive with a 35-yard touchdown strike to James Palmer with 6:34 on the clock.
But Hansen flipped the momentum again all of 14 seconds later, cruising the length of the field on the ensuing kickoff to give the Knights all they needed.
"That was the first run we could return all night," Denney said. "But you talk about momentum; they had it, and we flipped it that quick. It was really a turning point for us."
Throwing Darts: Fast start, steady finish leads unbeaten Corner Canyon past East in 6A semifinal
EAGLE MOUNTAIN — Corner Canyon got out to a fast start Thursday afternoon in the Class 6A state semifinals, a must for the high-octane Charger offense.
Jaxson Dart made sure they didn't slow down, though.
Dart threw for five touchdowns and ran for another as the Chargers jumped out to a 31-0 lead and kept the motor running in a 45-30 win Thursday at Cedar Valley High School.
Talmage Handley caught two touchdowns, and teammates Noah Kjar, Dylan Carlson and Cody Hagen each added a score for the Chargers (13-0), the No. 7-ranked team in the nation that improved its winning streak to 39-straight games.
"We're a team that has prepared really hard since January, and we always feel like the game is won in the final quarter," Dart said. "That's what happened to us against Skyridge; they were beating us, and then we came back and finished really strong.
"We always want to finish strong."
Corner Canyon held East to just 137 yards of offense before the break, turning over the Leopards through Ryan Cahoon's interception and Taylor Harris' fumble recovery on two of the lower-seeded team's first five drives.
On East's first four drives, the Leopards ran four or fewer players on three of them. As much as Corner Canyon's offense set the tone with a 31-0 start, the Chargers' defense was right behind.
"Those first 3-4 drives, it seemed like they didn't even move," Corner Canyon coach Eric Kjar said. "It was huge. I felt like we missed on a couple of drives, but we got the ball right back on defense."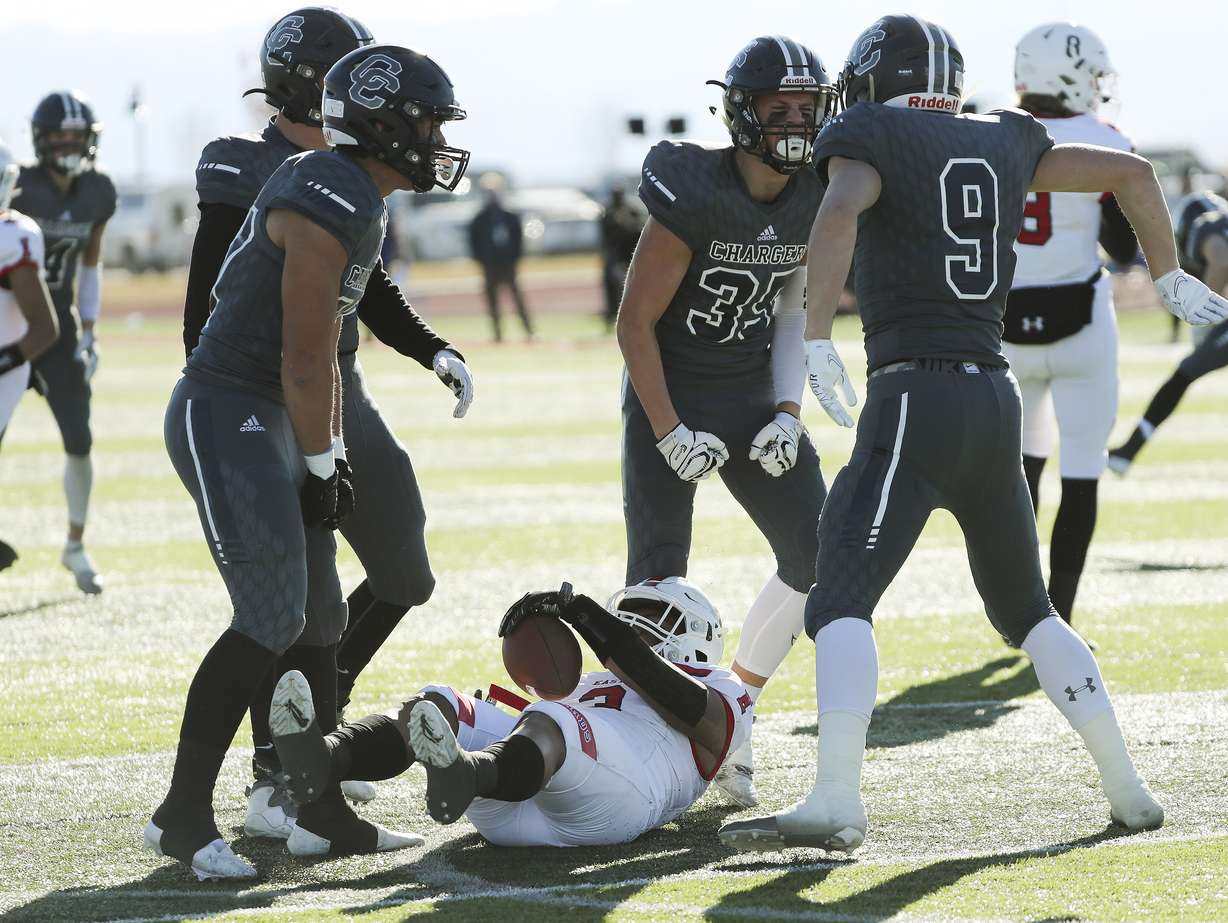 The Chargers kept the shutout until Izaak Zimmerman hit Anitelu Kaufusi with a 37-yard touchdown strike with five seconds on the clock to pull within 31-7 at the break.
But East (8-5) took its game plan, powered by the Leopards' unique triple-option offense, to the next level to start the second half.
The Leopards opened the half with a 14-play, 80-yard drive over the first nine minutes of the half, and pulled within 31-15 on Voi Tunnufi's 1-yard dive with 3:09 left in the third.
And yet, the Chargers never panicked. The opposite, in fact; Dart just kept making plays.
The senior orchestrated his own nine-play drive on the next possession, capped by back-to-back throws to Handley that included a 15-yard strike a minute into the fourth quarter.
"They're always ready to keep their foot on the gas," Kjar said. "That drive is a testament to how East is. They're one of the more dominant football programs in the state, and they won't go down without a fight. So you expect that from them, and it just shows what their program's all about."
Dart wasn't perfect — as Kjar's reaction to a missed read in the first half would indicate. But with the way the Chargers were executing, he didn't need to be. The senior who transferred from Roy before his final season of high school football has already set a state record for touchdown passes in a season, and could set a career mark with a gaudy performance in the championship.
"I don't necessarily have to get him into a perfect play," Kjar said. "If the defensive look changes, he'll make it right. That's where he's probably grown the most.
"He's a heck of a player, and he's gotten to that point."
Dart saved his best for last, juking a defender out of his shoes before letting loose a 33-yard rope to Cody Hagen over the middle that gave Corner Canyon a game-high lead of 45-14.
Throws like that are the reason Dart, a four-star recruit with offers from USC, Arizona State, BYU and many more, has been a must-see product in his senior season as he approaches 70 total touchdowns.
Thursday afternoon was something his coach had barely seen.
And yet, he's got another level: one that involves winning a state championship.
"This team has won a lot, but my dream has always been to win a state championship," Dart said. "I'm grateful to be a part of this program and to carry on the dynasty — to keep our win streak going."
×
Photos
Related Links