SALT LAKE CITY — Utah Jazz general manager Justin Zanik had a pretty simple explanation for why the Jazz went with lane-protecting and rim-rolling big man Udoka Azubuike with the No. 27 pick.
"What we felt at the end of the day was that Doke was the best defensive player, best player available, given his unique production, physical attributes and ability to affect both offensively and defensively on the court," Zanik said.
So there you have it — he was at the top of the Jazz's board, so they took him. But why, then, were so many fans and draft analysis scratching their heads about the pick?
The NBA game has evolved and the Jazz tried to evolve with it. After seeing his team unceremoniously ousted from the playoffs by more offensively-skilled clubs for three consecutive years, Jazz executive vice president of basketball operations Dennis Lindsey made the decision to go a different route heading into last season. Derrick Favors and Jae Crowder were out and Mike Conley and Bojan Bogdanovic were in.
The result was Utah having one of the league's top offenses for much of the season. But it came at a cost: After having a top 3 defensive rating from 2016-17 to 2018-19, the Jazz were suddenly a middle of the road defensive club last season. The reason: Rudy Gobert can't play the whole game.
When Gobert rested, Utah's defense was 8.2 points worse per 100 possessions.
Those numbers caused Lindsey to openly wonder to the media last week if the team needed to take "someone with a physicality profile that would be a value add."
Azubuike is someone with that physical profile. He's a 7-footer with a 7-foot-7 wingspan and overpowered everyone in college.
"There'll be other people that argue about the value of a backup center or a center," Zanik said. "We look at it as a young developmental player that has character that fits us, production that can fit us, physical size and defensive ability that fits us."
People are arguing. Wing players like Desmond Bane and Jaden McDaniels were still on the board when the Jazz picked and the prevailing thought is the team would have got, quote-unquote, more value by taking one of them. Wings are more valued in this day and age of the NBA than defensive bigs, that's true. But maybe not in Utah.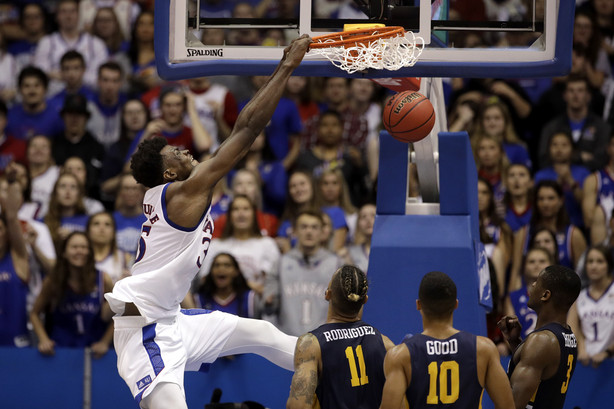 The Jazz's defense is built around Gobert — heck, their offense is too. Finding a player that allows the Jazz to still be the Jazz when he is off the court was important. And based on Ed Davis' failure to fit in with the scheme last season, it's not just a case of plugging in any skilled big man — it has to be a certain skilled big man.
Azubuike was college basketball's best rim protector and he was unstoppable rolling to the rim — things the Jazz highly value. And considering 12 of the first 35 picks were big men — many of which aren't really considered versatile bigs — the Jazz didn't want to risk losing Azubuike. So they took him in the first — ahead of where most projected him to go.
"The goal is to be able to play 48 minutes, both on the defensive and offensive side the way we want to play," assistant general manager David Morway said. "That is the goal. ... We wanted to see if we could improve defensively. That's a goal of ours, short term and long term. With Doke we feel like not only defensively will he at some point be able to help us, but offensively with his length and his ability to roll and his unique size and power that he'll be able to fit effectively in the way Quin likes to play."
Almost as soon as the pick was made, the Jazz traded backup center Tony Bradley, who was played off the court during Utah's first-round playoff loss to the Nuggets, and the No. 38 pick to Detroit for cash and future draft considerations. (The Jazz later traded back into the draft to pick Syracuse wing Elijah Hughes at No. 39 for cash and a future second-round pick.)
That Bradley trade opened up a role for Azubuike and it gives the Jazz more flexibility in free agency. It got them off the $3.5 million Bradley was set to make and that should allow them to use the full $9.2 million mid-level exception, as well as resign Jordan Clarkson, as well as fill out the rest of the roster without hitting the luxury tax apron of $138.9 million (and thus triggering the hard cap).
The Jazz helped themselves even more by reportedly trading Ed Davis on Thursday along with two second-round picks to New York to get his $5 million salary off their books.
After those trades, Utah has about $106 million in committed salary for seven players. That gives them about $26 million to fill out the rest of their roster. If Utah guarantees the deals of Georges Niang ($1.7 million), Juwan Morgan ($1.5 million), Miye Oni ($1.5 million), Rayjon Tucker ($1.5 million) and Nigel Williams-Goss ($1.5 million), they'll have about $18 million before hitting the luxury tax.
In short, the Jazz gave up picks to have some options down the road.
"The draft is one of many parts of how we go about team building," Zanik said.
For fans, the results of the draft may look a little different following the next part. Free agency begins Friday.
×
Related Stories