SALT LAKE CITY — One of the first people Udoka Azubuike heard from after being selected by the Utah Jazz with the 27th pick in the 2020 NBA draft was Tony Bradley.
The two knew each other from their high school days in Florida, and Bradley wanted to congratulate him and welcome him to the team — well, hold that thought. Moments after Azubuike was picked, the Jazz traded Bradley away.
Welcome to the NBA, young man.
It was a busy draft day for the Jazz. They made three trades, shipped out Bradley and ended up picking Azubuike in the first round and Syracuse wing Elijah Hughes in the second (No. 39 overall).
Jazz executive vice president of basketball operations Dennis Lindsey said leading into the draft the organization looks for players that are unique.
"If someone stands out with a unique skill set, then we need to pay attention," Lindsey said.
Azubuike is unique. He is a monster of a man. Azubuike is a 7-footer with a 7-foot-7 wingspan and there's nothing skinny about him. He was a defensive anchor at Kansas, carrying the No. 1 defense in the nation, and dunked everything that was even close to the basket (he's the all-time leader in field goal percentage for a reason).
As a senior last season, he averaged 13.7 points, 10.3 rebounds on nearly 75% shooting. He was named Big 12 Player of the Year, was a consensus second-team All-American, and won the NABC Defensive Player of the Year. And he was a young senior, having just turned 21 in September.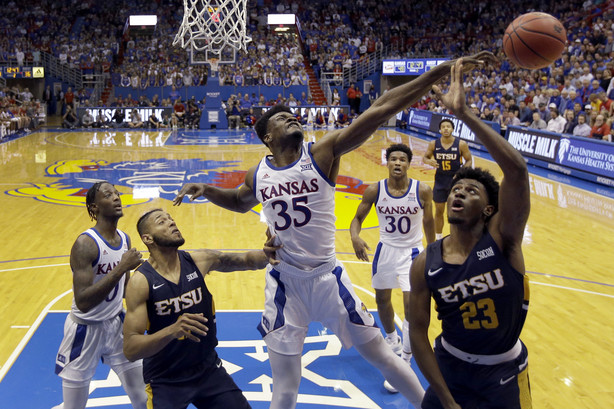 But what really caught the eye of the Jazz brass is what didn't happen when he was on the court.
"You don't see attempts at the rim. ... In almost every clip, we never saw a big get behind him," Jazz general manager Justin Zanik said. "He's learned to play a certain way where he can really use his physical attributes, his length, to be a deterrent at the rim — not only blocking shots but just shots aren't happening at the rim when he's on the court."
And those skills will be needed quickly because Azubuike will have an immediate role to fill.
In a corresponding move, the Jazz traded the No. 38 pick along with Bradley, their backup center that proved to be unplayable in the playoff, to the Detroit Pistons for cash and future draft considerations, according to an ESPN report. Azubuike now projects as Rudy Gobert's backup, and he's eager to learn from the two-time Defensive Player of the Year.
"I'm so excited to be alongside a guy like Rudy — a defensive specialist," Azubuike said. "Being one of those in college, that's pretty much what I did in terms of blocking shots, rebounding the ball, kind of played a similar role. I'm just excited from day one to learn from him, to pick his brain, in terms of how he plays, how he blocks shots, how he affects the game defensively."
Azubuike said he has been spending the months leading up to the draft trying to work on his weaknesses — and there are some holes in his game.
First, he struggled from the free-throw (and we do mean struggled). He never shot over 44.1% from the stripe in his four-year college career. And, maybe more importantly, he struggled to defend stretch bigs. Big men like Myles Turner, Kristaps Porzingis and the like could cause him to struggle.
"I've been working on my shooting, 15-foot jumper," Azubuike said. "I've been working a lot on my free throws. I'm working on my ball handling skills, and also staying in shape. … Pretty much every area of my game I've been working on it."
The Jazz traded back into the draft for the No. 39 pick for Hughes. The Syracuse product is a 6-foot-6 wing with long arms that has the prototypical size for an NBA wing. He shot 34.2% from three in his final year in college, but he's believed to be a better shooter than those numbers indicate. He was often tasked with creating his own shots which led to some difficult looks.
For an example of his shooting prowess, look no further than the game he played in his new NBA home. Hughes shot 7-of-15 and 6-of-11 from three, for a game-high 25 points in Syracuse's 78-69 loss to Baylor in the first round of the NCAA Tournament at Vivint Arena in 2019.
"I'm just kind of full offensive threat," Hughes said.
The Jazz originally held the No. 23 pick in the draft but traded that pick to New York for the No. 27 and No. 38 picks. According to reports, though, the Knicks traded the No. 23 pick to Minnesota for the No. 25 and No. 33 picks. Yes, the Knicks won that deal. Argentinian wing Leandro Bolmaro was selected at No. 23 for the Timberwolves.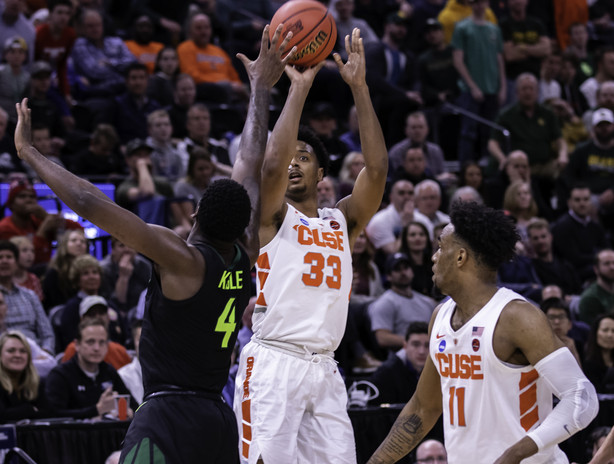 ×
Related Links