Estimated read time: 8-9 minutes
This archived news story is available only for your personal, non-commercial use. Information in the story may be outdated or superseded by additional information. Reading or replaying the story in its archived form does not constitute a republication of the story.
SALT LAKE CITY — As Utah's number of COVID-19 cases increased by 3,919 on Thursday, shattering the previous single-day case record by nearly a thousand, Gov. Gary Herbert said the state is at a critical moment.
"We're at the breaking point and ready to have some serious repercussions," Herbert said Thursday.
Nine more deaths were also reported, according to the Utah Department of Health. The department also reported 468 current COVID-19 hospitalizations, another record-high number.
The state's previous record high for new COVID-19 cases in a single day was 2,987, set last Friday.
Utah is in the midst of a two-week state of emergency order enacted by Herbert. The order, which went into effect Monday afternoon and runs until Nov. 23, mandates masks statewide, restricts social gatherings, and outlines plans for expanded COVID-19 testing.
State officials have said they will continue to examine COVID-19 data in the coming days and will use it to determine if the restrictions outlined in the order will be extended past Nov. 23.
Thursday, Herbert said he will be announcing recommendations for what Utahns should do before, during and after Thanksgiving regarding gathering with their families in the next week.
"Our goal is to have people enjoy the holiday season, but also have a safe but enjoyable holiday season," the governor said.
Utah Department of Health officials also updated several small aspects of the emergency order on Thursday afternoon:
Physical child custody exchanges and court-ordered parental time is permitted under the order. In-home childcare, such as nannying or babysitting, is also permitted.
Private businesses that provide in-home services, such as plumbers or house cleaners, are also allowed to continue doing business as normal, the health department said.
The requirement for on-campus college students to be tested for COVID-19 weekly only applies to students who are 18 and older.
---
Utah Gov. Gary Herbert, along with Utah Department of Health state epidemiologist Dr. Angela Dunn and Utah Hospital Association President and CEO Greg Bell, provided a COVID-19 update at a news conference Thursday morning. Watch the replay of the event below.
---
New COVID-19 cases
The state now estimates there are 44,055 active cases of COVID-19. The rolling seven-day average number of positive cases per day is now at 2,738, according to the health department. The positive test rate per day for that time period is now 23.2%.
The new numbers indicate a 2.8% increase in positive cases since Wednesday. Of the 1,204,549 people tested for COVID-19 in Utah so far, 11.9% have tested positive for the disease. The health department reported an increase of 13,926 tests conducted as of Thursday.
Of the 468 COVID-19 patients currently hospitalized in Utah, 191 are in intensive care units, another record high. About 83% of all ICU beds in Utah are filled, and about 87% of ICU beds at the state's referral centers are filled, state data shows. About 54% of non-ICU hospital beds are occupied, according to the health department.
The nine deaths reported Thursday include:
A Davis County man who was over the age of 85 and was a resident of a long-term care facility
A Salt Lake County man who was between the ages of 65 and 84 and was hospitalized when he died
A Salt Lake County man who was between the ages of 45 and 64 and was not hospitalized when he died
A Salt Lake County woman who was over the age of 85 and was a resident of a long-term care facility
A Sevier County man who was between the ages of 65 and 84 and was hospitalized when he died
A Uintah County woman who was between the ages of 65 and 84 and was hospitalized when she died
A Utah County woman who was over the age of 85 and was not hospitalized when she died
A Utah County man who was between the ages of 45 and 64 and was hospitalized when he died
A Weber County woman who was between the ages of 65 and 84 and was hospitalized when she died
Thursday's totals give Utah 143,639 total confirmed cases, with 6,487 total hospitalizations and 687 total deaths from the disease since the pandemic began. A total of 98,897 Utah COVID-19 cases are now considered recovered, according to the health department.
ICUs nearly full at most Utah hospitals
Greg Bell, president and CEO of the Utah Hospital Association, said Thursday that many of the state's hospitals are reaching a point where they are effectively full, especially in ICUs.
"If we keep admitting 90 to 100 patients a day, then we just can't handle that, certainly in the ICU" Bell said.
Hospitals have begun "load leveling," meaning they are transferring patients from hospital to hospital, Bell said. Some patients are also being transferred from one health care system to another, he added.
The hospital association set up a transfer center about 10 days ago, and so far about 13 patients have been transferred through this system, according to Bell. If the patient is being transported to a hospital that is full, they'll be rerouted to another facility that has capacity, he added.
Even though ICUs are nearly full, that doesn't mean people will be denied care or turned away from hospitals, Bell said. Hospitals will still be able to provide medical attention for anyone who needs it — it just might not be in an ICU.
"We have still a lot of room in our general wards," Bell said. "But in our intensive care units, we're right on that line where we're effectively full."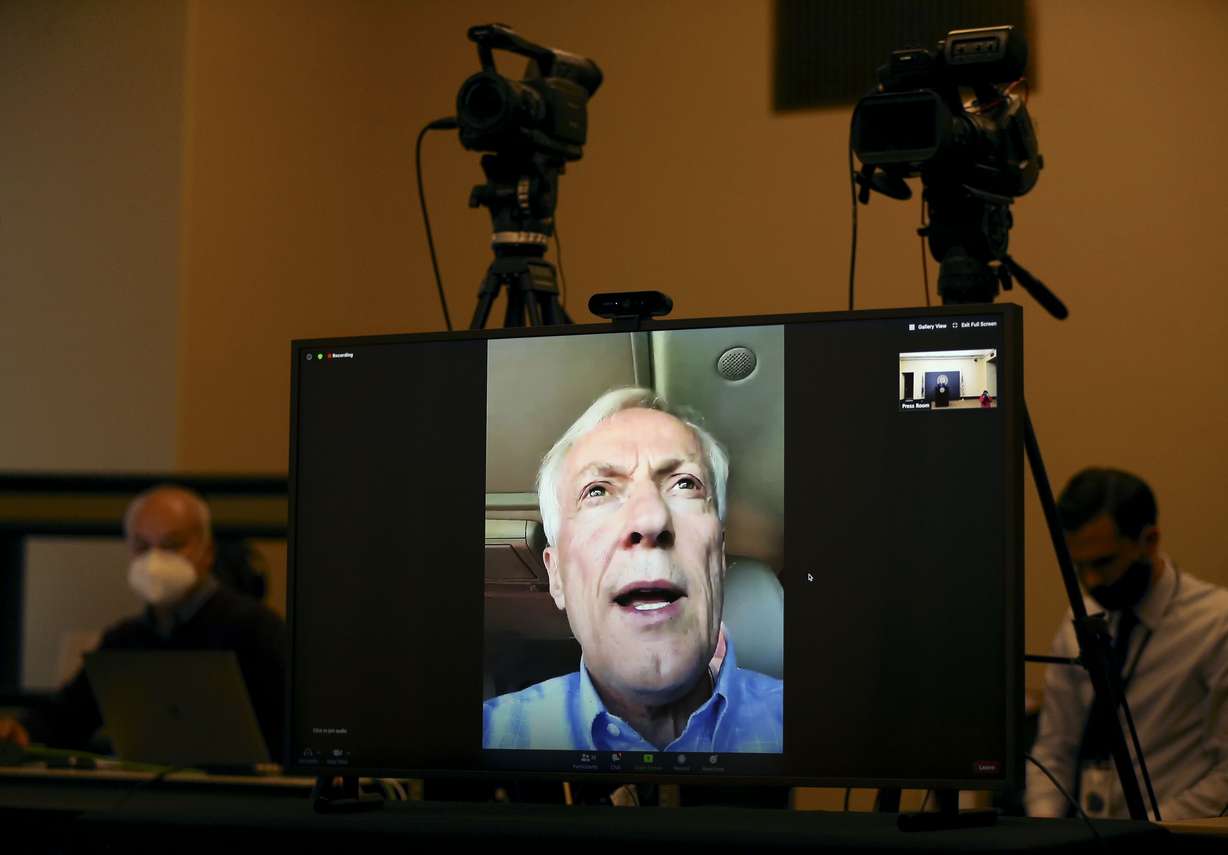 Thursday, Herbert criticized Iron County Sheriff Ken Carpenter, who said earlier this week he wouldn't enforce Herbert's emergency order.
"It certainly lessens the impact" if law enforcement agencies don't enforce the order, the governor said.
It's helpful to abide by the restrictions of the statewide order, even if COVID-19 impacts aren't as severe in one county compared to another, in part because patients are being transferred between hospitals, Herbert pointed out.
The Cedar City hospital in Iron County might not be full now, which could be given as a reason to support not enforcing the mask mandate or other aspects of the emergency order, Herbert said. However, that could change quickly because patients could be transferred from another jurisdiction, filling up the Cedar City hospital, the governor said.
If that happens, there won't be room for people in Iron County who have other acute medical needs not related to COVID-19, Herbert added.
"Misinformation is not helpful," Herbert said. "We're all in this together."
Carpenter clarified his statement to St. George News on Thursday.
"Essentially, the final decision is left up to the local authorities whether they're going to enforce it," he told St. George News. "We have enforced it, but we've enforced it when COVID-19 is being utilized as a weapon with intent to infect somebody else with the virus."
Herbert added that he has the authority under the Utah state constitution to enact such an order, and could even do more. The order isn't just a mandate from the governor's office; it's also based on recommendations from experts such as health officials and scientists who say it's good policy, he said.
'Start acting like high school athletes'
Through Herbert's new health order that started Monday, all students, coaches, staff and others that are involved in high school football playoffs were tested this week, according to health department state epidemiologist Dr. Angela Dunn.
That amounted to a total of about 1,360 individuals being tested, including players, coaches, trainers, cheerleaders and drill teams. Of those, health officials discovered only 49 positive COVID-19 cases, or only about 3.6% of those tested.
In addition to that promising testing evidence, there's strong anecdotal evidence that the high school athletes are taking COVID-19 precautions very seriously, Dunn added. They're wearing masks, socially distancing, and associating socially with a small amount of people, she said.
It's clear that those types of behavioral changes work, and Utahns need to apply them across all aspects of their lives the same way the high school athletes have applied them during the playoffs, Dunn said.
"I can't believe I'm about to say this, but we all need to start acting like high school athletes. They have something they care about, and they're protecting their ability to keep playing," she said. "So find that thing that you care about as much as these athletes care about football, cheer and drill."
It's too early to tell if the emergency order's "hard reset" on Utahns will be effective, Dunn said. It will take time to see if the measures introduced Monday will drive cases down.
However, COVID-19 continues to spread throughout Utah in all communities and age groups, she said. "It's not one particular population that is experiencing the spread," Dunn added.
The "only hope" for stopping that spread is to wear masks even more, she said.
"If you think you're wearing a mask most of the time, even you need to wear it more," Dunn said. "We all desperately need these things to happen right now."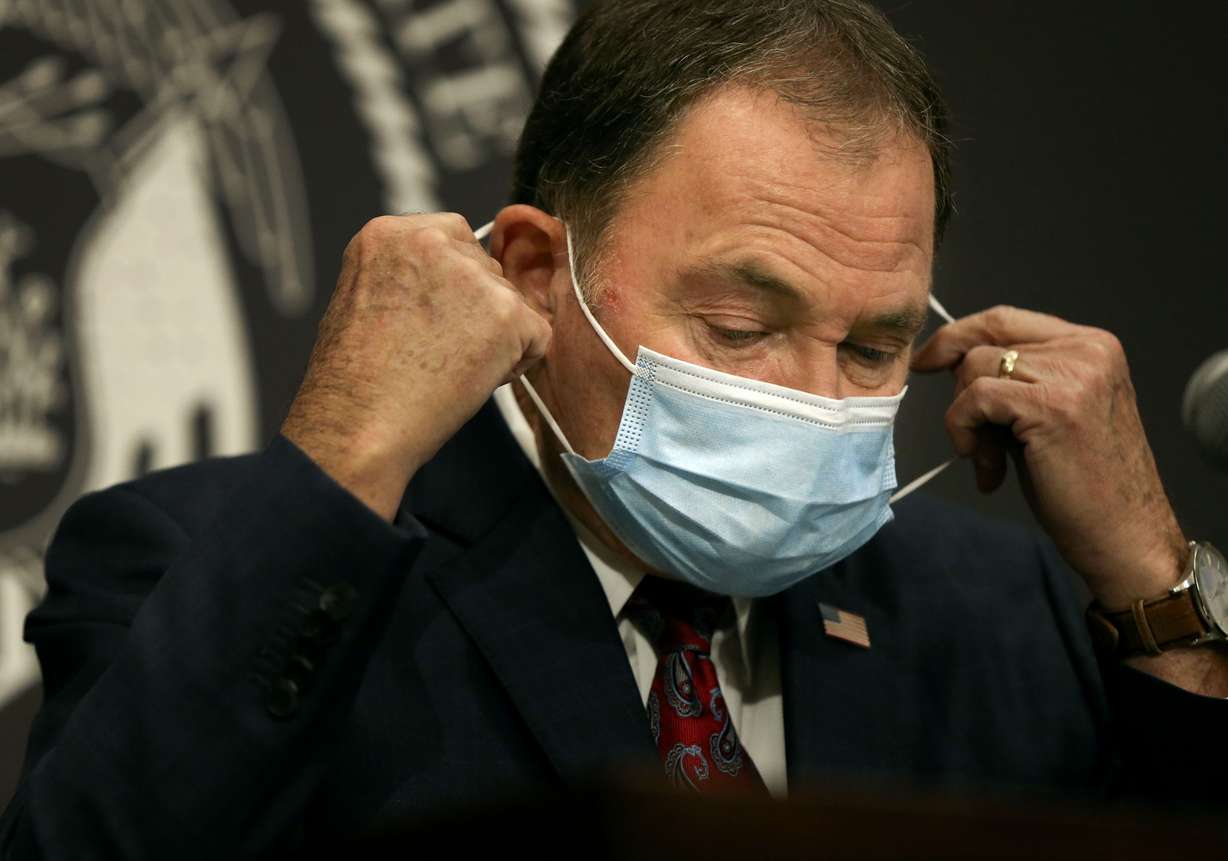 Additionally, state leaders are committed to ramping up testing, Herbert said Thursday. About 100,000 antigen rapid tests will soon be delivered to Utah colleges, with state officials hoping to increase that number to 250,000, the governor said.
Despite the record-breaking numbers Thursday, Herbert still remained optimistic, but again stressed the importance of Utahns' personal responsibility in turning the pandemic around.
"If we all do our part, if we're all invested and enlisted … we can actually do it, we can get on top of this," Herbert said. "I'm hopeful that the people will unite in this effort."
Methodology:
Test results now include data from PCR tests and antigen tests. Positive COVID-19 test results are reported to the health department immediately after they are confirmed, but negative test results may not be reported for 24 to 72 hours.
The total number of cases reported by the Utah Department of Health each day includes all cases of COVID-19 since Utah's outbreak began, including those who are currently infected, those who have recovered from the disease, and those who have died.
Recovered cases are defined as anyone who was diagnosed with COVID-19 three or more weeks ago and has not died.
Deaths reported by the state typically occurred two to seven days prior to when they are reported, according to the health department. Some deaths may be from even further back, especially if the person is from Utah but has died in another state.
The health department reports both confirmed and probable COVID-19 case deaths per the case definition outlined by the Council of State and Territorial Epidemiologists. The death counts are subject to change as case investigations are completed.
Data included in this story primarily reflects the state of Utah as a whole. For more localized data, visit your local health district's website.
Information is from the Utah Department of Health and coronavirus.utah.gov/case-counts. For more information on how the Utah Department of Health compiles and reports COVID-19 data, visit coronavirus.utah.gov/case-counts and scroll down to the "Data Notes" section at the bottom of the page.
×
Photos
Related stories
Most recent Coronavirus stories