Estimated read time: 5-6 minutes
This archived news story is available only for your personal, non-commercial use. Information in the story may be outdated or superseded by additional information. Reading or replaying the story in its archived form does not constitute a republication of the story.
OUTER SPACE — Have you ever wanted to see space — planets, stars, the moon and everything else around — without actually leaving Earth?
A group of Brigham Young University student engineers did, too. With funding from NASA, they built a 360-degree satellite camera designed to operate in space.
The Passive Inspection CubeSat (yes, the clever name is PICS) will soon launch into space on an official mission to take images of NASA's spacecraft and check for possible damage that otherwise can't be seen. After completing those tasks, the camera can be used to take other images of anything in space.
The free-floating device, dubbed a "spacecraft selfie cam," will take 360-degree photos thanks to the cameras it has on all six sides.
BYU's CubeSat will be launched with satellites from eight other universities as part of NASA's ELaNa 20 mission, an initiative that funds college research teams to build a flight experiment. Each university's satellite will do something completely different. The program is, in part, aimed at training the next generation of engineers for the space program, according to BYU engineering professor David Long.
"This was our proposal to do this, we thought this would be a useful tool," Long told KSL.com. "This is a demonstration, sort of a feasibility presentation."
The device has been in development over the last five years and more than 60 students have worked on it in that time.
The 10-centimeter cube contains six solar panels, four battery circuit boards, a radio circuit board, a computing board and more than 25 cables — about four times as many cables a desktop computer has at a sixth of the size, according to engineers.
"This would allow NASA, very inexpensively, to take photographs on the outside of the space station in a very safe way," Long explained in a video highlighting the device. "It's pretty small, but even the simplest spacecraft can be quite complex."
While NASA has made attempts in the past to take pictures of its spacecraft, the devices are extremely expensive, usually costing hundreds of million of dollars.
"Other than that, there's been no attempt to actually build a system that could just inspect an arbitrary space shuttle," Long said.
The CubeSat is an inexpensive alternative at around $20,000 per unit — which is considered cheap when it comes to spacecraft.
With the small camera, if NASA has a mission and is concerned about damage on a spacecraft, the CubeSat can simply be ejected, snap some photos, then transmit the photos back down to the ground.
"We'll take pictures, and then it'll float away," Long explained. In theory, BYU's camera is safer than others tried in the past because it won't stay in the immediate vicinity of the spacecraft.
The satellite is going to be in low Earth orbit and will eventually, likely within a year, re-enter the atmosphere and burn up.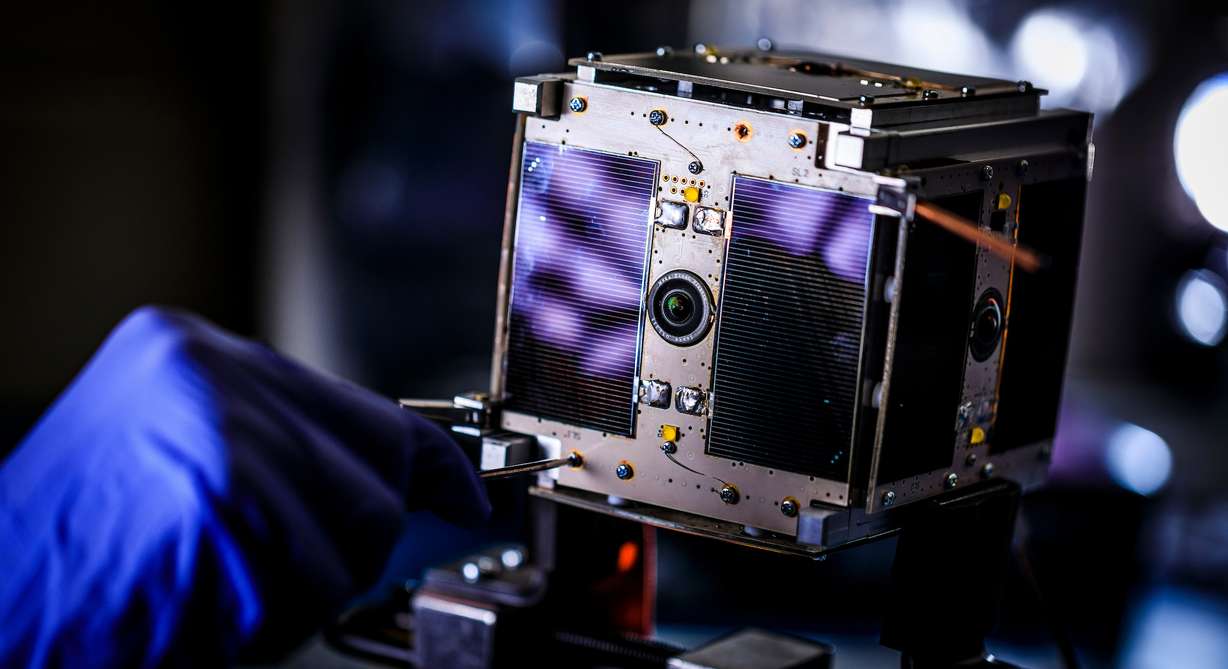 It's not designed to last in space for long, which adds to its cost-effectiveness — it is built out of commercial parts used to build a cellphone rather than more expensive parts designed to last longer in space.
Spacecraft need to be designed to be disposable, Long noted, to avoid contributing to what experts call space junk; even a paint chip floating in space can reach speeds up to 15,000 mph, making it dangerous to surrounding objects, he said.
"(It) will die a lot sooner than more expensive spacecraft," Long said.
Here's how it works:
The satellite, along with the others from different universities, will go into a device similar to a Pez dispenser, engineers explained. From there, it will be ejected, begin its mission and start taking photos almost immediately. Soon after, antennas will trigger and the radio will start up and begin sending data back down to the ground.
"That's the No. 1 thing I can't wait to see: those antennas scanning across the sky, watching for satellites," BYU grad student Patrick Walton said in the video.
It will take the team an estimated six weeks to finish downloading the initial photos since they can only download images during a roughly 15-minute interval when the cube passes over the BYU ground station.
Once the device completes its mission of photographing space crafts for NASA, it can continue floating around and photograph other things — like Earth, stars and the moon. Those images can be used for virtual reality augmentation and people can visit outer space without having to leave their bedroom.
"Well that's one of the reasons we want to do this because we thought you could put it on a VR headset," Long said.
This year's launch in California will be a test run for BYU's CubeSat, and the university is currently in talks with NASA with the hopes the cube is wanted for future missions. If NASA agrees, the group will revamp its prototype and make a more sophisticated model, while still maintaining its small size and cost effectiveness.
"NASA, of course, is really interested in reliability for their spacecraft systems and are looking forward to deep space missions, and we pose this as a solution to having better techniques for measuring the condition of the spacecraft," Walton said.
The exact launch date hasn't been set, but it will take place sometime over the next 30 days, according to Long. Ordinarily, the BYU team would've been able to attend the launch in-person but because of travel restrictions and other health guidelines from the novel coronavirus pandemic, they will have to watch from afar.
The team was also unable to install the CubeSat and instead had to mail the spacecraft and watch someone else install it via video.
"Of course that was a huge disappointment for all of us because we didn't get to be there and do it ourselves," Long said.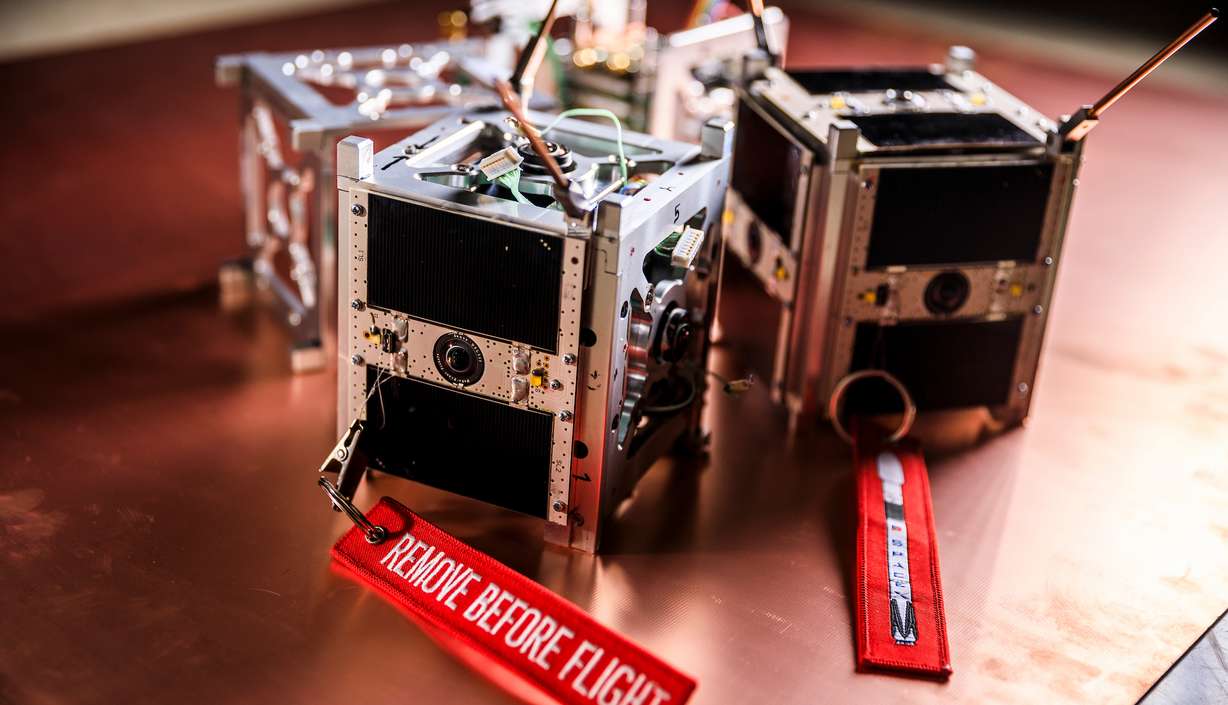 All things considered, their project has been minimally impacted by the pandemic since the cube itself was largely finished before the pandemic.
"We were very fortunate," Long said.
There's a lot the group wants to do with the camera going forward, and the launch is just a starting point.
"It's just a first in a series of things we want to do," Long said. The group is excited to release any photos they can to the public once they're available, he added.
×
Photos
Most recent Science stories