SANDY — Utah Royals FC will officially have a new full-time manager in 2021.
After playing without him for the entirety of the NWSL fall series exhibition, the Royals formally terminated the contract of head coach Craig Harrington on Monday.
Amy LePeilbet will retain the title of interim head coach until a new manager is found, the club added.
"Utah Royals FC is proud to represent the state of Utah nationally and across the globe," the club said in a statement. "Utah Royals FC takes this responsibility seriously, and have committed to keeping the community and its fans apprised of team developments. After careful review and consideration, the club has decided to part ways with head coach Craig Harrington. Amy LePeilbet will continue as interim head coach until further notice.
"As coach LePeilbet has already demonstrated, she is well-positioned to serve in this interim role and embodies the Club's dedication to the highest standards of conduct, civility, and professionalism."
In a separate decision, assistant coach Louis Lancaster will return to the club. Lancaster was put on leave around the same time as Harrington, but the club consistently said the two decisions were unrelated.
Harrington, 37, was named head coach of the team in February after the club's first manager Laura Harvey left to take a role with U.S. Soccer (she was eventually named head coach of the U-23 national team). A former assistant coach with the Chicago Red Stars, Utah was the first head coaching job of Harrington's career in the National Women's Soccer League, and one that was thrown into chaos almost as soon as he took over.
Just over a month after Harrington's first day on the job, the league suspended the 2020 season due to the COVID-19 pandemic. Though the league returned for the NWSL Challenge Cup, hosted by the Royals, and a four-game exhibition series in the fall against regional opponents, the traditional 2020 season was never contested.
Harrington, a native of Middlesex, England, left his stamp on the team rather quickly. He pivoted the formation to a three-person back line with a pair of wingbacks in a five-woman midfield to help offset the unique defensive structure. It led to a 3-3 draw with eventual Challenge Cup champion Houston in the season opener, and a 1-0 win over New Jersey-based Sky Blue FC on July 4. But the Royals lost the next three games under Harrington, including a penalty shootout loss to the same Dash side in a Challenge Cup quarterfinal that included a scoreless regulation.
In all five games of his Royals tenure, Harrington was 1-3-1 with four goals scored and five goals-against.
But the day of Utah's first match of the NWSL fall exhibition series, Harrington was placed on administrative leave while the organization was embattled in its own NWSL-led investigation regarding the conduct of owner Dell Loy Hansen. While the manager was never directly connected to the investigation that eventually led Hansen to offer to sell the club, Real Salt Lake and the rest of Utah Soccer that includes the second-division Real Monarchs and other assets around the clubs, the Royals were clearly outspoken against Hansen's conduct at the time.
Hansen and RSL chief business officer Andy Carroll were discovered to have made sexist and insensitive comments in both private and club conversations and meetings, many of which reached the ears of some players, according to multiple reports. The RSL owner took a leave of absence from the club before offering to sell the franchise, and Carroll has also been placed on indefinite leave — though one source close to the club has told KSL.com it is unlikely he will work for the organization again.
Both men are currently listed on RSL's team directory of employees, though Hansen has received multiple offers to buy the team, according to the same source who declined to elaborate further on those offers.
"We've had enough," a player-driven statement read. "Enough of racist systems excluding black and brown people. Enough of sexist stereotypes infiltrating conversations about our talents and achievements as athletes. Enough of a work environment that is not open and inclusive for all.
"We acknowledge the past wrongdoings of this organization and choose to move forward in a new direction. It's important for us not to sweep these things under the rug, but to bring them to light, in order to hold ourselves and the people around us to a much higher standard. As a team, we're setting the standard with a new beginning. One that is open, welcoming, community driven, and elite. One that continues the work of iconic trailblazers like Justice Ruth Bader Ginsburg, to demand equality and respect for all. We expect everyone associated with us to join in upholding these standards. Anything less will impede our progress as a club, as players, and as people. We refuse to settle."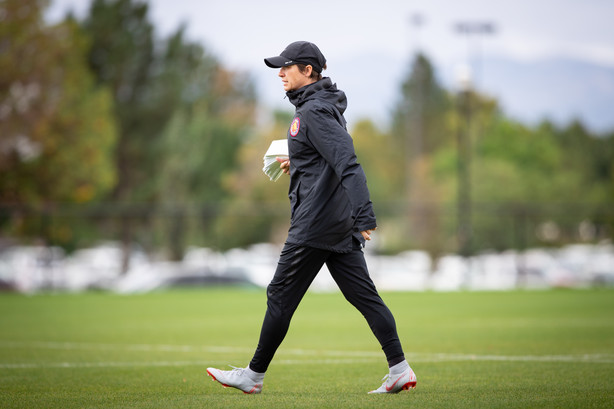 In the meantime, the club has moved forward — first through a winless fall series against Washington-based OL Reign and Portland Thorns FC, and into the 2020 offseason, which will include the addition of a 10th team in the NWSL in Racing Louisville.
The Royals declined to bring back three players in goalkeeper Melissa Lowder, midfielder Marissa Sheva and midfielder Chestley Strother. French international Aminata Diallo's season-long loan will expire at the end of the year, but Utah retains her NWSL rights, in addition to the NWSL rights of current Manchester United forward Christen Press.
And on the subject of Press, when Utah released its list of protected players ahead of Louisville's expansion draft that will jumpstart the offseason, they left Press (or her NWSL rights, at least) unprotected. If Racing Louisville selects the U.S. international, the Royals will be owed $75,000 in allocation money, according to league rules.
Also among the unprotected players are Canadian internationals Desiree Scott and Diana Matheson, Icelandic standout Gunny Jonsdottir (who is currently on-loan in her native country) and Spanish midfielder Vero Boquete, who recently told El Patio in her native country that she plans to play in Europe in 2021. The 33-year-old native of Santiago de Compostela, Spain has also previously said that she plans to retire from the game after playing again in her native country.
That leaves the following players protected by Utah for the upcoming expansion draft:
Goalkeepers: Abby Smith
Defenders: Elizabeth Ball, Katie Bowen, Rachel Corsie, Kate Del Fava, Kelley O'Hara (US Allocated), Gabrielle Vincent
Midfielders: Lo'eau Labonta
Forwards: Tziarra King, Amy Rodriguez, Michele Vasconcelos
The draft will be held Thursday, Nov. 12 at 5 p.m. MT and will be streamed live on the NWSL's Twitch channel.
×
Related Links