HOLLADAY — For the better part of three quarters, Timpview's defense played to a 7-6 slog against host Olympus in the second round of the Class 5A state tournament.
In a span of 66 seconds, all that changed.
Logan Fano and Pokai Haunga each scored on a pick-six just 16 seconds apart, Targhee Lambson added a 50-yard scoring run a minute later, and the Thunderbirds pulled away from the Titans, 35-13, Friday night to advance to next week's 5A state quarterfinals.
"We gave up a touchdown in the first half, so at halftime our coaches woke us up. We owe that to our coaches and getting us prepared," said Fano, who also had three sacks. "We recognized all that in film, and that's what allowed us to make plays on the ball today."
BYU commit Raider Damuni scored on a 48-yard strike from Liu Aumavae in the first quarter to give Timpview (5-4) a 7-0 lead. But that was all the offense the Thunderbirds could muster for more than two quarters after an inconsistent regular season.
Not to be overlooked, @raiderdamuni.

» https://t.co/B9UbTcBoF0pic.twitter.com/O0SHILyWia

— KSL.com Sports (@KSLcomSports) October 31, 2020
Olympus quarterback Tommy Hoggan set up the Titans' lone touchdown of the half with a 29-yard run in the second quarter, and Johnny Frank plunged in with a fullback dive as Olympus pulled within 7-6.
But the Thunderbirds blocked the ensuing PAT through Braxton Fely's tip, and Timpview took its lead into halftime in a game where the visitors never trailed.
It just wasn't always a pretty lead. By Timpview's defense, which sacked Hoggan five times and added four interceptions, and a total penalty count that eventually numbered 38 kept the Titans (6-5) mostly in check.
And in the first minute of the fourth quarter, that same defense pulled away, too.
One play after Olympus' Jackson Bennee picked off Aumavae, Haunga pulled down one of Hoggan's pass attempts at the 20-yard line and sprinted into the end zone untouched to give the Thunderbirds a 14-6 lead with 11:22 left in the game.
"Even when you're not always getting what you want, you're doing your job and you're making plays," said Timpview coach Andy Stokes, who rated Olympus as a top-five team in 5A. "They're getting after the other team. But they continued to come back to the line of scrimmage to do their jobs until something would break for them."
Two weeks after a stunning 49-31 loss to 4A Stansbury, Timpview's defense was back in business.
"We played a horrible game two weeks ago," Stokes said. "We were undisciplined, and then we played a pretty bad first half. So we challenged them at halftime to play as physical as they could get.
"Defensively, that obviously sparked us in the second half. We thought we had one of the best defenses in the state all year, and the kids showed up tonight."
Fano added a pick-six of his own just 16 seconds later, pulling down a pass intended for the running back and scampering home 4 yards to add to the advantage — just like he saw on film, he said.
Timpview recovered an onside kick to regain possession, and three plays later, Lambson sprinted up the middle and rumbled 50 yards for a touchdown that put the game away, 28-6, with 10:16 on the clock.
To quote San Diego's finest newsman Ron Burgundy: "That escalated quickly." And it started with the 5-foot-11 sophomore in the defensive backfield.
"Pokai, he's a gamer. That dude loves football," said Fano, one of the state's top uncommitted recruits who counts BYU and Utah among his suitors. "He just makes big plays. He's the one who turned the tide of the game with us, and we're lucky to have him on our team."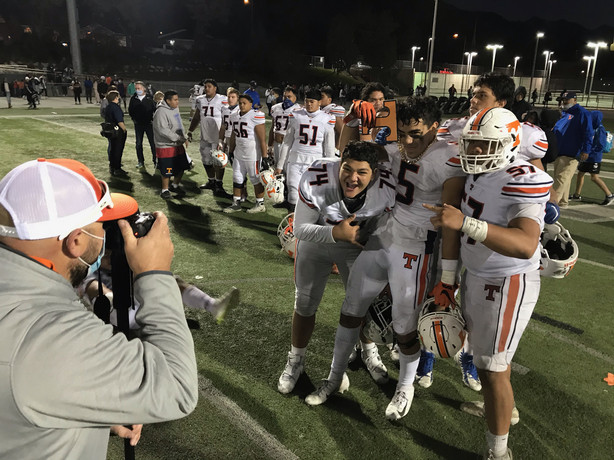 Messi Pahulu added a 12-yard touchdown run for Timpview with 1:37 remaining.
Hoggan tossed a 16-yard touchdown to senior Spencer Tagge to cap the scoring for the Titans.
The Thunderbirds advanced to face top-seeded Brighton in next week's quarterfinals, a year after Timpview's run to the 5A state championship final.
"Our team has been through a lot this year," Fano said. "Everyone knows about our coach and his wife Tia. So this means a lot to us, to be able to move on and to represent them for one more week."
Scoring summary
First quarter
9:16 — TV: Raider Damuni, 48-yard pass from Liu Aumavae (Taylor kick)
Second quarter
0:29 — OLY: Johnny Frank, 1-yard run (kick failed)
Fourth quarter
11:22 — TV: Pokai Haunga, 20-yard int. return (Taylor kick)
11:06 — TV: Logan Fano, 4-yard int. return (Taylor kick)
10:16 — TV: Targhee Lambson, 50-yard run (Taylor kick)
1:37 — TV: Messi Pahulu, 12-yard run (Taylor kick)
0:22 — OLY: Spencer Tagge, 12-yard pass from Tommy Hoggan (McFarland kick)
×
Photos
Related Links