PROVO — BYU offensive coordinator Jeff Grimes was watching film late Tuesday night when he saw something on the screen that caught his attention.
He didn't say what it was, but it involved quarterback Zach Wilson. So much as he's done throughout the season, he texted his starting signal-caller.
Normally, when Grimes texts Wilson, the latter is quick to respond. A lot of times, he's even watching the same play. Not Tuesday, though.
On Tuesday, Wilson was watching "The Bachelorette."
"Surprisingly, I think a lot more players (watch it) than they admit," Wilson told reporters Wednesday, explaining his choice of pop culture. "A bunch of our coaches watch it — no matter what they say. I was with three of my receivers and roommates watching it at home.
"It turns out a lot more people watch than he thought."
Grimes wasn't surprised by his quarterback's choice of television habits. Maybe the biggest surprise was that the junior signal-caller who has received way-too-early Heisman Trophy consideration for his 78% completion percentage, 1,928 passing yards and 16 touchdowns with just one interception would be taking two hours off to host a watch party with two of his receivers — Dax Milne and Brayden Cosper — among other teammates.
Before the Cougars' Halloween night kickoff against Western Kentucky (8:15 p.m. MT, ESPN), Wilson and his roommates were just being normal college students.
"We were just hanging out," said Wilson, who lives in the same neighborhood as several teammates like Carter Wheat, Masen Wake, Blake Freeland and Drew Jensen, among others. "It's the relationship with all of those guys.
"We're full of connection, and we love hanging out and doing stuff together."
In a season like BYU hasn't seen in over a decade, Wilson has been a rising star in college football, being featured beyond the Beehive State's local media and into the national scene by the likes of ESPN, Yahoo Sports, and The Athletic. He's been featured on the Worldwide Leader's coverage of the College Football Playoff, on Jim Rome's radio show, and paired with Clemson quarterback Trevor Lawrence during CBS' primetime coverage of Alabama-Georgia a day after the Cougars' win over Houston in what has been considered BYU's best win of the season to date.
Through it all, he's tried to stay humble, too. He recognizes that the best teams constantly get better, and BYU has been burned by the blaring media spotlight recently. So Wilson, along with his teammates, just goes back to work. It's also why he still looks at his wristband before every game that reads, "prove them wrong."
"It's a dream. It's a blessing, for sure," Wilson said. "But all that is really a team award; no one is winning the Heisman if you're losing games. But I haven't been hit all year, and I have wide receivers high-pointing the ball.
"I tell those guys all the time that it's really a reflection of our team."
While a quarterback and his top targets' love of Clare Crawley and "The Bachelorette" franchise isn't the most common in America, such connection to teammates isn't unique to BYU football, either. The BYU basketball team was known for its love of "The Bachelor" during a season in which the hoopsters returned to the Associated Press Top 25, and those watch parties and discussions were often led by star forward Yoeli Childs.
Even beyond the pop culture TV series, the Cougar cagers' love for each other continues. In a season when many of the names have changed and additional transfers like Purdue's Matt Haarms and UVU's Brandon Averette have been added to the mix, BYU basketball still maintains its offcourt hobbies.
BYU guard Connor Harding says this year's group is known for its love of games, Call of Duty, and a chain establishment known for chicken wings.
"We love game night, joking around, or going to Buffalo Wild Wings," Harding said. "We'll go down some wings and watch some games.
"There are a lot of different ways that we bond. We're the best locker room in America, so we find ways to hang out or whatever."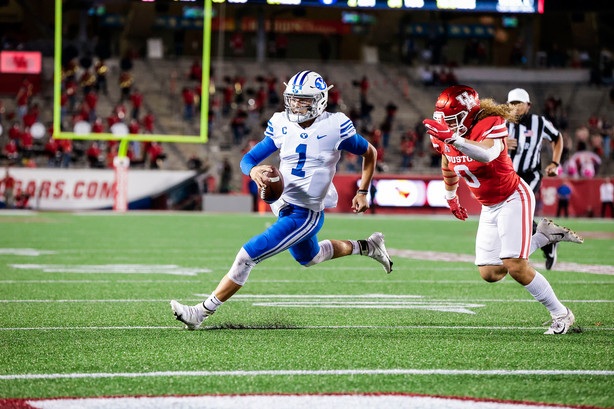 But back to football.
A self-described "film junkie," Wilson has catapulted himself and the No. 11-ranked Cougars into the national conversation. After a summer when BYU lost all but two games from its original 2020 schedule due to the COVID-19 pandemic, athletic director Tom Holmoe scrambled to pull together a 10-game schedule that now includes Boise State and San Diego State at the end of the year.
With the Broncos entering the AP Top 25 last week at No. 25 following a season-opening win over Utah State, next Friday's kickoff against BYU will likely feature two Top 25 opponents.
If the Cougars win that game — much like they've done through the first six games of the season and are heavily favored to do so Saturday against the 2-4 Hilltoppers — then a spot in the New Year's Six bowl series seems possible.
Some even consider BYU dark horses for the College Football Playoff, though most agree that such a proposition would require a lot of help to break into the same echelon as national powers Clemson, Alabama, Ohio State, Notre Dame and Georgia.
Still, the Cougars should be considered — even if such consideration is just talk, ESPN college football analyst Kirk Herbestreit says.
"I think they should have a chance to at least have their hat in the ring and in the discussion," Herbstreit said Tuesday evening during the network's playoff special. "Of all the teams that I cannot wait for four weeks from now that the committee is going to rank, it's BYU — assuming they keep winning."
As far as Wilson's personal goals and hopes, the Corner Canyon product and one-time Boise State commit can only do the same thing: keep winning. Keep showing out. Keep putting up numbers the likes of which BYU hasn't seen since at least the days of Steve Young (Wilson is on track to top Young's single-season completion percentage record of .713 set in 1983).
Wilson's offensive coordinator has already been astounded by his quarterback.
"I've only been around one other quarterback who had a season like he's having, and that guy won the Heisman," said Grimes, who was Auburn's offensive line coach from 2009-12 with Cam Newton as quarterback.
"A lot of people don't have the strength to throw a ball a long way to a place where only your guy can catch it," Grimes added. "A lot of guys just don't have the zip in his arm … I've been around a lot of quarterbacks who can't make all the throws, but Zach is incredibly intelligent. His mind sees things very fast.
"On top of that, his passion for the game drives him to get better and work more."
If Wilson keeps putting up numbers at his current pace, he could find himself entering the mock draft season for the 2021 NFL Draft at the height of his buzz.
If he does, though, it will be a good problem to have for the Cougars — meaning it will come after a successful season at BYU, maybe even their first double-digit win season since 2011.
In other words, it would be a good problem to have — and a good problem for one of the stars on the team, not just on the field, but in the locker room and living room while watching reality television.
"I think he can play with the best of the best," BYU running back Sione Finau said. "His work ethic is crazy; first to come in, and last to come out."
ON THE AIR
No. 11 BYU (6-0) vs. Western Kentucky (2-4)
Kickoff: 8:15 p.m. MDT
TV: ESPN
Streaming: WatchESPN
Radio: KSL Radio, BYU Radio
×
Related Links