PROVO — All Jared Kapisi wanted was to kick a field goal for BYU.
He didn't need a fancy jersey, or a trophy, or even a scholarship. He just wanted to be a kicker for the Cougars.
But when he tried out for the BYU football team prior to the 2014 season, he was told the Cougars already had two kickers. There wouldn't be a spot for him.
Instead of leaving, he signed up for walk-on tryouts as a wide receiver, made two straight scout teams, and then earned a spot on the roster as a defensive back who wears the No. 43 out of respect for his Samoan heritage and former NFL star Troy Polamalu.
So when Kapisi hauled in the game-ending interception in the Cougars' 52-14 win over Texas State on Saturday, it wasn't just a pick in a blowout game that caused his teammates to scream. BYU was hooping and hollering for the former walk-on kicker from Pukalani, Hawaii, who ground his way toward factoring into a Division I college football program, and yet alone one ranked No. 11 by the latest Associated Press Top 25.
"Jared's one of those guys who is constantly putting his head down and getting work done," BYU linebacker Pepe Tanuvasa said. "We were all just excited that he got that opportunity."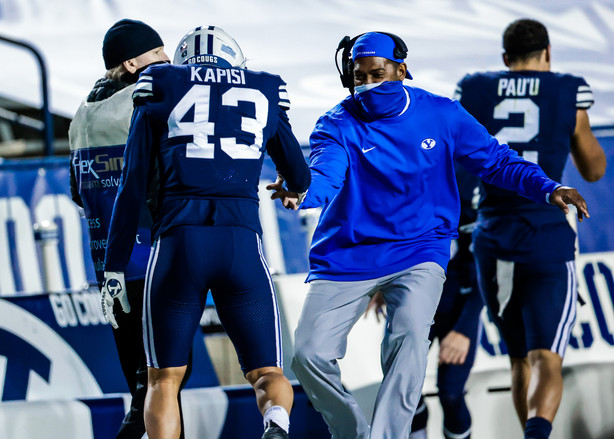 After back-to-back seasons on the scout team, Kapisi thought about quitting — about giving up the game and focusing on school, where he is a supply chain management student in BYU's Marriott School of Business. He estimates he considered quitting at least two or three times since his two-year mission for The Church of Jesus Christ of Latter-day Saints in Scottsdale, Arizona, which took him out of the 2015 and 2016 seasons.
But he stuck with it, and now he's glad he did.
"It always came back that this is a once-in-a-lifetime opportunity to come out and contribute," said Kapisi, who was a special teams MVP at Maui High School and a two-time all-league first-team selection at wide receiver. "I could never live with myself after football and after college if I was to give up something that I have the opportunity to keep doing.
"I always think, why not keep playing? Why not keep living out my dream until I cannot live it out anymore?"
In five games in 2020, Kapisi has four tackles, an interception, and a pass breakup for the undefeated Cougars, who will look to move to 7-0 for the first time since 2001 on Saturday against Western Kentucky (8:15 p.m. MDT, ESPN). He started out the season at cornerback — that didn't work out "because of my speed," Kapisi said — and even played some hybrid roles before settling on safety.
So when the 6-foot, 195-pound safety made his biggest contribution of his career on an interception, Kapisi was an easy player to get behind.
"I think that's more of just the locker room," defensive coordinator Ilaisa Tuiaki said. "The boys are a really tight-knit group. They all care about each other; there's competitiveness, but when a kid gets an opportunity to come in and make a play, everyone is excited for him."
It's hardly the contribution of star quarterback Zach Wilson, who leads the team with 1,928 yards and 16 touchdowns with just one interception, or Biletnikoff Award candidate Dax Milne, the Cougars' leading receiver with 639 yards and five touchdowns.
Kapisi isn't even one of the more talked-about defensive stars like NFL prospect nose tackle Khyiris Tonga or linebacker and team captain Isaiah Kaufusi. To most people, he's just the backup to safety Zayne Anderson.
But based on where he came from, that's enough, Kapisi said.
It's enough for the Cougars, too, who don't pay attention to players who may be walk-ons, scholarship stars, or anything in between.
"Nobody really classifies someone as a scholarship guy or a walk-on," Kapisi said. "Some people don't even know who the walk-ons are. There are some guys who have been on the team and no one thinks they're a walk-on. Their ability is so good, and no one would be able to go."
No matter the scholarship status, the Cougars are all one thing: family.
"It's just a culture of love and learning; we don't care who you are when you come here," Tanuvasa said. "You're a brother, and that's the bottom line."
On the Air
No. 12 BYU (6-0) vs. Western Kentucky (2-4)
Kickoff: 8:15 p.m. MDT
TV: ESPN
Streaming: WatchESPN
Radio: BYU Radio, KSL Radio
×
Photos
Related Links