HOLLADAY — Two more high schools in the Granite School District are being closed to in-person learning due to a rise in COVID-19 infection rates.
Olympus High School will close for at least two weeks for the second time in two months, and Taylorsville High School will also undergo a mandatory two-week period of distance learning after both schools exceeded the limit of 15 active cases, district spokesperson Ben Horsley confirmed to KSL on Tuesday afternoon.
With the two closures, 6 of 8 high schools in the district are now closed to in-person learning, including Cottonwood, Granger, Hunter and Kearns. Granger and Taylorsville had the highest active case count in the district at 19 students each, according to the district's COVID-19 case management dashboard, while Olympus just reached 15 cases this week.
Leaders in the district and the community labeled Olympus High School as a "hotspot" for new cases in a letter sent to parents on Sept. 21.
"It is clear that the overwhelming majority of the transmission that is occurring is happening outside of school in social and family circumstances," the letter reads, in part. "While we continue to do everything we can at your school, we need your help and support to ensure our students and staff can remain healthy and stay safe.
"Please make sure your family is adhering to the countywide health order to avoid large group gatherings, and wearing a mask in public and especially when social distancing is not possible."
Granger and Hunter high schools are scheduled to come off classroom dismissal on Nov. 2, according to the district dashboard, while Kearns will come off dismissal Nov. 9 under current recommendations.
While under mandatory quarantine, extracurricular activities such as athletics are allowed to resume as long as no more than three members of the team or class test positive for the novel coronavirus.
Before an announcement ending its season Tuesday, Kearns High's football team was initially placed on quarantine last week, but the district worked with the Salt Lake County health department to formulate a plan for the Cougars to compete in Friday's second-round 6A state playoff game against East if players, coaches and staff members received a negative test to practice before Tuesday and an additional rapid-results test before Friday's kickoff.
Other school-based activities will be postponed, however, due to the closure, which begins immediately and lasts through Nov. 11 at both Olympus and Taylorsville.
"This dismissal will require the cancelation or postponement of all other school activities, and spectators will not be permitted at ongoing competitions on school property with the exception of parents or guardians," the district wrote to parents in a letter signed by Olympus Principal Steve Perschon on Tuesday. "We regret this is the case but readily acknowledge that the safety for our students and employees will continue to be paramount above all else."
The Titans' football team is scheduled to host Timpview in the second round of the 5A state playoffs Friday.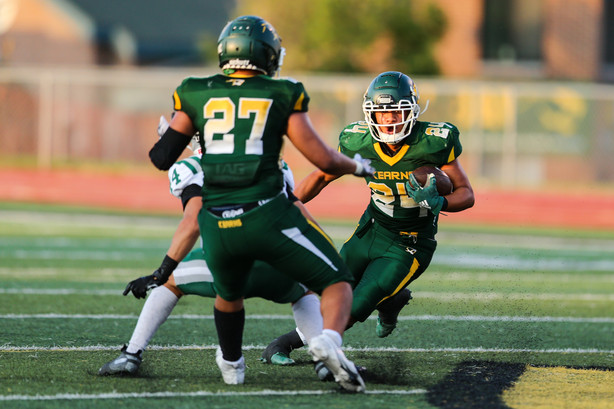 Kearns playoff football game canceled
Kearns high's run back in the 6A state playoffs was short-lived.
Granite School District also announced Tuesday that the Cougars' upcoming Class 6A state tournament game with East High School was canceled after receiving "a number of new confirmed cases" for COVID-19 from the Salt Lake County Health Department, which recommended the team enter quarantine and shut down their season.
"We have looked at the team case numbers and the specific players, as well as the situation as a whole, and while it is agonizing for us as a school and district, we concur with the recommendation," Kearns Principal Maile Loo wrote in a letter to parents. "Our student and staff safety must be paramount above all else.
"We are so appreciative of the efforts of the Salt Lake County health department to assist with testing opportunities and a protocol that fits within the state school COVID manual. We have had a phenomenal season and we are so proud of the efforts of our athletes and coaches."
Loo said that all athletes and staff that tested positive have been instructed to isolate and adhere to current health department guidelines. The school did not say how many positive tests the team received, but added that 87 players and coaches were tested since last Friday.
"We again express our sadness and pride and hope that this wonderful group of young men will hold their heads high for the way they have represented our school and community," Loo said.
The Cougars finished the season with an 8-1 record, the No. 5 seed in the 6A playoffs, and a Region 2 co-championship. Kearns had a bye into Friday's second round, which will be won by East on forfeit. The 12th-seeded Leopards, who beat Clearfield 69-20 in the first round, will advance to face the winner of the game between No. 4 American Fork and No. 20 Copper Hills played this Friday.
×
Related Links