Estimated read time: 4-5 minutes
This archived news story is available only for your personal, non-commercial use. Information in the story may be outdated or superseded by additional information. Reading or replaying the story in its archived form does not constitute a republication of the story.
DRAPER — Families of inmates in the Utah State Prison gathered outside the Draper offices of state corrections officials Tuesday, condemning their handling of a coronavirus outbreak that has sickened nearly 300 inmates at its Draper site and more than 60 employees.
The group joined advocates with the ACLU of Utah in calling for greater releases of inmates who are vulnerable or near the end of their sentences. And they criticized what in their telling are lapses in basic medical care for those incarcerated at the prison's Draper site.
"No one's getting help," said Carrie Knowlton, whose husband, Michael, has tested positive for COVID-19 in the outbreak. She said medical workers at the prison hand inmates pills but don't monitor them further or ask how they're feeling.
Knowlton described a similar approach when it comes to mental health, which she said consists of employees delivering crossword puzzles, a coloring book page depicting a pumpkin and a few crayons.
Although he didn't have any symptoms as of Tuesday, Knowlton told the Deseret News she worries her husband's mental and physical health will diminish. She said he's just five and a half months away from his release date on a drug conviction.
As of Tuesday, no inmate deaths due to COVID-19 were reported. A total of 278 prison inmates had tested positive at the Draper location, in addition to a single inmate at its Gunnison facility, plus 40 more being held in jails through contracts with counties.
At the vigil in Draper, speakers urged the group of about 25 to continue advocating for their loved ones in order to hold prison officials accountable.
Beth Thompson's voice was thick with emotion as she described how her husband has earned an associate degree in theology and became an ordained minister in more than eight years in prison.
"We have done everything that we need to do to show that he has been rehabilitated, that he is not going to be part of that recidivism," she said.
The group lit candles and prayed for the safety of their family members, imploring compassion of employees caring for their family members.
Some held signs saying "Inmate lives matter: Release before decease" and "Stop state execution by COVID-19."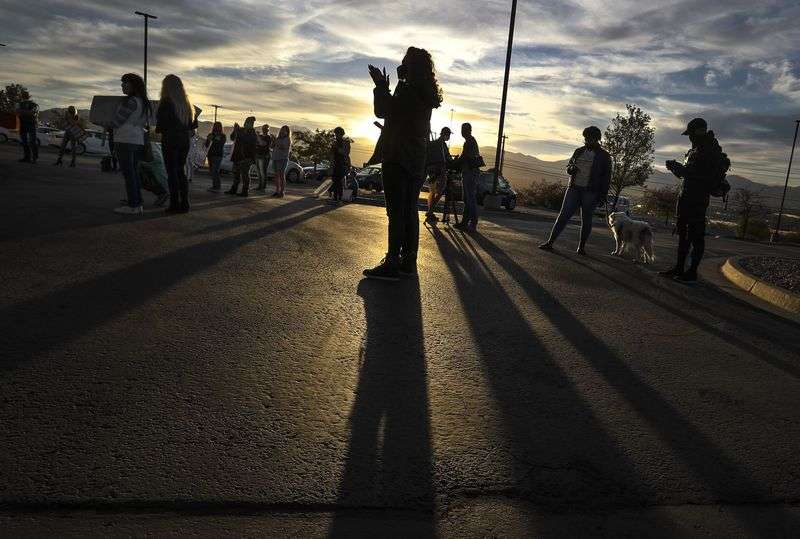 The Utah Department of Health traced the prison outbreak to a health care provider who treated several inmates, according to the prison. It identified subsequent spread among the general inmate population late last month.
Utah Department of Corrections spokeswoman Kaitlin Felsted said the worker was a contractor from outside the prison who was wearing full personal protective equipment. She declined to provide the worker's employer or job title.
Felsted said inmates who have tested positive so far are displaying mild or no symptoms, although the prison isn't saying whether any have been hospitalized.
The outbreak occurred in two housing blocks within the prison's Wasatch facility, where many confirmed to have the virus are being held near those who don't have COVID-19, said Sara Wolovick, an attorney with the ACLU of Utah. She called for the prison to better separate those infected.
Wolovick dictated as an inmate told her via telephone that he tested positive but has not received treatment for other medical issues, including an abscess. He said inmates were denied a shower for five days while in lockdown as the prison sought to contain the spread.
After falling sick or being exposed themselves, many jail employees are at home, so Wolovick and her colleagues are calling on the prison to request help from other agencies.
Felsted said such assistance isn't needed and noted inmates are receiving the appropriate care.
"We have a full medical team walking the floor constantly and just being abundantly cautious," she said, an effort that includes daily mental health checks.
"Up until a couple of weeks ago, we had not had an outbreak in our general population, which was almost unheard of across the nation," Felsted said. "We've just been really, really aggressive about trying to prevent any kind of outbreak and aggressive about having plans in place to contain an outbreak."
Felsted noted the prison has provided masks to all inmates and employees, while new inmates have been held in isolation for two weeks and administered a test as a precaution. She did not have information on the prison's testing capacity but said those who show symptoms or who are suspected of being exposed are being tested.
The ACLU and defense attorneys sued in April in an effort to force greater releases of Utah inmates, but the Utah Supreme Court rejected the bid on procedural grounds.
"There's been a nationwide problem with courts not responding appropriately and basically saying that if prisons or jails are taking some steps, then that's reasonable, even if the steps they are taking are not sufficient," Wolovick told KSL.
Since March, the prison and several jails have released certain offenders or suspects early in order to help slow the spread of the virus and said they were upping cleaning protocols. But some inmates who remained in both Washington and Weber counties have reported they were punished for reporting symptoms, allegations that corrections officials have denied.
×
Photos
Related links
Related stories
Most recent Coronavirus stories