Estimated read time: 2-3 minutes
This archived news story is available only for your personal, non-commercial use. Information in the story may be outdated or superseded by additional information. Reading or replaying the story in its archived form does not constitute a republication of the story.
LOGAN — Utah State University officials are taking a big step in their fight against COVID-19 after opening their own on-campus testing site.
They're getting federal CARES funding to make this happen, and the staff is all being sourced right here on campus.
Nursing students are taking the samples and a veterinary science lab is getting the results.
Just east of Maverik Stadium, students like Griffin Bolton are getting the kind of real-world experience they probably never expected.
"It's been cool. It's been interesting to see kind of how the process is done," Bolton said. "I think it's definitely a once in a lifetime opportunity. Maybe not super-practical, once we … you know … five, 10 years down the line, but good experience nonetheless."
But unusual times often call for some creative methods for fighting back.
"Having our own resources will be a huge benefit, so we can just send people in, get them tested and get results much more quickly," said Amanda DeRito, a spokeswoman for Utah State University.
DeRito said this testing center has been a part of the school's strategy from the beginning, and it will allow them to get more students and employees tested, including those who may have been exposed but aren't showing any symptoms.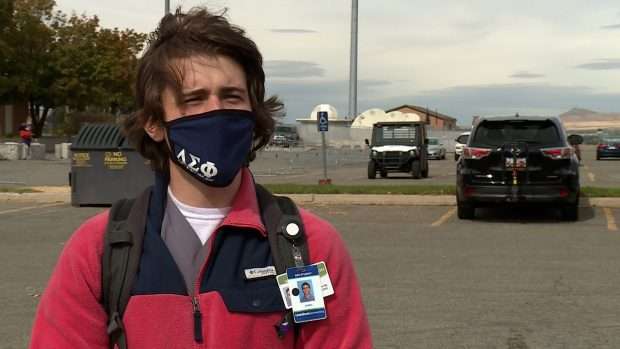 "And then from there, it goes over to our vet lab, that has received emergency certification to do these kinds of tests right now during the pandemic," DeRito said.
As a senior nursing student, Bolton said the pandemic has already turned his experience upside-down.
"I'm a CNA over at a skilled nursing facility, and we've had little outbreaks here and there, with residents, with staff, you know," Bolton said. "I've worked with patients that have had COVID. You know, seeing them go out to a facility, out to the hospital and come back or even pass away."
But this is at least one more way students like him can help.
DeRito said they'll be able to test up to 180 people a day here.
Students and employees who want a test will have to set that up online.
×
Related links
Related stories
Most recent Coronavirus stories