SALT LAKE CITY — The regular season is winding down, and the Utah state football playoffs are around the corner.
The road for 2A through 5A will end in the same place: Greater Zion Stadium in St. George, on the campus of Dixie State. Class 4A and 5A schools will soon work toward the state championship Nov. 21, while 2A and 3A will work toward their final goal a week earlier.
In Class 6A, the site of the state semifinals and championship game is yet to be determined. So, too, are several key region champions, which brings us to this week, championship week, including in the SEC of Utah high school football, Region 4.
Here's how the penultimate Top 20+1 rankings of the 2020 regular season stand after nine weeks of games.
1. Corner Canyon (9-0)
The Chargers are still on top and can clinch a Region 4 title with a win Wednesday over American Fork. But first, they had to survive their toughest foe to date. Trailing 26-14 at halftime, Jaxson Dart rallied Corner Canyon with four touchdown passes — including the game winner to Cody Hagen with 59 seconds left, to escape the Falcons' upset bid.
2. Lone Peak (8-1)
The Knights' defense has been good, but Lone Peak found its offense with a 48-45 shootout win over rival American Fork. The only thing more impressive than quarterback Jonah Heimuli was Weston Covey, who caught all four of the backup's touchdown passes.
3. Skyridge (7-2)
McCae Hillstead accounted for four touchdowns in the first half against the Chargers, and he's only a sophomore. Falcons have the talent to win for years, starting Wednesday against Westlake.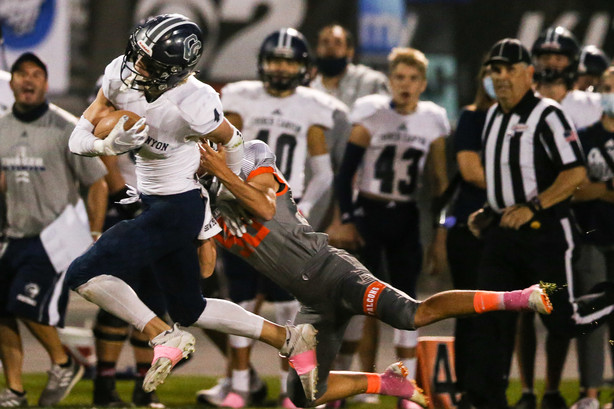 4. American Fork (7-2)
Maddux Madsen had five touchdowns against the Knights, bringing his year's total to 37 to go along with 3,088 yards.
5. Roy (8-0)
The best non-Region 4 team in the state stays where it is after its Region 1 title game with Weber was postponed. The Royals and Warriors' clash this Friday will be must-see TV.
6. Brighton (8-0)
The Bengals came off a break and shut out Hillcrest, 63-0. Gabe Curtis has totaled 2,144 yards and 24 touchdowns for Brighton, which finishes Thursday at Highland.
7. Pleasant Grove (6-3)
The Vikings' 26-18 win over Westlake will keep them in the Top 10 — plus, their only losses are to teams ranked No. 1, 3 and 4, with No. 2 in the regular-season finale Wednesday.
8. Skyline (7-0)
It will be 11 days since the Eagles' last game when they kick off Friday at Olympus, with The Rock on the line.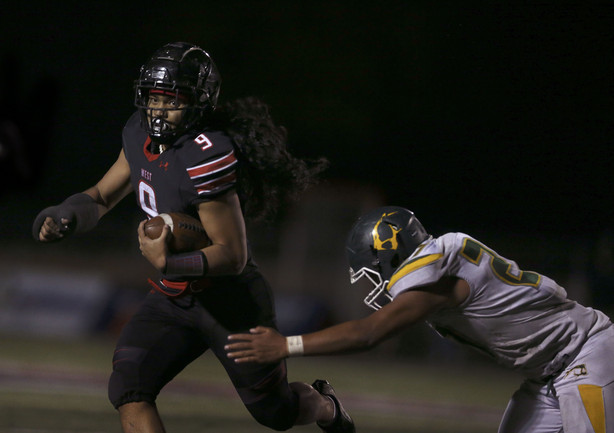 9. Kearns (7-1)
Jeffrey Bassa's commitment to Oregon did little to assuage the sting of a 27-17 loss at West, but the Cougars have higher goals come tournament time.
10. Orem (3-2)
The Tigers haven't played in a month, and each week's cancellation has come due to COVID-19 counts with their opponents. Just getting to Thursday's kickoff against Lehi will be a challenge, to say nothing of the plucky Pioneers.
11. Salem Hills (7-1)
The Skyhawks forced a four-way tie atop Region 8 with a 21-0 shutout of Wasatch, with Maple Mountain, Wasatch and Springville also at 3-1 in league play. Only two can win this week when Salem hosts Golden Eagles and the Red Devils tab Wasps.
12. Sky View (9-0)
Can anyone beat the Bobcats? It won't come until at least the 4A playoffs, after a 35-20 win over Bear River to wrap up Region 11.
13. Bingham (5-3)
After a tough year, the Miners can clinch at least a share of the Region 3 title with a win over Copper Hills. Bingham, East and Riverton are all tied atop the league with one loss.
14. Timpview (4-3)
The Thunderbirds pushed their clash with Alta to Saturday but didn't wait any longer in seizing a 42-24 win over the Hawks for a 3-0 finish in Region 7.
15. Weber (6-1)
We're still waiting for the Warriors and Royals.
16. Davis (6-3)
The Darts are backing into the postseason after a 30-26 loss to Fremont.
17. Beaver (8-0)
The 2A machine keeps rolling with a 57-7 win over Millard, making Thursday's senior night against Parowan a chance at a perfect regular season.
18. Maple Mountain (6-2)
The Golden Eagles have all their goals ahead of a clash with Salem Hills, thanks to wins over Spanish Fork and Provo in the buildup.
19. Pine View (8-1)
No letdown for the Panthers, who pulled away from Dixie 32-21 a week after an emotional win over Snow Canyon.
20. Wasatch (6-2)
The Wasps aren't who we thought they were after the shutout in Salem. Can they redeem themselves against the Red Devils?
Plus-1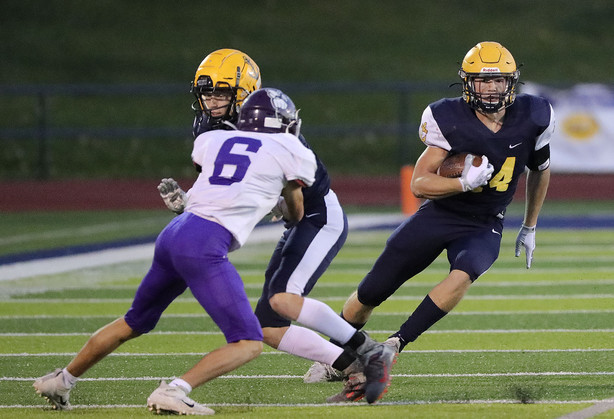 Bonneville 42, Box Elder
Kamen Best threw for two touchdowns and ran for another to lead the Lakers past the Bees, clinching the Region 5 championship with an unbeaten 5-0 record. Bonneville (8-1) hasn't loss since Aug. 21 against Sky View and will ride a 7-game winning streak into the playoffs following a bye week.
×
Related Links