RIVERTON — East's opening drive to open their Week 9 game at Riverton looked pretty familiar, from the seven minutes of straight rushing attempts to the 3-yard touchdown plunge by big back Iuliano Sula.
On the Leopards' next offensive drive about seven minutes later, they did something a little different from the option-based offense, when Izaak Zimmerman hit Siona Vailahi for 57-yard touchdown strike to go up 22-0.
A little over two hours later, East had something more to celebrate.
The Leopards' ground-and-pound offense was evident Thursday night, with rushing touchdowns from Sula, Maps Vaenuku and Sau Tafisi, but it was Vailahi's long pass that may have East celebrating long after a 36-20 win over Riverton that kept the Leopards tied atop Region 3 with 3-1 record alongside rival Bingham.
"Siona is going to have a special career here. He's just a freshman, but he has super speed — he's our backup quarterback," said East coach Brandon Matich, whose team can clinch a share of the region title with a win over Jordan next week (0-9). "He'll be a great option quarterback for us.
"He's got the swagger and the ability of a senior, but there's some maturation that needs to occur. He'll be a dangerous weapon for us."
After Sula's run and a 2-point conversion from Voi Tunuffi, the latter big guy scooped up a fumble and returned it close to 70 yards for the big opening lead, 15-0. Zimmerman found Vailahi just under two minutes into the second quarter to give East a 22-0 advantage, and the Leopards were off to the races.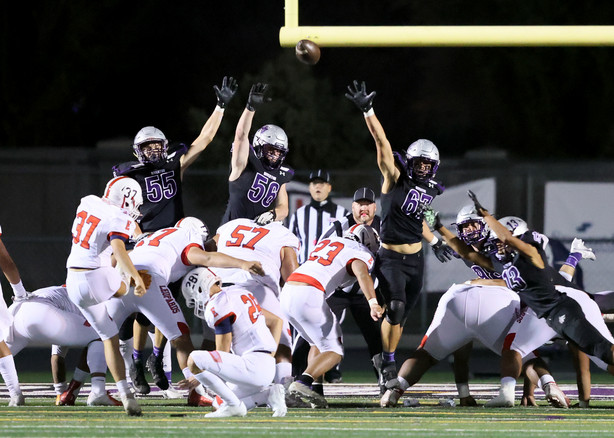 Coming off its first win over Bingham in 17 years, Riverton (5-4) made things interesting when Colby Barton hit Brayden Hunkin with back-to-back touchdown passes on either side of halftime.
But the Leopards (4-4) responded in the third with Vaenuku's 4-yard touchdown plunge, and Tafisi's 11-yard run with 4:24 remaining iced the game for East — and eventually set off a wild postgame celebration as the Leopards celebrated another region title.
It hasn't been an easy year for East — has any team in the country had an "easy year" while playing during the COVID-19 pandemic? So Friday's celebration of a chance at a region title may seem small.
But even small victories are worth celebrating in 2020.
"You know, our kids need something to celebrate. Maybe 2020 has something to do with that; it's been hard year for us," Matich said. "We've had some bumps in the road and anything that we can get from this — I don't care if it's Riverton or Bingham, but Riverton is a good football team.
"We had this thing hyped up like a region championship game. Our kids bought into it, hook, line and sinker."
Barton added a 6-yad touchdown to Josh Jacobsen in the final moments of the game for Riverton, which closes the regular season Wednesday at Herriman.
"The Bingham game was really upsetting to our guys; we felt like it got robbed away from us a bit," Matich said. "But this team is really starting to jell together. They just needed to find their spirit a little bit."
Scoring summary
First quarter
5:00 — EH: Iuliano Sula, 3-yard run (run from Voi Tunuufi)
1:49 — EH: Voi Tunuufi, 70-yard fumble recovery (kick from Francis Dolce)
Second quarter
10:40 — EH: Siona Vailahi, 57-yard pass from Izaak Zimmerman (kick from Francis Dolce)
1:11 — RIV: Brayden Hunkin, 5-yard pass from Colby Barton (kick from Wyatt Miller)
Third quarter
4:35 — RIV: Brayden Hunkin, 22-yard pass from Colby Barton (kick from Wyatt Miller)
3:44 — EH: Mapa Vaenuku, 4-yard run (kick from Francis Dolce)
Fourth quarter
4:25 — EH: Sau Tafisi, 11-yard run (kick from Francis Dolce)
2:29 — RIV: Josh Jacobsen, 6-yard pass from Colby Barton (kick failed)
Final — East 36, Riverton 20
×
Photos
Related Links