SALT LAKE CITY — It was another weekend of upsets as six Top 25 teams fell victim to lower-ranked opponents in Week 6 of play — most notable was defending national champions LSU falling victim to unranked Missouri.
The Tigers held a 3-point lead coming into the fourth quarter at home, but Missouri's Niko Hea caught a 5-yard touchdown strike from quarterback Connor Bazelak for the game's final score with just over five minutes left to play. LSU was a 14-point favorite coming into the game, but it's still not clicking for the Tigers who lost their second game of the season in just three games. As a result, the defending champs have fallen out of my rankings this week.
Staying in SEC country, No. 4 Florida found itself in a battle with No. 21 Texas A&M. The two programs went back and forth all game, but the Aggies outlasted the Gators to claim a 3-point victory with a time-expiring 26-yard field goal to win it in regulation. Texas A&M fell victim in the rankings due to a blowout loss to Alabama in their second game of the season, but bounced back this week with a quality win.
And for a long minute, Alabama nearly found itself in trouble against unranked Ole Miss Saturday night. The Rebels traded scores with the Crimson Tide for much of the game — up to a 42-42 score — but Alabama found some creases in the defense late and did just enough to make it seem as though they were in control the whole time to win 63-48. But it wasn't all roses for the powerhouse program known for its stout defense — Alabama gave up 647 total yards of offense.
Then there was the craziest game of them all, the Red River Showdown — an exciting four overtime matchup between two programs coming off a loss the previous week. Oklahoma dominated the game early but had little to show for it as Texas stayed even through the halftime break. But Oklahoma found its rhythm in the third quarter to claim a 14-point lead.
Texas answered back in the fourth quarter, with a pair of touchdowns of their own, including a 2-yard pass from quarterback Sam Ehlinger to Keaontay Ingram with 14 seconds left in regulation. After four overtime periods, including a third overtime where both teams missed a field goal, Oklahoma had come out on top. Quarterback Spencer Rattler found Drake Stoops for a 25-yard touchdown, and then Tre Brown pulled down a game-ending interception as Ehlinger looked to equalize.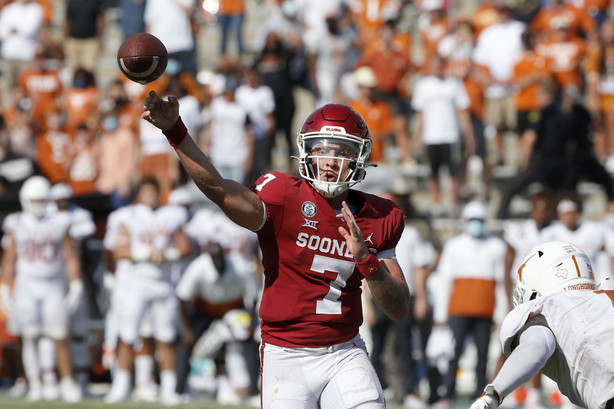 The Sooners may have won the game against a ranked opponent, but I want to see more consistency before putting them back in my ballot. I'll likely be one of the only voters to keep them out, but there's still plenty for the Sooners to work on, and enough time to get it done. They're still a good team.
Last week, I said I believed Iowa, Minnesota and Utah should be ranked, though none of their seasons have yet to start. After there were several upsets this week, I decided to insert Minnesota and Utah out of the three teams. Both teams were ranked in my preseason ballot and have Top 25 ratings from SP+.
Minnesota and Utah are fairly similar teams — both were in the College Football Playoff spotlight in 2019 with outside shots, but missed the cut. In 2020, they return similar production on offense but are forced to retool almost entirely on defense.
What sets them apart: Minnesota has to adjust to a new offensive coordinator in former Utah State coach Mike Sanford, while Utah has a favorable schedule, which should help them, at least early on, to stay ranked.
Dropping Out: LSU (1-2), TCU (1-2), Texas (2-2)
Checking In: Kansas State (3-1), Minnesota (0-0), Utah (0-0)
In Consideration: Army (4-1), Iowa (0-0), Marshall (3-0), NC State (3-1), Oklahoma (2-2)
If you have a question about any of the teams I ranked (or missed), hit me up on Twitter (@JFurKSL) and I'll do my best to explain my reasoning.
×