SALT LAKE CITY — It was a great weekend of college football — unless you were a ranked team in the Big 12.
Of the 16 games that featured a ranked opponent, eight resulted in an upset, including a loss for Texas and Oklahoma — the Big 12's two most prominent teams and the ones in the best position to contend for a spot in the College Football Playoff. That was until Saturday.
Texas played with fire last week and needed a come-from-behind effort and overtime period to eventually beat an upset-minded Texas Tech. But the Longhorns didn't learn from their foray into the doldrums of heat and found themselves in an early hole against TCU on Saturday. Texas scored a go-ahead touchdown late in the game, but TCU answered back with a score of its own. With time wearing down, Texas fumbled the ball in the red zone and the Horned Frogs wore out the clock with an intentional safety to claim the upset win.
So no, Texas is not back — if you're still wondering.
And then there was Oklahoma in the late game. The Sooners were already upset last week by unranked Kansas State, so a bounce-back win in Ames, Iowa, a place where Iowa State hasn't beat Oklahoma since 1960, seemed like a done deal. But someone didn't tell Iowa State that Oklahoma was supposed to win (by 8 points for all the bettors out there).
The Cyclones whipped up a storm of touchdowns in the final eight minutes of play to claim a 37-30 win and give the Sooners back-to-back losses. As a result, I dropped the Sooners out of my Top 25, though I expect they'll likely be back later in the year if they can turn the ship around. But for now, it's a no for me.
For either Texas or Oklahoma, the losing troubles will continue next week as the two teams meet up in the Red River Showdown — this year the loser will be put out to pasture. What better way to up the rivalry stakes?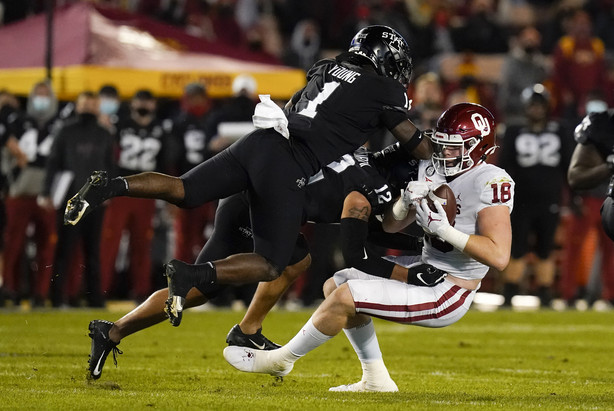 Oklahoma State survived as the only ranked Big 12 team this weekend to win a game — but a win over Kansas hardly counts, even if it was by 40 points. Still, the Cowboys are the conference's only real shot of claiming a spot in the playoff, so all eyes are on Chuba Hubbard and Oklahoma State.
Locally, BYU torched another opponent as quarterback Zach Wilson put up a five-touchdown performance in a 45-14 win over Louisiana Tech. The junior signal-caller threw for two touchdowns on 24-of-26 passing for 325 yards, and added three rushing touchdowns for sport. BYU's offense is clicking and tearing apart far inferior opponents.
The Cougars remain an intriguing team with a watered-down schedule. Has head coach Kalani Sitake finally gotten things to click on both sides of the ball or is this due to the scheduling? Postponing the Army game early this season really threw a wrench into being able to evaluate BYU. The Cougars are doing exactly what they should, but given Louisiana Tech's defense (or lack thereof), it shouldn't be too surprising. This is why I'm keeping the Cougars in the same spot in my rankings this week.
Still, the Cougars have been fun to watch.
As for the rest of the rankings, it's clear Alabama and Clemson, and even Florida and Georgia, are in a league of their own. The Crimson Tide dismantled No. 13 Texas A&M and are worthy to take over the No. 1 spot in my ballot this week. Clemson continues to dominate, too, so a move to No. 2 seems unfair, which is why I view it more as a 1B option, with Alabama taking a slight edge at 1A.
I'm sure there will still be some consternation about teams that haven't played a game yet being ranked in my ballot, but that's where I'm projecting those teams for the time being. Truthfully, I still like Iowa, Minnesota and Utah to be ranked, and believe they should be there, but there's still plenty of time to see how this will shake out. Of the three, Utah likely has the easiest schedule and best shot to be ranked earliest, but all three are on equal standing in my eyes, which makes inserting any of them a tricky task.
Dropping Out: Oklahoma (1-2), Memphis (1-1), Mississippi State (1-1), UCF (2-1)
Checking In: Iowa State (2-1), Louisiana (3-0), SMU (4-0), TCU (1-1)
In Consideration: Army (3-1), Iowa (0-0), Kansas State (2-1), Minnesota (0-0), Utah (0-0), Virginia Tech (2-0)
If you have a question about any of the teams I ranked (or missed), hit me up on Twitter (@JFurKSL) and I'll do my best to explain my reasoning.
×