SALT LAKE CITY — On Thursday night, the Mountain West became the ninth conference in the Football Bowl Subdivision to announce its intent to play fall football amid the novel coronavirus pandemic.
A day later, the conference began to reveal what that football season would look like.
The Mountain West will open the season Saturday, Oct. 24, the beginning of an eight-game conference schedule that will culminate with the Mountain West championship game Saturday, Dec. 19.
The decision reverts an Aug. 10 decision that indefinitely postponed the fall athletics season across all sports, from football to women's soccer to volleyball. Thursday's decision only relates to football.
"We are excited that our team has the opportunity to compete and play this fall," Utah State head coach Gary Andersen said. "There is much work to do and lost time to make up, so we are already hard at work preparing to put the best product out on the field."
The conference title game will be determined by the two teams with the highest winning percentage, hosted by the school with the better record or winning percentage.
The conference's restart means nine of the 10 FBS conferences will play some form of schedule in the fall 2020 season — a decision that impacts universities, players, coaches and television inventory. Each school will be left up to its own decision-making powers, in conjunction with local and state health authorities, to determine the if — or how many — fans will be allowed to attend games.
🗣 Coach Andersen | On the return of @USUFootball

➡️ https://t.co/qBa0tJffW7#AggiesAllTheWaypic.twitter.com/DEJqMD94JI

— Utah State Athletics (@USUAthletics) September 25, 2020
Rapid testing to the rescue
The biggest update to the Aug. 10 decision, in fact, came in the conference's partnership with Quest Laboratories, which will allow for rapid-results antigen testing among players, coaches and staff members at least three times per week.
"Doing it multiple times during the week increases your chances of getting rid of the decrease in specificity," said Dr. Tony Islas, a physician with the University of Nevada-Reno. "We're using an antigen test through quest labs that is immune to the market.
"It's a tiny fraction less accurate than a PCR test. By doing it multiple times per week, we are confident that we will be able to factor out those false negatives and false positives, as well."
But the decision to play didn't come about in the last few days, or in response to any other conference's situation, Mountain West commissioner Craig Thompson told reporters during a conference-wide video call.
"We didn't base anything on the Big Ten or any other conference," Thompson said. "Our situation was unique; we had three schools in California, in Hawaii and in New Mexico that had different restrictions.
"It didn't just happen in the last week or based on anyone else's decision. We've been working on this for months now."
Thompson added that the league will absorb all costs of testing, including additional PCR tests that will be used to confirm point-of-contact positive results, at a cost estimated in the millions of dollars. The Mountain West will use a reserve fund to manage those costs.
"The antigen test, as Tony discussed, has lower limits of detection compared to some of the other tests on the market today," said Jim Davis, executive vice president of Quest Laboratories. "At those lower limits, we can detect the virus earlier and we have a better specificity around those lower limits. That's what gives the medical community in the conference the confidence to test every other day."
Schools will not be required to publicly disclose positive test results, at least not at the moment, Thompson said. But San Jose State President Mary Papazian, who also chairs the conference's board of directors, said the schools are constantly communicating updates within their campus communities amongst themselves.
"Each campus will determine how they want to report cases or exposures," Papazian said. "We have activities on campus right now, primarily virtual, but some labs are happening in teaching and research. We're constantly informing our campus on where things stand — not always specific numbers, but certainly the process.
"The football program is one program that we took into the same approach as anybody else."
What will the schedule look like?
Though the eight-game schedule is known, each teams' week-to-week movement is still yet to be determined, Thompson said. That also means no formal decision has been made on when, how or if games will be canceled during the season.
No threshold has been determined for the cancellation of games — whether it be the total number of players, a mix of players at certain position groups, or any combination in between — but Thompson said that will be determined by league athletic directors as they finalize the schedule as soon as is reasonably possible.
Regardless, the conference boss anticipates cancellations will occur, and that those cancellations will be just that — not postponements — due to the compressed nature of the schedule.
"We have eight games in eight weeks," he said. "I would fully anticipate that not all 12 institutions in the Mountain West will play all eight games, based on what we've seen from other leagues so far."
It is assumed that the conference will prioritize division opponents, but the championship game will include the two teams with the highest winning percentage. The exact schedule will be developed and released in consultation with Mountain West athletic directors in the coming weeks — or even days — as soon as is reasonably possible, Thompson said.
For now, the schools can begin phasing in practices under a similar model of the 29 days of training camp provided most seasons in August. That will include an acclimation period for helmets, shells and pads, though most teams have been practicing under a limited 12-hour per week policy.
One team that won't play all eight games is Air Force, which already has Commander-in-Chief's Trophy games scheduled Oct. 3 against Navy and Nov. 7 against Army. Because of those commitments, the Falcons could play as few as six conference games, or as many as nine total games during the 2020 season.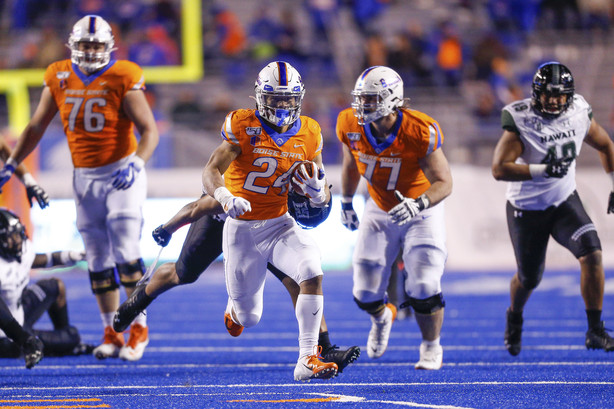 Is BYU-Boise State back on?
They likely won't be the only one, either. BYU and Boise State are currently working on a plan to reschedule a nonconference game as part of the teams' contract of games played all but one year through the 2034 season.
If this year's game is scheduled — and there is little reason to believe that it won't be — the Broncos would also only play seven conference games.
"Right now, Army, Navy and Air Force will be out-of-conference," Thompson said. "There's a potential that a Boise State-BYU previously scheduled game could be played. Other than that, it will be all in-conference."
The Cougars and Broncos were originally scheduled to play Nov. 6 prior to the Mountain West's postponement. That date remains open on BYU's schedule, which currently features eight games with an added contest at Army in limbo following a postponement due to COVID-19. Both schools have said they plan to reschedule the matchup, and the weekend of Nov. 28 and Dec. 5 remain open for both teams.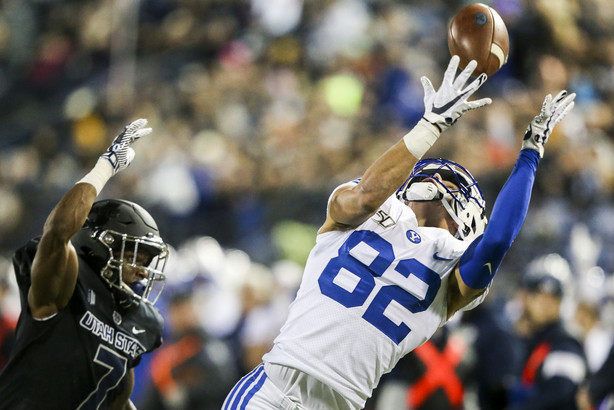 New season, new beginnings
Regardless of the slight schedule imbalances, Thompson anticipates all 12 football-playing institutions of the Mountain West to participate during the fall season. That includes the three schools in California, which is currently facing significant spikes of COVID-19 outbreaks; Hawaii, which has implemented mandatory curfews and lengthy quarantine procedures for all incoming travelers to the islands; and New Mexico, which has similar travel advisories and limits on large events and gatherings.
Those will be worked out in the coming days and weeks, Thompson said.
"We have some restrictions in some of our states right now, and we're working through those with state and local governments," he added. "It might be a little premature, but at this point everybody is making every effort to get those clearances."
In Utah, it means a full schedule is coming — and even likely with limited spectators at Maverik Stadium in Logan, Utah State Athletic Director John Hartwell teased late Thursday night. The specifics of that stadium plan aren't known, but Hartwell is confident some fans will be allowed to purchase tickets to some version of a normal college football game.
"I am thrilled for Aggie Nation that football is returning this fall," Hartwell said. "It is great for the university, our students, alums, fans, the people of Cache Valley, etc.
"We know there are still challenges ahead over the next month of practice and the following two months of games, but we will navigate those and look forward to seeing our Aggie football team on the field competing for a Mountain West championship."
×
Related Links