Estimated read time: 6-7 minutes
This archived news story is available only for your personal, non-commercial use. Information in the story may be outdated or superseded by additional information. Reading or replaying the story in its archived form does not constitute a republication of the story.
Editor's note: This story is a part of a series highlighting Latter-day Saints for General Conference week.
---
SALT LAKE CITY — Steve Young is a Pro Football Hall of Famer, a three-time Super Bowl champion and was the MVP of Super Bowl XXIX with the San Francisco 49ers.
And yet each of those achievements pale compared to the greatest accolade the now-wildly popular ESPN broadcaster has achieved.
"At this stage of my life, I'm most grateful for two things: my family and my family," Young wrote in his book, "QB: My life behind the spiral".
With all of his success, which also includes a Hall of Fame career at BYU and the 1983 Davey O'Brien Award given to the nation's top collegiate quarterback, Young has spoken publicly about how much more important it is for him to be a role model to the youth, especially as an example of a prominent member of The Church of Jesus Christ of Latter-day Saints.
It's his faith that carried Young to his heights, from a lightly-recruited "athlete" at BYU destined to be a running back, to his backup quarterback role, and to eventually becoming one of the top dual-threat quarterbacks in the history of the National Football League.
"My life before retirement was filled with moments where things didn't go so well or turn out the way I had planned," said Young, who was born in Salt Lake City but grew up in Connecticut before playing collegiately at BYU. "Looking back, I'm grateful for those experiences. They were defining moments that made me a better person."
Young isn't the only high-profile athlete on the world's stage who represents The Church of Jesus Christ of Latter-day Saints, which will hold its semiannual general conference Saturday and Sunday in Salt Lake City.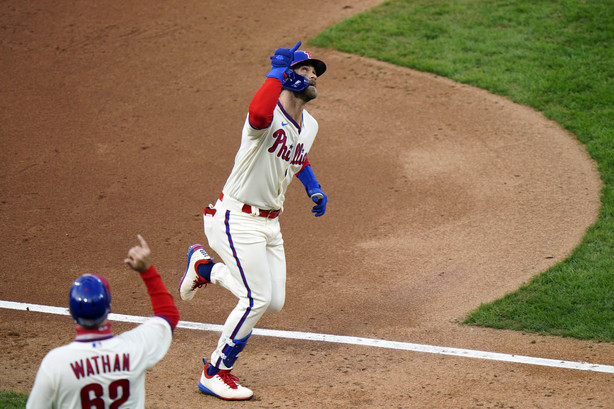 Bryce Harper, the Las Vegas-born outfielder for the Philadelphia Phillies, was the No. 1 overall pick in the 2010 MLB amateur draft by the Washington Nationals. He went on to sign a 13-year, $330-million deal with the Phillies in 2019, and hit .268 with 13 homers and 33 RBI during Philadelphia's pandemic-shortened season of 2020.
But Harper admitted that none of those accolades matter without the center of his life: his faith — for which he's been outspoken in recent years — and his role as a husband and father.
"I thought fame, fortune, and an MVP award would make me happy. Something was missing," he said in an address from Elder Gary E. Stevenson of the church's Quorum of 12 Apostles. "So, I . . . prepared and [entered] the temple. I am now on a path to [return] to my Heavenly Father and have an eternal family — which is the greatest joy in the world!"
Fame isn't everything, according to Olympic skeleton rider and five-time FIBT World Championship medalist Noelle Pikus-Pace. The acclaimed Latter-day Saint and Utah Valley alum marks her integrity and values as more important than any medal she's ever won.
"No amount of medals, fame, or glory could cause me to give up my integrity," wrote the Mountain View High graduate in her book "Focused". "I know who I am and what I stand for regardless of what others say or think. Skeleton is a sport. It is just a sport. My integrity is everything."
That doesn't mean sports and the professional lives of these famous Latter-day Saint athletes aren't important. Everything has a season, says New Orleans Saints backup quarterback Taysom Hill — including the chance to perform on the field, and the chance to perform as a church member, husband and father.
"Life has different seasons," Hill said during a virtual fireside with the Pocatello Idaho mission in May, shortly after signing a two-year, $21-million deal with the Saints. "Right now we're in the offseason, and my life is out of balance in a great way — where I can spend a lot of time with my wife and my family. But once August hits, I don't see my wife for weeks.
"Once we hit the season, I'm gone most days … but what we've realized is there are seasons in life, and you have to take advantage of each season. When it's football season, I try to go and be the best football player I can be, because I know it's going to benefit my wife and my family. But when it's my offseason, I do my best to make sure I'm the best husband and best father that I can be."
No matter the season or one's career, Hill added it is important to strive to be your best — in sports, in work, or in life.
"I think you need to be focused on being excellent," he added, "but you need to realize there are seasons in life, and things can get out of balance."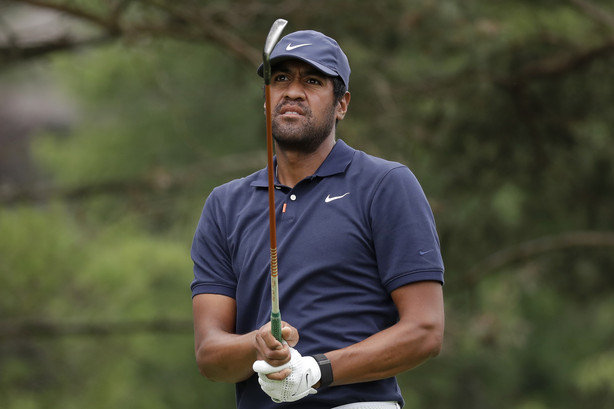 A similar drive has pushed Salt Lake City native Tony Finau up the PGA Tour. The West High alum currently ranks No. 14 in the World Golf Rankings, with more than $20.3 million in career earnings.
And yet, even that isn't the most important attribute Finau claims in his career. No amount of fame, money or career prestige will take away from the Rose Park product's role as a husband, father and member of the church.
"I take a lot of pride and honor in being a member of the church, but more so just being a disciple of Christ," Finau told LDS Living magazine. "We're all disciples of Christ, and we take upon us his name when we enter the waters of baptism. It's our responsibility and it's our duty, and it doesn't matter who you are.
"I'm a professional athlete, and I love playing the game of golf. Since I do have that type of platform to reach others, I want them to know who I am and who I represent. If they think I'm a good person, hopefully, they know where that comes from. That comes from not only the gospel but also from just learning of our savior Jesus Christ and who he is and trying to have that light shine through to others in the best way I can."
×
Photos
Related Links