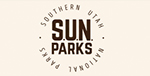 This story is sponsored by SUNParks.
Tired of homeschooling?
Missing all the new movies you thought you'd be seeing?
Mourning the loss of a highly anticipated family trip?
Visiting Utah's five national parks might be just what you need to cure your pandemic blues!
Each of these parks is located in close proximity to one another, so you can see them all in one (multi-day) trip or tackle one at a time. Whichever method you prefer, one thing is for certain—you won't run out of things to do or see.
Now that you're itching to hit the road, you might be wondering exactly what to include in your trip itinerary. Consider this your ultimate guide to Utah's five national parks.
Arches National Park
If your only exposure to the world-famous Delicate Arch has been seeing it on various license plates throughout the state, then you've seriously missed out.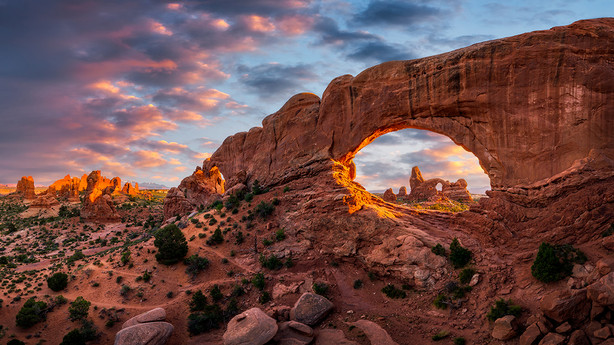 Arches National Park is an iconic red rock wonderland that beckons to travelers from all around the world. Home to the world's largest concentration of natural arches, this national park is also a playground of massive rocks, sandstone fins, spires, and other geological treasures. Although you can easily enjoy the view from your car, the best experience is hiking the trails and seeing the formations up close.
If hiking isn't your thing but you enjoy a good adrenaline rush, you can try river rafting, biking, and other sports in the nearby town of Moab. Lodging, restaurants, outfitters for optional trips and a full range of other services are also available.
Bryce Canyon National Park
For a truly jaw-dropping spectacle, be sure to visit the wind and water-carved landscape of Bryce Canyon National Park. Its horseshoe-shaped amphitheaters at the edge of the Paunsaugunt Plateau provide a feast for the eyes. According to the National Park Service, the area boasts some of the world's best air quality, which allows for panoramic views of three states and nearly 200 miles of visibility.
As part of the old stomping ground of infamous outlaw Butch Cassidy, the area retains a flavor of the Old West. Horseback rides, rodeos, chuckwagon dinners—this is just a small taste of what awaits you when you visit.
Hike, ride bikes, or take the park shuttle to viewpoints along the canyon rim. If you're feeling extra adventurous, you can even tackle some of the trails that go into the amphitheater.
Canyonlands National Park
Have you ever wanted to stand in four places at once or ride the trails where John Wayne and other cowboys filmed classic Westerns? Canyonlands National Park is the place for you.
Canyonlands National Park is divided into four districts: Island in the Sky, Needles District, the Maze District, and the combined rivers - the Green and Colorado. The two areas that allow the most ease of access and proximity to a community are Island in the Sky and The Needles District.
Island in the Sky provides mountain biking and scenic vistas and is in close proximity to Moab. The Needles District has great hiking, backpacking, and Jeeping opportunities. It is also close to Monticello.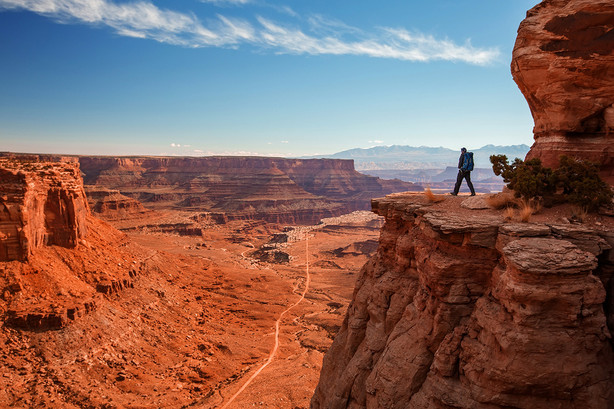 A majority of the vast area is only accessible by hiking, biking, or Jeep trails. For a whitewater (and white knuckle) adventure of a lifetime, take a rafting trip down Cataract Canyon—or float along the family-friendly San Juan River.
For a full list of must-do activities in Utah's largest national park, click here.
Capitol Reef National Park
Believed to be one of Utah's best-kept secrets, Capitol Reef National Park is an understated beauty.
The Waterpocket Fold is a 100-mile long geologic reef or monocline, from which Capitol Reef National Park received its name. Different types of sandstone form folds, crevices, arches and bridges, which provides a myriad of slot canyons for hikers and bikers. High Navajo sandstone domes with huge red rock cliffs also allow for amazing viewing and photography.
When you've had your fill of the scenic outdoors, spend time soaking in the small town, western feel of the communities just outside of the park.
Zion National Park
With an expansive canyon, towering cliffs, and recreational opportunities galore, wide open spaces it's no wonder Zion National Park was the fourth most visited national park in the nation in 2019, according to the National Parks Service.
In Zion Canyon, you'll see the classic formations that have made the park famous: the Watchmen, Court of the Patriarchs, Great White Throne, Angels Landing and others. Choose between a leisurely, family-friendly hike or a more adventurous challenge in the Narrows, Angels Landing, one of the rim trails, or dozens of other backcountry trails.
Explore Zion National Park's surrounding communities, where you'll find great golfing, mountain biking and other recreational opportunities plus fine shopping, dining and accommodations.
A trip that's already been planned for you
Sometimes planning a trip can feel like more work than fun. Deciding where to go and how to spend your time often requires hours of scouring endless pages of Google search results. To eliminate the headaches standing in the way of you and your ideal vacation, SUNParks has done the work for you.
Check out their website for a full list of suggested itineraries for each national park.
×
More stories you may be interested in