SANDY — Real Salt Lake came out flying Saturday night, eager to put to rest the worst loss in franchise history the week prior with a better performance.
The club poured in a furious frenzy of 25 shots to make it happen.
It didn't happen.
David Milinkovic and Lucas Cavallini each scored a second-half goal, and Fredy Montero notched two assists to lift the Whitecaps to a 2-1 win in front of an announced crowd of 3,409 fans at Rio Tinto Stadium.
Justin Meram scored for Real Salt Lake, a header from Maikel Chang in the 81st minute that briefly tied the match.
But three minutes later, Cavalini pushed the second goal past RSL goalkeeper Andrew Putna to lift Vancouver (5-7-0, 15 points) to its first road win since Feb. 1.
With the road win, the Whitecaps leapfrogged Salt Lake and into fifth place in the Western Conference — leaving RSL (3-4-5, 14 points) just 3 points ahead of last-place San Jose.
The numbers were all in RSL's favor: 492 passes, close to double Vancouver; 63% of possession; 25 shots, including eight shots blocked from close range.
But the Whitecaps converted on two of their three shots on target and walked away with a two-game winning streak — the same length of a skid driving RSL into the penultimate week of September.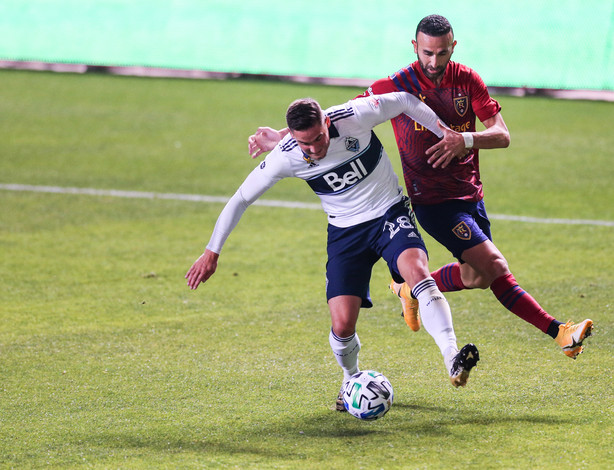 "You guys know the stats; it seems like more times than not we're in great positions to score, and sometimes a bit unlucky," Meram said. "But we've scored multiple goals in games. You're not going to score four goals every game, though — that's just the reality of it."
Also for the second-straight game, RSL couldn't finish with all 11 players. Kyle Beckerman's second yellow card shorthanded Salt Lake while Douglas Martinez was suspended following his own red card against the Rapids.
"Two red cards in the last two games — we're better than that," RSL coach Freddy Juarez said. "We're more mature than that."
RSL out-shot the Whitecaps 13-2 in the first half, but only managed two shots on goal in a scoreless 45 minutes. That likely made it all the more frustrating for the limited home fans when Montero slipped a ball over the top of the defense to Cristian Dajome, who found Milinkovic with a cross for the Vancouver midfielder's first career MLS goal.
"It's a little frustrating, right?" Juarez said. "I thought the first half, we dominated but it was a little too slow. Just not enough aggression happening. They found a little bit of life, which is OK, but then we can't give away any goals cheaply.
"These opponents are playing for a result. If you let them sneak one, they will."
Chang drops a dime & Justin cashes it in! pic.twitter.com/gka1hUEq8c

— Real Salt Lake (@realsaltlake) September 20, 2020
Salt Lake was reduced to 10 men when Beckerman, who earned a yellow card in the eighth minute for unsporting behavior, was carded again for a foul that put his boot near Vancouver goalkeeper Thomas Hasal's head in the 62nd minute.
The foul was reviewed by video replayed and upgraded to a yellow card, sending off the RSL captain for the final 30 minutes and forcing the club to play with 10 players. Head official Kevin Stott initially reviewed the play for a Serious Foul penalty, a red-card offense, according to the Professional Referee Organization that governs MLS officiating.
After not finding the serious foul, however, Beckerman was issued a yellow card for a reckless tackle, his second of the match.
Still, the hosts responded with a goal, equalizing through Meram's header in the 81st minute — only to give one back just moments after the restart.
"I think we responded almost perfectly, honestly," Meram said. "We went man-for-man pretty much everywhere on the field. I think we responded pretty well and got the equalizer."
Next up
Salt Lake continues the regular season Wednesday by hosting the LA Galaxy at Rio Tinto Stadium. Kickoff is scheduled for 7:30 p.m. MT.
×
Related Links