SANDY — Prior to Saturday night in Sandy, Real Salt Lake fans could've been forgiven for wondering if the annual Rocky Mountain Cup series with Colorado was still a rivalry.
The Rapids reminded them that, indeed, it still is.
Diego Rubio scored two goals, and Younes Namli added two assists to help the Colorado Rapids to a 5-0 win over Real Salt Lake, snapping a five-match winning streak in Rocky Mountain Cup on Saturday night at Rio Tinto Stadium.
Sam Vines, Braian Galvan and Cole Bassett each added a goal for the Rapids (3-3-4, 13 points), who posted their first win since March 7.
The loss in front of an announced crowd of 4,484 fans marks Colorado's first win in the rivalry series since Oct. 15, 2017. The Rapids hadn't won at Rio Tinto Stadium since May 2, 2009.
Real Salt Lake (3-3-5, 14 points) suffered its worst loss since 2006, and the worst-ever home loss, edging out the 5-1 defeat to LAFC on March 10, 2018.
"Horrible game plan by me," RSL coach Freddy Juarez said curtly, taking full responsibility for the club's worst defeat in Rocky Mountain Cup history. "I didn't have the guys prepared, and Colorado was pretty good tonight. We started off poor and couldn't recover."
With the win, Colorado took back the Rocky Mountain Cup rivalry trophy. The two teams tied in the two-match, fan-driven series with one win apiece, but the Rapids clinched the Cup by overturning a 4-1 deficit in the opening leg to win, 6-4 on aggregate. Both fanbases agreed that the meeting between the two teams at the MLS is Back Tournament in Florida wouldn't count in the Cup series.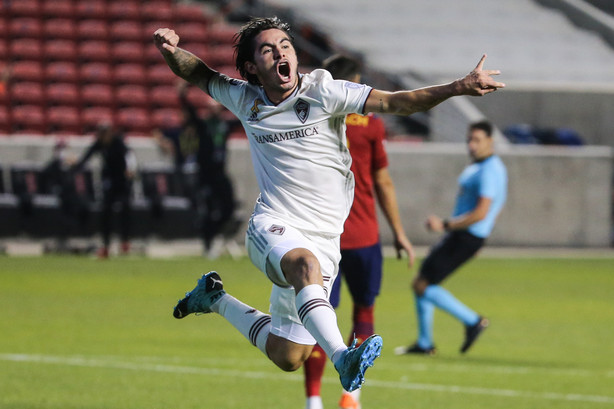 RSL midfielder Damir Kreilach didn't excuse him and his teammates' actions, either.
"It was overall a bad performance, for sure," Kreilach said. "I apologized to the fans because it's not nice to lose 5-0, especially at home.
"From the second minute, it shows how we were ready today. It wasn't the best. Now we have to stay positive, keep our heads up, and focus on the game against Vancouver."
Rubio struck early, finishing off a displaced corner kick with his head in the third minute to give the Rapids a 1-0 advantage. He doubled the advantage just eight minutes later with a 20-yard rip to beat goalkeeper Andrew Putna inside the left post for a brace.
Vines made it 3-0 for Colorado with a 49th-minute finish off Yamli's second assist of the match.
Just over five minutes later, Galvan broke down RSL's defense to make it 4-0, and Bassett finished the score a few minutes before the final whistle, which set off a post-match melee as RSL players took exception to a Colorado player's apparent taunting of the win.
"I'd rather not talk about it," Juarez began to say of the fracas, before adding: "You don't like people taunting. We've never taunted when we've gone and won multiple times in Colorado, and we had a player that was taunting. If you're involved in soccer, the player knows what that means.
"It was a young player … but it's something that shouldn't happen."
Final | Colorado 5-0.

Largest margin of victory for the Rapids in #RockyMountainCup history. #RSLvCOLpic.twitter.com/gM6rvTgRoJ

— Salt City FC (@saltcityfc) September 13, 2020
Things went from bad to worse when Douglas Martinez Jr., who replaced Justin Meram at halftime, was sent off with a red card for violent conduct in the 64th minute. The shorthanded hosts could never recover in their worst loss to Colorado in franchise history.
It wasn't just that RSL lost. The club was simply out-classed.
Colorado out-shot Salt Lake 16-9 and held the hosts to just one shot on goal while pouring in eight of their own. Colorado maintained 56% of possession — a stat in which RSL holds great pride — and bullied them off the ball with 52 duels and seven corner kicks to just two for Salt Lake.
"They were playing well, not winning but with three ties in a row," Juarez said. "They brought a lot of energy and made it tough on us. Maybe guys took it a little light, and they came with everything.
"It was a good team, and I didn't have the guys ready."
Kreilach visibly bristled at the notion that RSL's players didn't respect the Rapids, either.
"We didn't, for sure," he said quickly. "We are not that team that we want to underrate some team and not respect some team. We know that Colorado is a very good team. It doesn't matter that we've beaten them the last couple of games. We knew they had good players and that is what they showed today."
Next up
Real Salt Lake will host Vancouver next Saturday, Sept. 13 in the first of three matches to finish off September and the league's Phase 2 of return-to-play plans from the novel coronavirus pandemic.
Kickoff is scheduled for 7:30 p.m. MT on KMYU and ESPN+.
×
Related Links