TOOELE — Drivers commuting between Tooele and Salt Lake counties will have a little extra space available to them in the event of a driving mishap or car trouble.
The Utah Department of Transportation is opening a new exit-only lane on westbound I-80 between state Route 201 and S.R. 36 in Tooele County beginning Wednesday morning.
This new "auxiliary" lane — completed six months early and on budget — is designed to provide more room for entering or exiting the freeway, with the added benefit of improving traffic flow and reducing delays in the area.
"This project will have a smoother, safer road that's going to be able to accommodate for a wide range of traffic," explained UDOT project manager Oanh Le-Spradlin. "This project highlights what small things you can do that make a huge impact to the overall commute. What we've done here will reduce travel delays during an accident from 60% to 80%."
UDOT said crews were able to finish the $10 million project ahead of schedule because materials became available sooner than previously expected. Originally, the construction plan included a pause during the winter with completion in the spring of 2021. However, the contractor was able to expedite the work and complete the new lane six months sooner than planned, Le-Spradlin said.
"Tooele County is growing fast, and this area is a choke point where a small crash can cause major delays," she said. "Our goal is to provide a smoother, safer trip for drivers, so we wanted to get this lane opened as quickly as possible."
While the 2-mile stretch of road is not very long, it is a main artery for residents who drive to the Salt Lake area to get to their jobs, explained Tooele County Commission Chairman Tom Tripp.''
"To understand Tooele County a little bit, 75% of our citizens commute each day to the Salt Lake Valley for work. So the main population is a commuter population that goes in there," he said. "Anything that happens on this narrow pinch point here grossly affects the commute back and forth from Tooele Valley to Salt Lake Valley."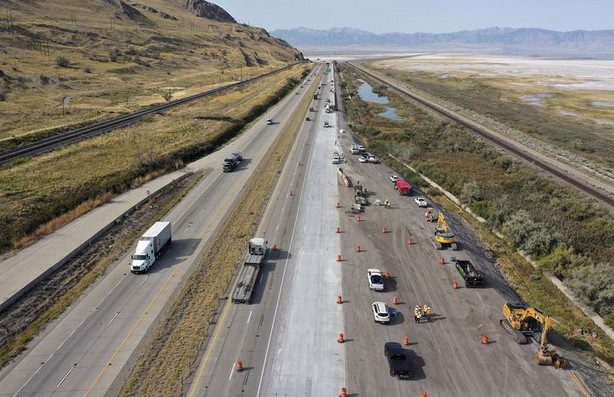 He said the county has been working with UDOT and others for years to develop strategies to minimize the increasing traffic problems between the two counties, which were very evident in the event of a highway crash.
"You had two lanes here. If you have an accident, you've got an hour-and-a-half or two-hour backup, and everyone just sitting there listening to their podcasts because they've got no other choice," Tripp said. "But previous commissions and UDOT planners have looked at a number of options that are now being implemented. Adding a third lane here will reduce the wait when there's a problem by an estimated 80%, so it will be a big improvement for the citizens of Tooele getting back and forth to work."
UDOT traffic engineers calculate the additional lane will reduce delays by up to five times in incidents where a westbound lane is blocked on the interstate between S.R. 201 and S.R. 36, a news release stated.
UDOT said designers and field workers used digital 3D models for the majority of the work rather than traditional paper plans, enhancing precision, saving time and reducing waste. In addition, more than 3,600 cubic yards of old concrete was ground up and repurposed in building the new lane — a further effort to improve efficiency and reduce environmental waste.
UDOT also noted that when construction on the project required the closure of the former viewing area along westbound I-80, the construction team collaborated with the Daughters of the Utah Pioneers and other organizations to move two historical markers to a new site near the Great Saltair.
The I-80 westbound auxiliary lane project was one of UDOT's Top 10 projects for the year and is one of several improvements recently completed or under construction along I-80 in the same area. UDOT continues to work closely with local governments to prioritize and develop projects to meet Tooele County's unique transportation needs, the release stated.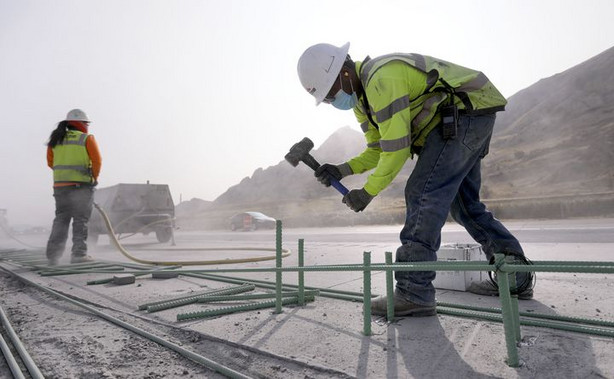 "Tooele County is a high-growth county. We're consistently in the top 50 counties in the nation in growth because of our proximity (to Salt Lake City)," Tripp said. "Real estate is a little cheaper here. It's closer to the airport than Sandy, so this is an attractive place for a lot of people to live and we have doubled our population over the last 10 years."
He noted that UDOT is also in the process of building a new highway (state Road 179) with an exit near this most recent project that is expected to alleviate some of the congestion from state Road 201.
"That's the Midvalley Highway (S.R. 179) exit, or Exit 92," he explained. "That will take a third of the load that goes through Exit 99 and redirect it down the freeway and disperse it a little bit better."
UDOT is currently building a new highway to improve access to I-80 in the Tooele Valley. Crews are working now to build the new road, which will run from S.R. 138 to I-80, connecting to the interstate via a new interchange located about three miles west of the S.R. 36 junction.
Future phases of the highway potentially include additional lanes and an extension farther south near Tooele. Construction on the $70 million project started in fall 2019 and is scheduled to be completed next year.
×
Photos
Related Stories