RIVERTON — For a team that scored 40 points per game in its first four contests, Kearns showed off plenty of defense Friday night.
Charles Henderson and Ke'ondre Polanco each had two interceptions, and the Cougars ate up 11 tackles for loss to coast to a 44-19 win over Riverton in the KSL.com Game of the Week and remain undefeated.
"Kearns is different. We're built differently," said Henderson, who goes by "Scooter," possibly for the wheels he flashed on a 99-yard pick-6. "We want to come out for a championship.
"Defense is always what wins championships, and that's what our mindset was coming into this game."
Tanaki Leha ran for 61 yards and three touchdowns, and caught two passes for 55 yards and another score to pace the Cougars (5-0), and quarterback Iosefa Toiaivao threw for 135 yards and two touchdowns in the win.
"He's our workhorse, and that's why he only plays one side of the ball," Kearns coach Matt Rickards said of Leha. "We just want him to focus on that. He's talented, and when we get him going and get the run game going, he's a tough runner."
And it was a good thing, Rickards could have added.
"Honestly, this was probably our worst defensive game (this season)," Rickards said. "I didn't think we did a very good job of tackling early in the game, and quite honestly, our guys just didn't do their jobs. That's why they had the bigger runs.
"However, our defense made some adjustments and started doing their jobs. I feel like our defense can be really good and I'm proud of our defense. We've got some guys who can play on that side of the ball, for sure. But we've got to get better on defense."
After Henderson ended the Silverwolves' second drive with a pass breakup on fourth down, Polanco picked off a pass while touching his own end zone on the third drive to help spur Kearns to a 27-7 halftime lead on three first-half scores by Leha.
Henderson pulled down his second pick at the goal line and sprinted the length of the field for a score that put the Cougars up 34-7 with 3:37 left in the third quarter.
"I just came in the game with the mindset of trying to win, because last year upset me," Henderson said. "I knew it was coming that way, and I was out there."
Kearns' defense feasted on backup quarterback Colby Barton, a junior who threw for 212 yards and three touchdowns and scrambled for 63 yards in his varsity debut. The Cougars held Riverton to 239 yards of offense, and just seven points before Barton threw for two scores in the final 3½ minutes of the game.
The junior's 29-yard strike to Jaxson Bennett ended the game with a running clock before the extra point could be kicked.
Kearns moves to 5-0, but Henderson added the Cougars are 0-0 with Region 2 play beginning next week.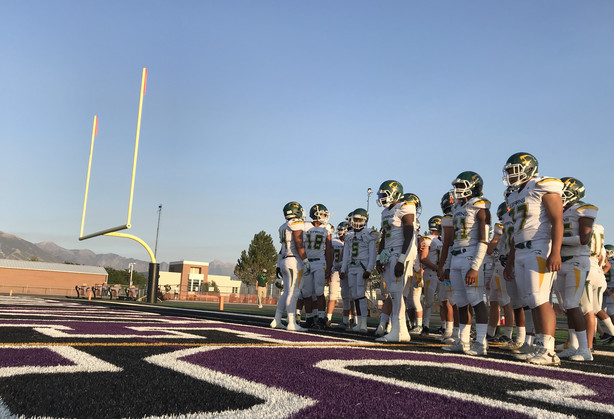 They'll be heavily favored to win that region. But they haven't proven anything yet, he said.
"We've just got to keep working," Henderson said. "It's nothing; we've got to keep working to get to the championship."
No matter the defensive performance, that is music to any coach's ears.
"I want them to enjoy the win tonight," Rickards said. "That's part of my personality, though; it's never good enough. But it was a good win, and Riverton is a very good ball club. I have a lot of respect for coach Morgan.
"But he's right; this is a non-region game … they're going to celebrate tonight, and we're going to wake up and get ready to play for a region championship."
Braden Woodruff ran for 41 yards for Riverton (2-3).
Scoring summary
First quarter
7:00 — KEA: Tanaki Leha 12 run (Glade kick)
2:18 — KEA: Jeffrey Bassa 26 pass from Iosefa Toiaivao (Glade kick)
Second quarter
6:22 — RIV: Garrick Gibbons 9 pass from Colby Barton (Turville kick)
4:05 — KEA: Leha 45 run (Glade kick)
0:49 — KEA: Leha 3 run (kick failed)
Third quarter
3:37 — KEA: Charles Henderson 99 interception return (Glade kick)
0:48 — KEA: Leha 17 pass from Toiaivao (Glade kick)
Fourth quarter
5:57 — KEA: Benyen Glade 20 field goal
3:52 — RIV: Andrew Mangum 18 pass from Barton (Turville kick)
0:00 — RIV: Jaxson Bennett 29 pass from Barton (no kick)
Final score: Kearns 44, Riverton 19
×
Related Links