SALT LAKE CITY — Hurricane-level winds that wracked much of the Wasatch Front, primarily in Northern Utah on Tuesday, also pushed back the latest rankings for Week 5 of the Utah high school football season.
But like the winds' effect on football fields around the state (so far), it can only delay and not cancel.
There was very little movement from last week's Top 20+1, with the top dozen teams all winning. But a few teams fell out of the bottom of the rankings. Who replaced them?
1. Corner Canyon (4-0)
The Chargers keep rolling, at home or on the road, where they conquered Jordan 51-14.
2. American Fork (4-0)
Maddux Madsen threw for nine touchdowns in a 69-49 win over East that kept the Cavemen unbeaten with just one final game Friday against Herriman before Region 4 play begins.
3. Skyridge (4-0)
Speaking of rolling, the Falcons went to Copper Hills and shut out the Grizzlies 42-0.
4. Lone Peak (4-0)
The Knights' defense continued to do Knights defense-like things with a 55-7 win at Farmington.
5. Pleasant Grove (4-0)
The most tested among Region 4's "big five," the Vikings held off Wasatch 36-10 at home in Week 4.
6. Davis (4-0)
Chance Trujillo is still throwing for touchdowns, and teams are still kicking to David Spjut, who had a 72-yard punt return touchdown in the Darts' 49-25 win over Clearfield to open Region 1 play.
7. Orem (3-1)
The Tigers' hangover from a loss to Skyridge didn't last long with a 24-14 palette-cleanser against Alta. Orem is still the team to beat in 5A.
8. Brighton (4-0)
But the Tigers could have a challenger in the Bengals, who topped Bountiful 36-17 last week before opening Region 6 play at Olympus on Friday.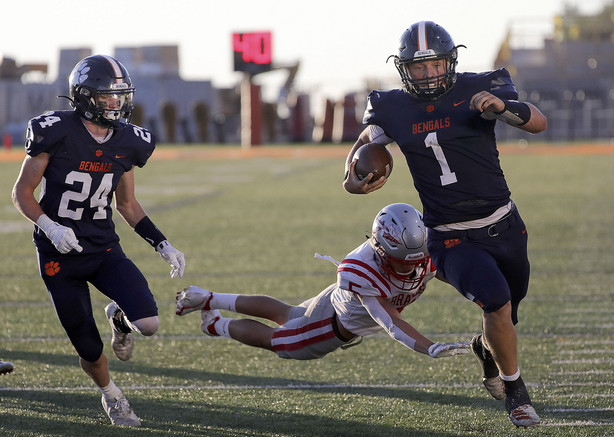 9. Kearns (4-0)
Special teams was just that — special — with three touchdowns in an 84-3 rout at Taylorsville.
10. Sky View (4-0)
The defending 4A champions are still unbeaten after a 54-13 rout of Idaho's Madison. Region 11 play begins Friday at Green Canyon.
11. Bingham (1-2)
Miners picked up their first win of the season Thursday night in TV game against Timpview 31-21. Are the early-season struggles (against a brutal schedule) behind them?
12. Salem Hills (3-0)
Skyhawks had the week off after a 3-0 start.
13. Maple Mountain (3-1)
Thomas Weight had three touchdowns in a 29-15 win at Springville, the Golden Eagles' first win over their rivals since 2012.
14. Roy (4-0)
Royals are still undefeated after a 35-6 win over Layton to move to 2-0 in region play.
15. Skyline (4-0)
Eagles showcased their offense with a nice 69-0 win over Cottonwood.
16. Snow Canyon (4-0)
Warriors are still unbeaten and appear to be the team to beat in Southern Utah following a 49-14 win over Canyon View.
17. Ridgeline (3-0)
Riverhawks closed non-region play by moving up for a 24-7 win over Woods Cross.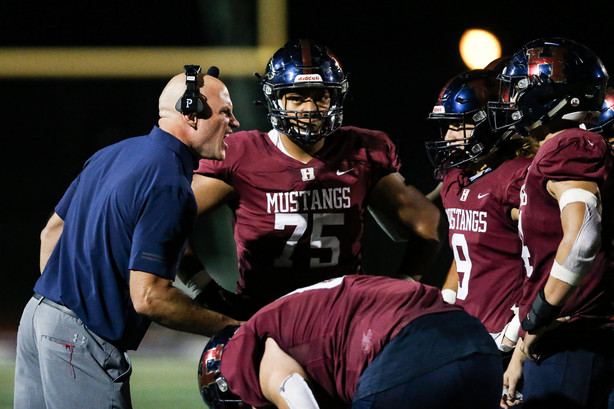 18. Lehi (3-1)
Pioneers are back in the rankings after a 40-14 win at Mountain Ridge, and with a lone loss to No. 2 American Fork in the season opener. The Pleasant Grove matchup will prove if they belong, though.
19. East (1-3)
The Leopards' offense found their rhythm with 49 points against American Fork — in a 20-point loss. East's losses are to teams ranked No. 2, No. 4 and No. 7 in current rankings.
20. Weber (3-0)
The Warriors have allowed just 16 points in three games after a 31-7 win over Syracuse.
Plus-1
Herriman 17, Westlake 15
The Mustangs overcame a sloppy game to hand the Thunder its first loss, and Cody Lazenby's fourth-quarter touchdown sealed the win for a squad that has won back-to-back games by a total of 5 points.
×
Related Links