Estimated read time: 5-6 minutes
This archived news story is available only for your personal, non-commercial use. Information in the story may be outdated or superseded by additional information. Reading or replaying the story in its archived form does not constitute a republication of the story.
SALT LAKE CITY — The Navajo Nation, which was one of the U.S. areas hardest hit by COVID-19, reported zero new coronavirus cases Tuesday for the first time since the COVID-19 pandemic reached the region in March.
The Native American territory includes parts of southeastern Utah, northeastern Arizona, and northwestern New Mexico. It has 13 health care facilities within its borders, and no new cases of COVID-19 were reported from any of those facilities, according to Navajo Nation Health Department officials.
The nation's leaders celebrated the monumental report but also acknowledged it's not the end of dealing with the coronavirus. They say they won't let up pushing measures aimed at slowing the spread of COVID-19.
"This is a milestone for the Navajo Nation but it's going to take the continuing efforts of our Navajo People to continue the reduction in numbers until a viable COVID-19 vaccine is available," said Navajo Nation Council Speaker Seth Damon, in a written statement.
Through Tuesday, the Navajo Nation has reported 9,903 total COVID-19 cases since March. Of those cases, 7,157 people have recovered. The disease has led to 527 deaths, including four new deaths that were reported Tuesday.
Related:
The Navajo Nation became one of the hardest-hit parts of the U.S., especially the western U.S, around April and May. The Associated Press reported that it had some of the highest infection rates of all of the U.S. by mid-May. The growth of cases numbers was attributed to large gatherings, such as church services, across the territory. The AP also noted that many residents live in crowded homes where it was difficult to self-isolate.
As COVID-19 bore down, leaders pushed back with measures aimed to reduce the spread of the coronavirus. The nation issued a face-covering mandate in April; Byron Shorty, a spokesperson for the Office of Navajo Nation Speaker, said most members are wearing face coverings and practicing social distancing many months later.
Shorty also pointed to nightly and weekend curfews put in place that have remained for months now. In fact, even on the website that touts no new cases, there's a reminder of a 32-hour weekend lockdown from 9 p.m. Saturday to 5 a.m. Monday. It's not a complete lockdown. For example, people can still go and get tested for COVID-19 during those curfews.
A massive and ongoing effort to educate people about how the virus spreads was also launched by branches of the Navajo Nation government as well as federal and nongovernment partners. The messages and mandates aimed to hammer home the importance of public health safety, Shorty explained. Those intense efforts have paid off with a massive reduction in COVID-19 cases. Prior to Tuesday's zero, health officials had reported just a handful of new cases.
"I think, over the past few months, certainly, everything has sort of worked together to make sure that the numbers do come down," he told KSL.com.
That's on top of widespread testing.
The Navajo Nation had conducted 97,655 tests, as of Tuesday numbers. It's a significant number considering the nation's population of 170,000. In comparison, Utah reported nearly 700,000 residents had been tested and more than 870,000 total tests, as of Wednesday. That's a little over one-quarter of the state's population tested, with total tests equating to about one-quarter of the population.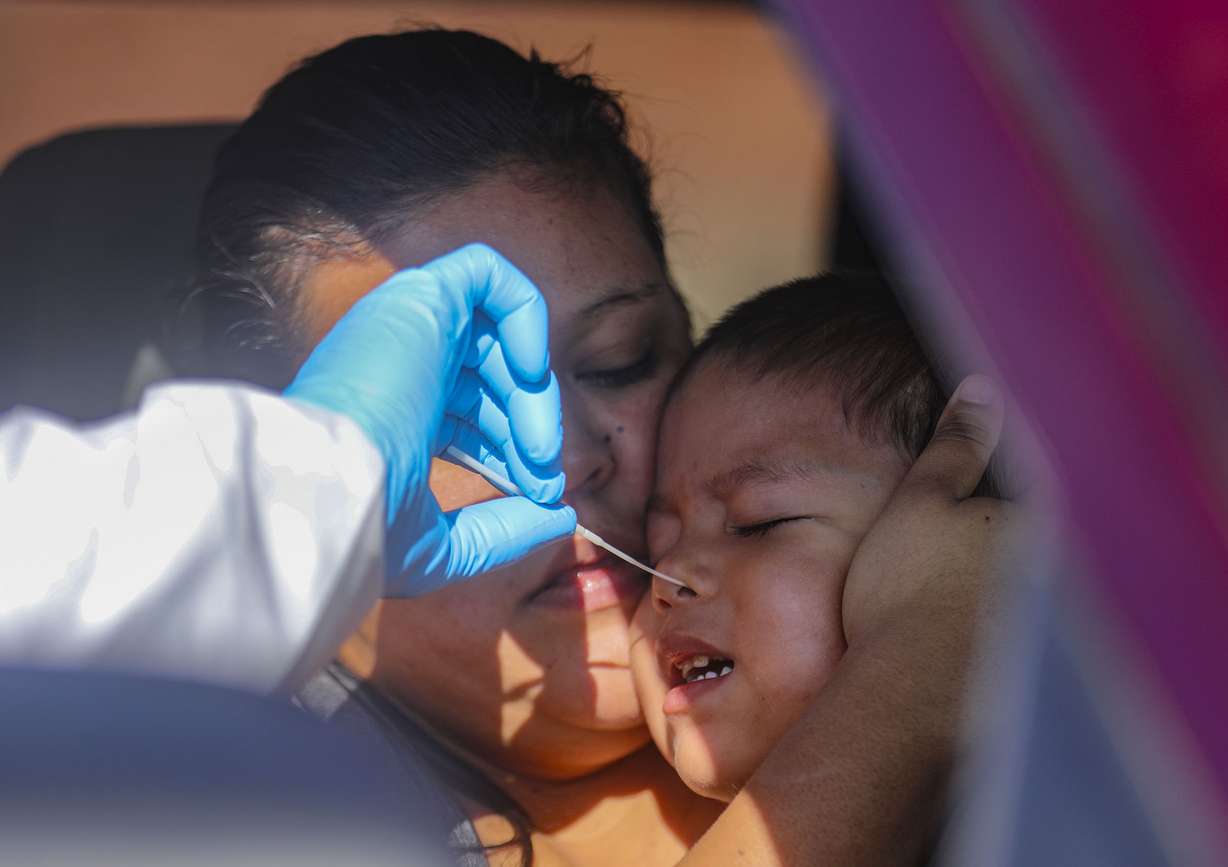 Many testing blitzes were conducted after the outbreak hit the community hard, Shorty said. It helped indicate where the virus was and who might be in contact. Contact tracers also worked to warn individuals within the nation who might be at the highest risk so they could get tested early and potentially lower the number of people they might spread COVID-19 to.
"In terms of per capita, the testing rates on the Navajo Nation are immense," Shorty said. "You have to act on (the testing results). Thankfully, the council has heard through the Navajo Department of Health and our partners that that combined with the increase of contact tracing really does help in identifying cases early on."
While not everyone has had the same methods for dealing with COVID-19, all state, federal and tribal governments have the goal of reaching zero new cases. The Navajo Nation's report of no new cases came as surrounding states continued to report new cases.
Utah reported 326 new cases on Tuesday. Arizona reported 81 new cases on Tuesday — but quickly followed with 496 new cases Wednesday. New Mexico reported 44 new cases on Tuesday.
Even though it reached the coveted milestone marker, Navajo Nation health experts believe they aren't done dealing with COVID-19. They say they anticipate new cases and outbreaks in the near future due to Labor Day holiday gatherings. Given that a vaccine still is months away from being distributed, and there's still a risk for COVID-19 spread, Shorty also said the idea of a second wave is something that's "not very far from anybody's minds."
In a statement, council delegate Amber Kanazbah Crotty said the nation's council will continue to push programs aimed to eliminate the spread of COVID-19. She said it will ensure that money and resources provided by the CARES Act are delivered to the communities within the nation in "a coordinated manner."
These include providing water to homes without it and electric supplies to heat water reliably, according to Shorty.
"There's a lot that's going to happen in the next few months that will continue to remind people that these are provided and that these are put in place so they can maintain the mentality and the standing practice to remain safe. And they need to remain cognizant of the fact there's no vaccine yet and that this is one of the most significant crises in our modern history," he said.
"Certainly, we hope that people don't get too lax — that they keep doing what has caused us to report our first report of zero new cases," he added. "At any rate, the good news always has to be tempered with a focus on the fundamentals."
×
Related Stories