SPRINGVILLE — All Thomas Weight knew was that it had been a long time since Maple Mountain beat rival Springville on the gridiron.
The senior running back didn't know everything about the history of the rivalry series, about how Maple Mountain split off from Springville a dozen years ago, or how nearly every game has been decided by two touchdowns or less — or at least, that's how it feels.
But even if he's new to the rivalry, Weight felt it.
And now, he's a part of it — as a streak-buster.
Weight ran for 104 yards and a touchdown, and added 49 receiving yards and two more scores to help Maple Mountain hold off Springville 29-15 on Friday night for the Golden Eagles' first win over their Region 8 rivals since 2012 in the KSL.com Game of the Week for Week 4 of the high school football season.
"This is huge. We've been wanting this game forever," said Weight, who pushed aside the seven-year losing streak with aplomb.
"This is the team, right here. This is our year. We've been waiting for this for a long time."
Tyler Nelson threw for 264 yards and three touchdowns for Maple Mountain (3-1), and the quarterback scrambled for 74 more yards in a remarkable performance.
Every time he made a big play, he did it wearing the jersey of his close friend Bryson McQuivey. The senior backup quarterback gave Nelson his jersey before Friday's game, the same day he received results from a biopsy that revealed the cancer he has been battling — and at one point beat — has returned.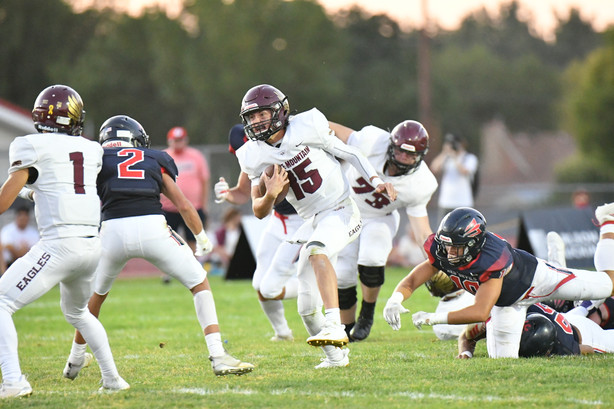 Every time Nelson completed a pass or scrambled for a first down, McQuivey's name was the one that rang out over the public-address speaker. The student section went crazy for it, too, pointing to the senior who made the trip to Springville on crutches and wore Nelson's usual No. 4 jersey on the sideline.
"I can't express what it means — it means the world to us," Maple Mountain coach Brad Burtenshaw said through a throat filled with emotion. "We love Bryson, he's a part of our team, and always will be. The kids play for him. To see Tyler do that with the No. 15 on his jersey means the world to our community."
Just as McQuivey has fought through a cancer diagnosis — and will continue to fight through another one — so, too, did the Golden Eagles fight off their heated rivals.
"We preach to our kids to fight through adversity all the time. There's going to be a penalty, or something bad happening. They're going to get a first down; football is made of so many situations that we have to play through adversity."
After holding on for a 14-7 halftime lead, Nelson gave Maple Mountain a 21-7 advantage with 10:06 left in the third via a 66-yard strike to Aedan Seiuli. The Golden Eagles were up two scores, even with star receiver Kyson Hall held in check; the BYU commit had just two catches for 17 yards.
But like all rivalry games, Springville (1-3) didn't go away.
Kade Dellamas threw for 189 yards, ran for the Red Devils' first touchdown with a 1-yard sneak on the first play of the second quarter, and pitched a 3-yard dart to Will Penrod that pulled Springville within a score, 21-15 with 9:11 remaining in the fourth.
The touchdown capped an eight-play, 65-yard drive bridging the third and fourth quarters to pull the Red Devils back into the game.
"They're a tough team every year," Burtenshaw said. "It's really hard to get anything on those guys."
But it left plenty of time for Maple Mountain, which put the game away with an 80-yard drive in just under three minutes capped by Weight's 5-yard score from Nelson in the corner of the end zone — a play that wasn't supposed to go to him.
"I wasn't too scared," Weight said. "I knew we were going to score again.
"They were supposed to go to the receiver on the other side. It was just a lucky catch right there."
Seth Rigtrup ran for 128 yards for Springville, and also took a slant pass for 54 yards in the loss. Cole Clement added 48 yards on three catches for the Red Devils.
Maple Mountain will host Murray next Friday, Sept. 11, at 7 p.m.
Springville will travel to play at Provo next Friday at 7 p.m.
×
Photos
Related Links