PROVO — After six months of will-it or won't-it, Week 1 of the college football season has arrived.
Several teams — conferences, even — won't be playing, such as the Big Ten, Pac-12 and Mountain West conferences on account of the novel coronavirus pandemic.
But in a week highlighted by postponements (looking at you, Rice and Houston), upsets (take that, South Alabama over Southern Miss) and in-state rivalries (did you see SMU and Texas State?), the nightcap to the first week of the fall 2020 season is finally here.
And what a nightcap it is.
For only the third time in the two programs' respective histories, BYU and Navy will be the highlight of college football when they meet on Labor Day in Annapolis, Maryland (6 p.m. MT, ESPN).
But for the two head coaches, Monday's meeting will be about more than football.
For BYU coach Kalani Sitake and Navy's Ken Niumatalolo, Monday's contests will be a tribute to the game, to brotherhood, to faith and culture.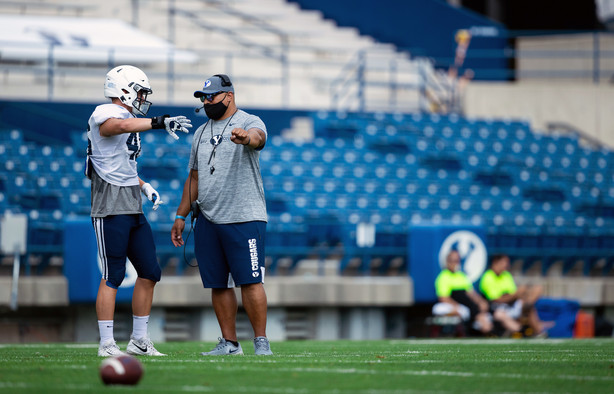 As two of the select few Polynesian coaches in the Football Bowl Subdivision — Sitake became the first Tongan-born head coach in FBS history when he took the BYU job five years ago, and Niumatalolo represents a similar milestone for his Samoan heritage — the two coaches share a lot in common.
They even share a hometown: Laie, Hawaii.
"I just admire Ken as a coach, and more than anything what he does as a person," Sitake said of his Naval Academy opposite. "The contributions that he's made as a church member, but also as a human.
"He's a good example to me as a coach. We're from the same hometown. A lot of what we do as a team feeds off our religion, our hometown, our culture and our heritage … He's been a great example to me, as a coach, as a father, and as a husband."
Niumatalolo echoed the respect, in part because of Sitake and his past connections to the academy (mostly through his time as linebackers coach at Utah) and in part because of the two's shared faith, culture and hometown.
"I have great respect for the institution, and what that school stands for, as a member of The Church of Jesus Christ of Latter-day Saints," Niumatalolo said. "I have great respect for Kalani. He's a good friend of mine, and we've known each other for a lot of years."
That respect may not be illustrated by the usual pregame interaction and postgame handshakes. But make no mistake: that's only because of COVID-19 protocols, not how the coaches feel amongst each other; Niumatalolo's closest childhood friend is BYU recruiting coordinator Jack Damuni, and the two still keep in contact.
"Normally this is the type of game where you go talk to the other staff. But because of COVID-19, we'll stay on our sideline," Niumatalolo added. "We'll wave to each other from the sideline after, and all leave the field. But I have great respect for who they are, the program, the school, Kalani."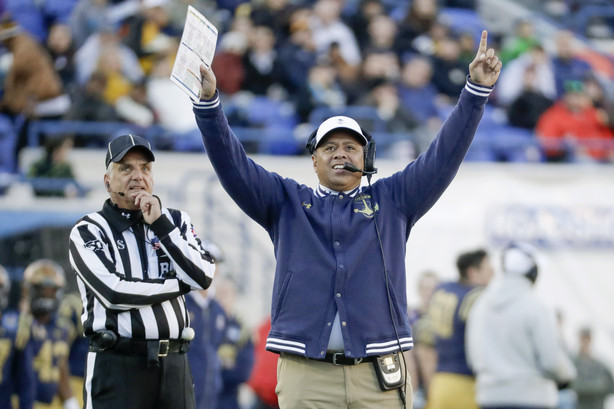 Niumatalolo credits the late legendary BYU coach LaVell Edwards for helping him break into coaching, namely on former UNLV coach John Robinson's staff in Las Vegas. Likewise, BYU defensive coordinator Ilaisa Tuiaki credits Niumatalolo for helping him break into the business, as a young offensive coordinator at Kearns High School volunteering at the All Poly Camp in Utah.
During one of those camp sessions, Niumatalolo was roaming around and he stopped for several moments to compliment Tuiaki and help him run a drill. The two have remained friends ever since.
"That type of kindness sticks to you as a young coach," Tuiaki said, his voice cracking with emotion.
For faith, for culture and for hometown, Monday night's game will be important for the staffs at BYU and the Naval Academy.
But once the ball kicks off, it's about one thing.
"I'm excited to see friends on that side," Niumatalolo said, "but we're still trying to win the game, just the way they are."
How to watch, stream, listen
Kickoff: 6 p.m. MT
TV: ESPN (Rece Davis, Kirk Herbstreit, Allison Williams)
Streaming: WatchESPN
Radio: BYU Radio 89.1 FM, KSL 1160 AM/102.7 FM (Greg Wrubell, Riley Nelson, Mitchell Juergens)
Live stats: KSL.com
About Navy:
The Midshipmen are coming off one of their best seasons in program history after last year's 11-2 campaign, capped by a 20-17 win over Kansas State in the Liberty Bowl. Navy and its lethal triple-option offense boasted the nation's top-ranked rushing attack last year, led by quarterback Malcolm Perry. The American Athletic Conference Offensive Player of the Year was selected by the Miami Dolphins in the seventh round of the 2020 NFL Draft.
Players to watch: Navy
Dalen Morris, QB, Sr.
The 6-foot-1, 206-pound signal-caller is a first-time starter but has plenty of experience in the Mids' system. A native of Huntsville, Alabama, Morris played in just two games prior to Monday, but hopes to become the fifth player in Navy's triple-option era to find success in just one season as starting quarterback.
Mychal Cooper, WR, Jr.
The Mids' top returning receiver played in all 12 games as a sophomore and averaged 21.1 yards per catch for 380 yards and two touchdowns.
CJ Williams, SB, Sr.
The slotback from Cibolo, Texas, ran for 298 yards and three touchdowns and added 210 yards and two scores through the air for the Mids in 2019.
Diego Fagot, LB, Jr.
The 6-foot-3, 240-pound linebacker from Fort Lauderdale, Florida, had 100 tackles, 12 tackles for loss, an interception and three pass breakups for a defense that ranked 16th nationally in total defense in 2019.
×
Photos
Related Links