LEHI — As she approached the door leading into the auditorium at Lehi High School prior to Tuesday's board meeting of the Alpine School District, board member Ada Wilson turned to the dozen teachers rallying near the recently rebuilt school's parking lot and lifted up her face covering to speak.
"I'm going to advocate for you," the fifth-seat board member said to the crowd.
She was the only one of the nine-member board and superintendency who stopped to talk to the crowd.
Exactly one week before the district's Aug. 18 start date, board members met in study session Tuesday afternoon to discuss the "return to learn" plan that includes "daily face-to-face instruction" in the largest school district in Utah, and a few dozen teachers gathered to voice their concerns. The regular board meeting began at 4:30 p.m., followed by a "truth in taxation" hearing at 6 p.m.
The meeting was livestreamed on the Alpine School District Facebook page.
According to the latest numbers, 96% of parents and students in the district have declared their intentions for the fall school year. The district is waiting on "a little over 1,000" of the close to 81,000 students to decide on returning to the classroom or enrolling in an online alternative or home school.
Some teachers and parents say the district administration hasn't adequately addressed their concerns as they push forward a daily school schedule to bring students back to the classroom in the middle of one of the leading counties for COVID-19 infections in the state.
Per state guidelines, if three students in a class test positive for COVID-19, that class will be moved online. If 15 cases are present in one school at a time, the school will shut down all in-person classes, as well.
Utah County has reported 8,887 cases of the novel coronavirus, according to numbers released by the Utah Department of Health on Tuesday, including a total of 418 hospitalizations and 37 of the state's 349 deaths. The number of cases represents close to 20% of the state's 44,752 confirmed cases and 10.6% of the state's 349 deaths.
"Currently, Utah County is leading the state in cases per 100,000; that's alarming," said Steven Phelps, who represented the teachers and parents at Tuesday's rally.
Phelps recently resigned his position as a teacher in the district over concerns around the district's return plans. As a parent of a special-needs child, he has taken a new position in Salt Lake City and says other districts have prepared better to keep teachers, faculty and students safe as they return to a blended model of in-person and online learning.
"The other thing that is alarming is that Alpine and Provo both got the same data set, and they both came away with two very different reopening models," Phelps said.
Provo School District held another board meeting Tuesday night to study its plan, which would bring students back on alternating days in Phase 1 of the district's plan. Students with last names beginning with A through K would attend in the classroom on Monday and Wednesday, while students with last names L through Z will attend on Tuesday and Thursday in the Provo School District.
Friday would be reserved for online and small-group learning, by appointment, according to Provo's most recent plan.
Becky Jones is a mother and a teacher in Alpine. She told KSL TV that 23 of the 26 students set to enter her second-grade class this year have already registered.
That leaves problems for mandates like physical distancing approved by the state board of education.
"If we could reduce that class size, I would feel safer," Jones said.
Both districts, like most in the state, also called for specific measures that included increased sanitization of all schools.
Phelps said that the two districts are relying on different communities to address their return-to-learn plans. But the similarities — namely, that both are making decisions based on Utah County's health data — make the difference in the two plans startling.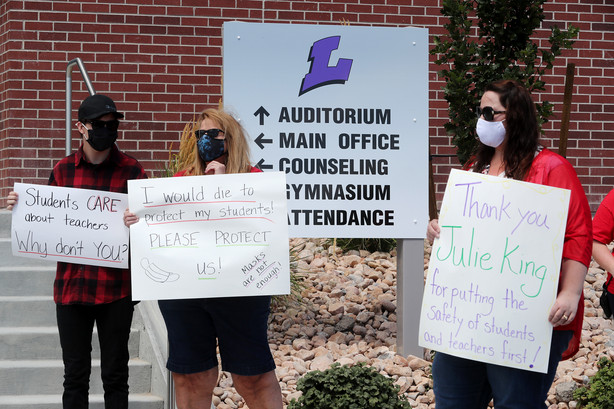 The group that gathered in front of Lehi High School offered five guidelines that they want to see adopted for the 2020-21 school year. Those guidelines include:
Adoption of clear metrics to guide learning modalities
Delay the start of the school year by at least two weeks
Begin the school year with a hybrid model of in-person and online learning
Provide equal educational opportunities to online students, from elementary school students to high school
Provide clear details for students who have disabilities, special needs and individualized education plans
The teachers want another two weeks to help implement the additional protocols for distancing, sanitization and online learning in the face of the pandemic.
"We're asking for clear science-based metrics, equity in their plan, and to help teachers who have been asked to do more than ever before," Phelps said. "But they were never given any additional time to prepare.
"We're asking teachers to do a whole lot more with less time than ever before."
During an hour-plus public comment session before the Alpine board addressed other business, teachers, students and others from the community pleaded with the board to reduce class sizes, push back the start of the school year to give teachers more time to prepare, or shift to an online model to begin the school year amid the novel coronavirus pandemic.
"Things are worse now than they were in March when we closed schools," noted one teacher from Canyon View Junior High. "The spread of this virus is exponential, so opening now when we may have to return to online learning in weeks or months is wasteful.
"It is statistically likely that we will lose students to COVID if we go back under our current plan. Those students' lives matter."
One student, an incoming senior at American Fork High School, told the board to consider the health of students as they make decisions that could dramatically affect their lives, both in the upcoming school year and for years to come. Some teachers have also left early due to the district's reopening plans.
"We don't want to lose any one of our teachers," Alpine spokesperson Kimberly Bird said. "But we understand there is no perfect model."
Dr. Michael Rhodes, who identified himself as a pediatrician in Utah Valley, addressed the board with concerns about physical distancing in classrooms, and the potential spread that could come as students return to the classroom and potentially bring germs back to home, where more at-risk populations like parents and grandparents may reside.
He urged the board to consider examples from Georgia, Mississippi and Israel, where schools reopened and some have had to shift online within a few days or a week as cases rose.
"Smaller class sizes are needed," Rhodes said. "We need a smaller class size … because this is likely to snowball."
Another parent argued in favor of the five-day plan, citing children's emotional needs and support provided by full-time classroom learning.
"They need to be in school," the parent said. "They need to be provided for."
While the board was not scheduled to vote to adjust its calendar or plan, members of the board acknowledged the public comments on several occasions.
"I feel like we gave our parents lots of choices," said Wilson, who sits on the board's fifth chair, "and we only gave our teachers one choice."
In Provo, a half-dozen teachers and friends held signs outside the district office building as school board members met inside. Those demonstrators rallied for a delay of the beginning of the school year as well, to provide teachers more time to prepare to teach concurrent online and in-person classes.
In addition to hearing public comment about the school year and new tax rules, the district also formally approved a motion requiring face coverings for all students, teachers and staff in school buildings, a mandate that comes from the governor's office and also has the approval of the state office of education.
The board approved a new budget for the 2021 fiscal year, including a local tax rate to fund an increase for teacher salaries, with unanimous approval.
"I feel that it is the right course of action," board president Jim Pettersson said. "I feel that it is the course of action that will allow us to strengthen the Provo City School District and the quality of education within the district."
Contributing: Matt Rascon, KSL TV
×
Photos
Related Links