SANDY — Even after a disappointing (and humbling) 5-2 loss to the San Jose Earthquakes, the sun came up on Real Salt Lake on Tuesday morning.
But no matter how you slice it, the club's entry into the MLS is Back Tournament is over. After four matches, an up-and-down group stage, and (not the least being) a global pandemic, the club will return to the Salt Lake Valley with just one win, a scoreless draw and two losses that will have them asking what went wrong with a defense that started off the tournament so strong?
But what is next, not just for head coach Freddy Juarez's club, but the league in which it resides?
Major League Soccer commissioner Don Garber has said that plans are in place to continue some form of a 2020 season after the tournament, despite the pandemic, despite travel restrictions in more than 30 states, and despite no immediate end in sight of a novel coronavirus that shut down the greater sports world for more than three months.
But he's been coy to offer specifics.
So with that in mind, what's next for Real Salt Lake?
"It was a tough loss to give because we didn't imagine we would lose it this way," said RSL midfielder Damir Kreilach, who scored the second of two goals Monday night, "but I agree with what (teammate Douglas Martinez) said: We are going to be working hard to prepare us for the rest of the season."
Specifically, though? That's yet to be determined.
"I don't know what's coming next because we haven't been told yet," Juarez said. "I know we can take a lot from a tough tournament to come into for every single coach, player and staff member. It's not easy and you have to sacrifice a lot. And from our team, we showed a lot of character."
San Jose will move on to the MLS is Back quarterfinals, with the winner of Columbus Crew SC and Minnesota United to join them. Six teams have punched their ticket into the final eight of the bracket after LAFC beat Seattle late Monday night.
The rest of the league, however, is headed home — outside of the bubble that hasn't produced a positive test for COVID-19 in over a week and to an uncertain future.
Compared to the past, RSL could be a different team. That's not a silent dig at a squad rebuilding its defense following last year's retirement of legendary goalkeeper Nick Rimando, but a mention of a team trying to build on a new generation of talent in the post-Rimando, even post-aging Kyle Beckerman era.
From Douglas Martinez and Pablo Ruiz, who both started Monday night, to Jeizon Ramirez, who wasn't on the game-day roster after playing just 13 minutes in the club's 2-0 loss to Sporting Kansas City in the group-stage finale, Juarez pointed to several young players who have started to come of age in Central Florida.
That includes Martinez, who scored his first goal in an RSL kit — at least, the first one that was not called back for offside — that equalized with the Earthquakes all the way up to halftime.
Perhaps even more impressive from Martinez, however, was his post-match comments about that goal.
"This is the beginning of my career," said Martinez in Spanish through a translator. "I try to be better day by day. It's not easy, because it's one thing when you are working hard to be good and it's a different thing to stay good and maintain yourself in that way. I will continue working hard every day to be better and to build trust, and that is something that the team has given me.
"Unfortunately, today we had a negative result, but like I said before, we will keep working hard to turn the situation around."
Martinez signed with RSL late in 2019 after a breakout campaign with second-division affiliate and USL Cup champion Real Monarchs that included 17 goals in the regular-season and USL Cup playoffs. The Honduran international has played in the United States since arriving at New York Red Bulls II from CDS Vida in his homeland, and he's just scratching the surface of his potential in MLS, Juarez said.
"He gets his first goal and it almost seems like he was involved in every opportunity that was going to come up toward goal," Juarez said of Martinez. "I'm very proud of him and I know the players love him to death with how much effort he puts in for the team. I think you heard him before. He has to stay humble and continue to work because he has to become that player with the same work ethic. We just need to polish off the finishing or getting shots off and quick combinations so when he's in dangerous areas he can really punish teams when he's in on goal."
That goes for a lot of young players, like Ramirez, the 19-year-old Venezuela designated player who was featured in just 15 minutes across two matches during MLS is Back. It also includes Ruiz, the Argentine midfielder who returned to RSL after spending most of 2019 with FC Pinzgau Saalfelden in the Austrian third division.
It even includes, in many ways, Albert Rusnak, the 26-year-old Slovakian international who returned from a hip injury to don the captain's armband against the Earthquakes with Beckerman initially starting on the bench.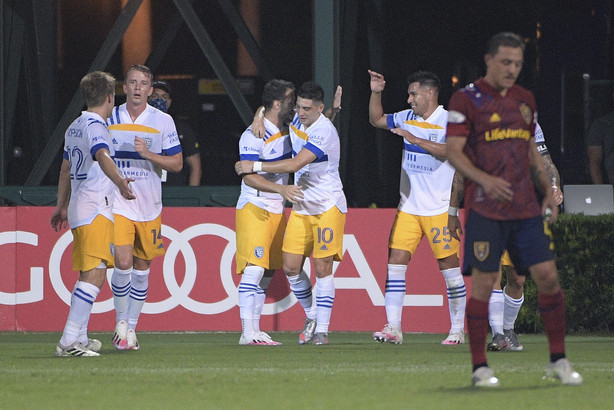 "We cycled some guys in, and I think we used 20-something players in this tournament. We see what works and maybe what doesn't," Juarez said. "When I look back, I see a team that came and played a very good group — probably one of the toughest in this tournament and we got 4 points out of it. Everyone had to scrap for points, and we were one of three teams that made it out. We showed we can compete against anyone and we know we have to continue to get better and creating chances and today I thought we were aggressive, and we really wanted to create those chances running in behind and battling. This builds character.
"When you go forward you have to grow as a team, and you have to take the lows and the highs. And when we take the highs we feel like the best team in the world and when we take a loss like today's — you take away some of those goals and I think we put in our max effort and fight and created chances."
RSL heads into an unknown future, both for 2020 and beyond, for many players. Beckerman, who wants to play "until the wheels fall off" will eventually join Rimando in retirement. And then it will be up to a new core of Salt Lake players, from Rusnak to Martinez to Kreilach or Justen Glad and Marcelo Silva in the back, to carry the team forward.
They got a little taste of what that future looks like just outside of Orlando.
It wasn't always pretty.
But it was necessary.
"We were prepared greatly for this match, we saw our chance to go through and beat them, but unfortunately, we didn't and now we have to leave with that," Kreilach said. "We have to stay positive and of course, it's not nice to concede five goals, but also a couple things didn't go our way. It is what it is. We have to be positive and stay looking forward."
×
Related Links