SALT LAKE CITY — Since the COVID-19 pandemic began, the Utah Department of Health reports that the spread of the coronavirus is mostly happening between known contacts.
That means someone gets infected by a family member, a close friend, neighbor or a co-worker and then, in turn, infects someone they know. As of Wednesday, 64% of Utah's 30,891 cases, or nearly 20,000 in total, are attributed to spread from a known contact. Of those nearly 20,000 cases, about 61% are through household contact.
Compare that to community spread, travel and health care, which combined account for nearly 6,000 of Utah's cases. The rest remain under investigation.
But there's a number rising within the department's data: workplaces.
If you have kept track of COVID-19 data daily, you may have seen a spike in workplace-related cases last week. On July 9, the number of known workplace contact cases jumped from 509 to 1,441. As of Wednesday, known contact with a co-worker accounts for 1,524 cases, or 7.7% of known contact transmission.
This isn't because there were 932 new cases that appeared overnight; it's because it's a number that Utah health officials are slowly getting a better understanding of. Charla Haley, a spokesperson for the state health department, explained that it's due to an adjustment of exposure data.
Contact tracers kept dealing with workplace-associated cases where that individual had also been in contact with someone with COVID-19 in their home, she said. Many of those cases were then listed as "social" or "unspecified." That changed on July 9, where over 900 cases were switched to the workplace category.
"The data set was changed to reflect situations when a case had a workplace exposure, but no health care, travel, or household exposure; they were then listed as a workplace exposure," she wrote in an email to KSL.com.
The cases added to the "workplace" category were subtracted from the "social" or "unspecified" categories among known contacts.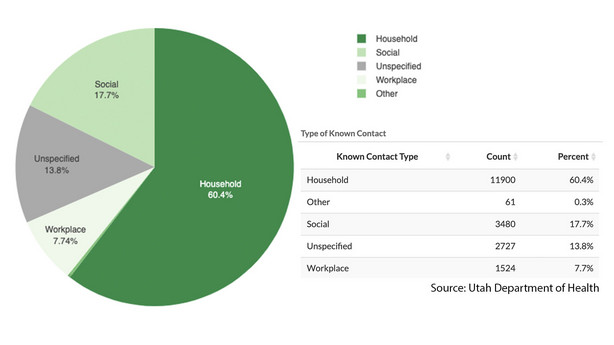 That isn't to say there isn't a growing concern about workplace cases. Utah's surge of COVID-19 cases following Memorial Day is well-known. The number of workplace cases went from 253 on Memorial Day to 509 on July 8, before the adjustment was made. That, alone, is a 101% increase in about 1½ months. If all of the adjusted cases happened after Memorial Day, it's a 502% increase in workplace cases from Memorial Day through Wednesday's data.
Then there are workplace outbreaks, which is another statistic the department keeps track of. An outbreak is defined as "two or more cases associated with a setting outside of the household within 14 days." That means outbreak numbers may include different sources of known contact, such as in-home or social settings.
As of Wednesday, 390 of 457 total outbreaks, or 85%, were associated with workplaces. The 390 outbreaks have resulted in 2,879 cases, 130 hospitalizations and 10 deaths to date.
This is why local health departments and other leaders started sounding the alarm on workplace cases. Working from home may be an option for some, but not for everyone. Brian Hatch, director of the Davis County Health Department told KSL TV on Monday that he tries to use hand sanitizer to wash his hands frequently when he's at work.
"I do all the things that we've been told repeatedly, over and over — don't touch my face, you know. Come in contact with a surface, I'll wash my hands after that," he said.
The Centers for Disease Control and Prevention also has all sorts of guidelines for businesses and workplaces during the COVID-19 pandemic. They include conducting daily health checks and hazard assessments of the workplace, encouraging employees to wear face coverings if possible, implementing social distancing policies, and improving workplace ventilation systems.
Utah's COVID-19 task force also advises employers to wait 24 hours before disinfecting, clean visibly dirty and high-touch surfaces, and disinfect again after an outbreak.
×
Related Stories