Estimated read time: 2-3 minutes
This archived news story is available only for your personal, non-commercial use. Information in the story may be outdated or superseded by additional information. Reading or replaying the story in its archived form does not constitute a republication of the story.
This Friday is the day many people begin their holiday shopping. The retail industry calls it "Black Friday," the day their bottom lines begin to get out of the red and into the black, as it were.
This year, it would be safe to say that shoppers are going to be looking for the best bargains. Many told us that they will indeed cut back on their spending this year.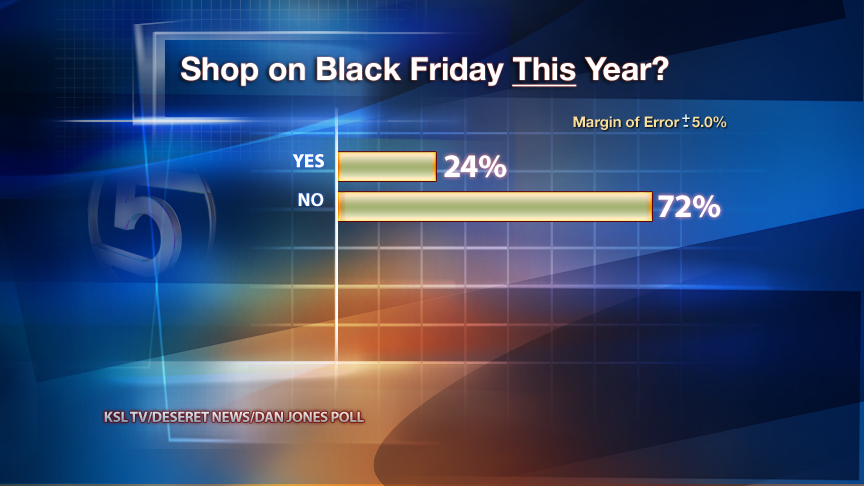 Dan Jones and Associates was in the field this past week, asking Utahns about their shopping plans.
Regarding the "Black Friday" question, 69 percent said that in the past they don't shop that day; 72 percent of those polled said this year they plan to hit the stores on Friday morning.
Stores and shopping malls are starting to get busy; retailers are trying their best to entice shoppers with early sales. It's not unusual to see 50-percent-off sales already!
These pre-Thanksgiving deals may be better than ever this year, all with the goal of getting you out and shopping.
MarketWatch reports consumer spending is down 1 percent ahead of the holidays.
"Consumer confidence is definitely down. We're seeing that across the board," said Jim Olsen, president of the Utah Retail Merchants Association.
He says that just means the stores are getting creative to get you in the door. "The retailers started much earlier than in years past with their holiday promotions. They're doing deeper discounts. They've brought back things like layaway that had pretty much gone away," he explained.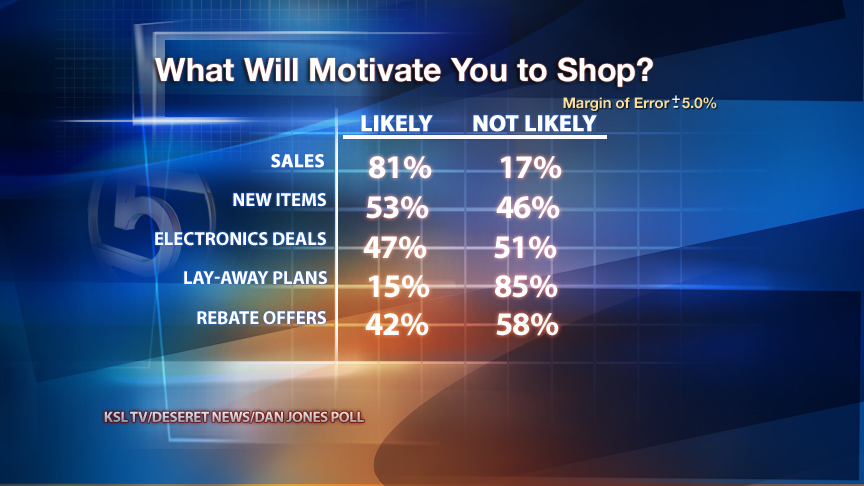 "For those consumers who want some really good deals, this is the time to do it," he said.
He says stores may even extend store hours beyond what's typical for the holidays.
People we spoke with said a good sale will get them into a store to buy, but most will try to keep their spending at a level at or below what they spent last year.
"I think we're going to try to cut back a little bit, not a ton, but yeah, definitely cut back," shopper Samantha Xanthos said.
Shopper Teresa Calkins told us, "I'm kind of hoping that the prices are going to be a lot lower this year since everybody is kinda watching their money with the way the economy is going."
In terms of how much people will spend: 32 percent told Dan Jones that the range between $150 and $500 is where they'll be; 28 percent said they would spend up to $1,000 on gifts this year.
Online sales are expected to go up about 12 percent nationally this year. Some analysts think people will spend $44 billion in November and December.
E-mail: kmccord@ksl.com
E-mail: bbruce@ksl.com
×
Related links
Most recent Utah stories