This story is sponsored by KSL Cars.Your next car is waiting. Search Utah's largest selection of new and used cars.
With all the anxiety surrounding 2020, the recently announced return of the beloved Ford Bronco is here to rescue you from the doldrums of pandemic life and remind you that great things are still happening in the world.
The new Bronco has taken the internet by storm, garnering the attention of off-road enthusiasts and the general public alike. The Bronco (like this one and this one) is held in nostalgic adoration and some consider it one of Ford's most iconic models.
The first generation of Bronco, which Ford originated in 1966, has enjoyed enduring popularity for good reason. First-generation models, featuring a boxy shape, removable doors and hardtop, and considerable offroading capabilities, are still desired by Bronco fans and collectors alike. Some restored models sell for more than $200,000.
With over 50 years of nostalgia and enduring goodwill, Ford had a lot to prove when they announced the return of the Bronco nameplate. Many feared it would go the path of the recently revived Chevrolet Blazer and slip into crossover obscurity. Putting skeptics to rest, Ford has hit a home run with the new Bronco. More than just a retro love letter to the original, the updated Bronco takes the most beloved aspects of the 1966-1977 generation and spins in a flare of modernity, technology, safety and genuine off-road credibility.
Here are five reasons why the new Ford Bronco is awesome — and why you're probably going to want one.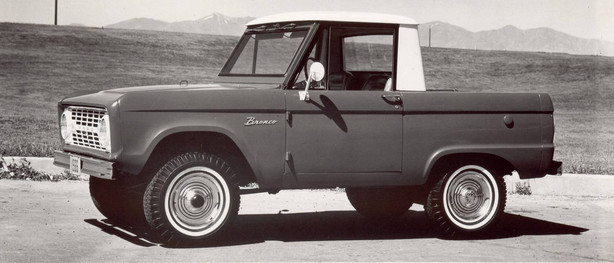 Styling
When it comes to uniquely styled vehicles on the road, the new Ford Bronco boldly breaks away from the largely homogenized designs on the market today. Retro-influenced styling cues like round headlights and a boxy shape make it instantly recognizable as a Bronco. While Ford could have called it a day with these simple styling cues, they went the extra mile in making the Bronco something special.
Available in two and four-door body styles, each offers unique styling touches to suit your preferences and needs. Regardless of body style, the roof and doors (some with unique see-through cutaways), are removable and can be stored behind the rear seats in the larger four-door model.
Its high ground clearance, large tires, small wheels and large fender flares mean there is no mistaking the Bronco as a purpose-built, strikingly unique off-road machine.
Loosely based on the current Ford Ranger platform, the Bronco isn't taking any shortcuts with its efforts to stand independent from the rest of the Ford lineup. The only blue oval Ford logo you'll find will be on the tailgate. Instead, you'll see the classic bucking bronco icon and "Bronco" lettering elsewhere on the vehicle — further signifying that this is no ordinary Ford.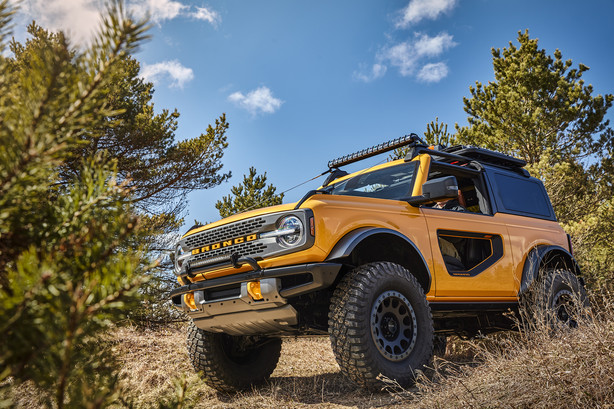 A trim for every budget and need
When the Ford Bronco goes on sale in early 2021 (wait times notwithstanding), there will be six trim levels — each with their own outdoor-themed name — to appeal to every budget and need.
No matter your trim selection, all Bronco models will come standard with four-wheel drive and a two-speed electromechanical transfer case. All trims will also be available with the optional Sasquatch package, which adds 17-inch bead-lock wheels, a more advanced four-wheel-drive system, and high performance, high clearance suspension upgrades with Bilstein shocks.
While base trim levels on some cars might denote a paltry offering of features, the base Bronco is no slouch in its list of standard features. Starting at just over $30,000, the base model offers an 8-inch touch screen, standard four-wheel drive, five G.O.A.T (Goes Over Any Type of Terrain) modes and over 200 additional options and accessories. If you're an offroad enthusiast, this near-bare canvas might be the perfect option.
Moving down the trim line, the Bronco gets more standard features and higher price tags the further you go. The Big Bend, Black Diamond, Outer Banks, Wildtrak, First Edition and Badlands trims all offer significant customization options. In addition to appearance, engine, tire and transmission packages, a loaded First Edition trim tops out at over $60,000 (and all 3,500 Ford plans to produce have been reserved).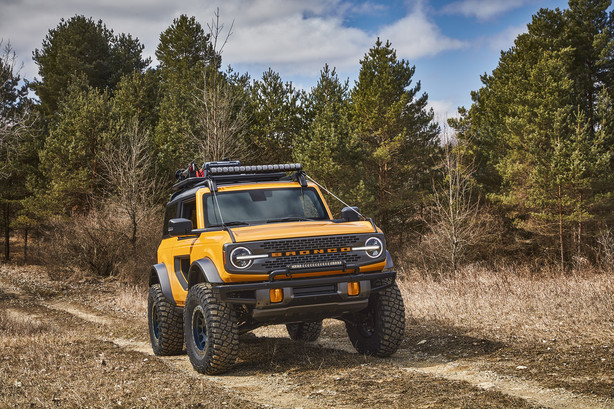 Powerful engines and transmission choices
No matter which trim you choose, you're going to be pleased with the power.
Lower trims will come standard with a 2.3-liter turbocharged EcoBoost 4-cylinder engine, similar to the version found in the current Ford Ranger. Ford expects the engine to make 270 horsepower and will be coupled with a seven-speed manual — a rarity in today's market. A 10-speed automatic transmission will also be available.
Higher trims will have an optional (or standard) larger displacement EcoBoost engine, making 310 horsepower and near 400-pound feet of torque. No manual transmission is available for the higher output engine — instead, the 10-speed automatic will be standard.
While no V8 option is available at this time, it could come in the future (especially after Jeep flaunted their impending 392-horsepower Hemi option for the Wrangler just hours after the Bronco's debut). Ford has also confirmed a hybrid powertrain is in future plans as well.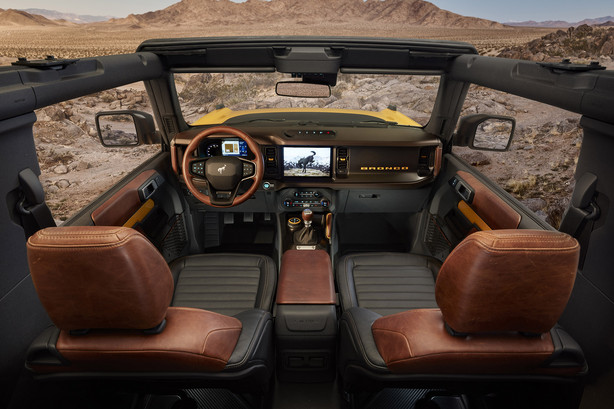 Extreme capability for on and off the road
When it was first announced that the Bronco would be coming back, many feared it would be a watered-down crossover with some nice retro callbacks to the original, but without any intention of being a serious offroad contender. Ford, proving the doubters wrong, has made it clear that the new Bronco is here to play with the big boys.
With high-end Dana front and rear axles, sway bar disconnects, various terrain control modes, hose-washable interiors and a myriad of other customization options, the Bronco is the real deal.
Ford has also ensured that its on-road manners are more than acceptable. With an independent front suspension, several drive modes and tried-and-true rack and pinion steering, this Bronco "just tracks," according to Jamie Groves, Vehicle Engineering Manager for the Bronco.
"It just has great straight-ahead stability and feels like a modern vehicle," said Groves.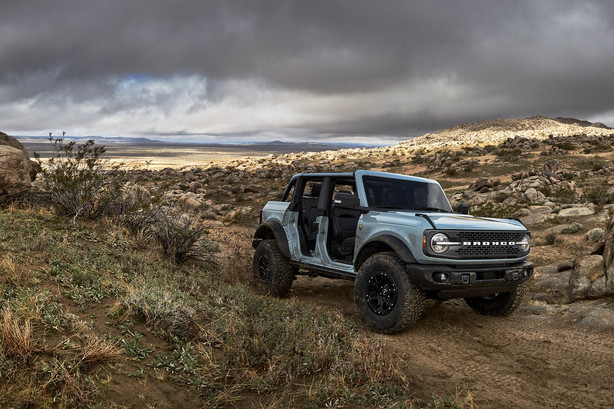 An alternative to a Jeep Wrangler
When it comes to the $30,000–60,000 price segment for rugged offroaders, there has in recent times been one option: the Jeep Wrangler. Legendary in its own right, the Wrangler has endured with timeless styling, versatility and offroad capabilities. The Bronco has come out swinging and is taking direct aim at the Wrangler's sales.
The Bronco will offer more ground clearance, greater suspension travel, more crawl ratios and just as much versatility, with even more options for customization.
Will the new Ford Bronco succeed in its aim and unseat the Wrangler as the new offroad king? Potentially. Until that matchup can be made next spring, the wait ensues. Place your reservation now or browse these local listings on KSL Cars to whet your appetite until dealers begin taking delivery.
Regardless of whether the Bronco is a more capable vehicle than the Wrangler, Ford deserves credit for bringing their A-game in resurrecting a classic and making it a true, modern competitor. While it could have been a forgettable re-entry into a bland segment of crossovers, the new Bronco has been a robust showing of styling and engineering. It's bound to leave an impact in the offroad segment and the public's mind for years to come.
Welcome back, old friend. See you in the spring.
×