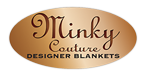 This story is sponsored by Minky Couture.
Man's best friend often points the way to living the simple life. Fido is known for living life to the fullest; he loves unconditionally, plays hard, works hard and sleeps hard. However, not all dogs are created equal. Some enjoy the working life more than others, while some love to sleep their days away.
According to the American Kennel Club, there are hundreds of dog breeds. Do you know which one you are? Take the quiz below to find out, and don't forget to enter your information for a chance to win a Minky Couture blanket!
×