SANDY — Live soccer is coming back to Utah.
And this time, fans are invited.
Real Monarchs, the second-division affiliate of Major League Soccer side Real Salt Lake, will re-open the USL Championship season Saturday, July 11 at Rio Tinto Stadium in Sandy.
The match against U.S. men's national team legend Landon Donovan and San Diego Loyal SC will be played in front of a limited number of fans, too, and televised on ESPN Deportes.
The club says it will be the first professional team sporting event to be played in front of fans since March 11, when the coronavirus pandemic shuttered most major sports for around three months. It cites the last team sport to be played in front of fans as an NBA game between the Denver Nuggets and Dallas Mavericks on March 11.
The plan would allow admittance to a maximum of 5,300 fans in the 20,000-seat Rio Tinto Stadium, with proper social distancing and spacing as recommended by the Salt Lake County Health Department and other local leaders.
The amended crowd size would be roughly equivalent to a capacity crowd at Zions Bank Stadium in Herriman, where the Monarchs play their home games.
"Our staff has worked diligently to develop a comprehensive plan that ensures that we have a safe, healthy and fun environment for our fans while experiencing a great match at Rio Tinto Stadium," Real Salt Lake chief business officer Andy Carroll said in a statement from the club. "The health and safety of our players, fans, staff and community has been the top priority throughout our process in seeking creative solutions to safely open our stadium to fans. With safe distances between seats and other safety measures in place, we are proud and excited to welcome our fans back as the Monarchs return to the field in defense of their USL Championship title.
"We are very grateful to the thoughtful and steady leadership that we have in Salt Lake County and throughout Utah state government in providing this opportunity."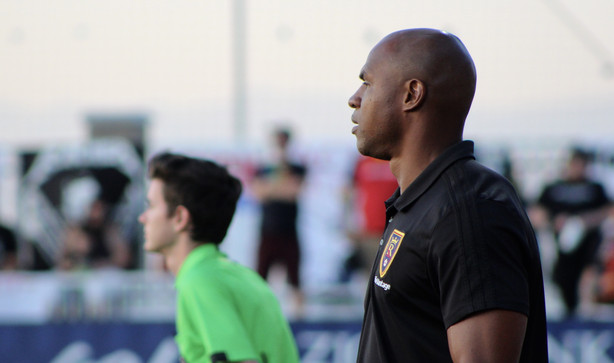 Tickets will be made available first to season-ticket holders of Real Monarchs, Real Salt Lake and Utah Royals FC before going on sale to the general public, the club said.
The decision has the full support of health leaders, some of whom gathered earlier this week at Rio Tinto Stadium as part of the Mask Up Utah initiative, led by Salt Lake County Mayor Jenny Wilson and others, that encouraged Utahns to wear a mask in public, specifically when social distancing is not possible. Another of the biggest proponents of the initiative is former RSL goalkeeper Nick Rimando, who wore a mask saying he did it "for my kids," as a father and current resident of Salt Lake City.
Masks or face coverings designed to limit the spread of particles that transmit the novel coronavirus are currently required at all venues, both public and private, in Salt Lake County. The request from the Salt Lake County Mayor's Office was signed last week by Utah Gov. Gary Herbert, and similar measures have also been enforced in Summit County and — most recently — Grand County.
The National Women's Soccer League was the first professional league to return to play when it opened at Zions Bank Stadium, but those matches are being played without fans and a limited number of club personnel, sponsors and media present in Herriman. The NBA and MLS will return in a similar return-to-play tournament in Orlando in July.
The NWSL will host the semifinals July 22 and championship match July 26 of its Challenge Cup tournament at Rio Tinto Stadium. Plans currently call for those matches to be played behind closed doors.
The Monarchs, who beat Louisville to win the USL Cup title last year, played just one match of the 2020 season under full-time manager Jamison Olave prior to the league's hiatus due to COVID-19 concerns, losing 1-0 at San Antonio FC.
The second-division club will resume regular-season play in one of eight regionalized clubs spread out across the nationwide USL Championship. Real Monarchs will be in a group that also includes El Paso Locomotive FC, the Colorado Springs Switchbacks and New Mexico United.
×
Related Stories