SALT LAKE CITY — Last week, KSL.com asked you what you wanted to know before casting your ballot in the fast-approaching June 30 primary to determine the Republican nominee for the next governor of Utah.
We received hundreds of submissions about dozens of topics — and a big thank you to everyone who participated! — but we ultimately selected five questions to pose to the candidates.
We hope their responses will help undecided primary voters as they mull the choice between Lt. Gov. Spencer Cox, former Utah House Speaker Greg Hughes, former Gov. Jon Huntsman Jr. and businessman Thomas Wright. The winner of the June 30 primary will square off against Democratic nominee Chris Peterson, a University of Utah law professor, in the November general election.
If a vaccine is made for COVID-19, should the vaccine be mandatory for everyone, or should people have the right to choose if they want it or not?
Cox: As with any medical decision, vaccinations should never be mandatory. However, I will strongly encourage Utahns to participate in vaccinations to protect their own health and the health of those that are most vulnerable.
Hughes: Adults have every right to decide. Vaccinations should not be mandatory.
Huntsman: No government body should compel people to be vaccinated, that is a violation of individual liberty. I intend to be a governor who lets people govern themselves. When the COVID-19 vaccine is developed, a step that is essential for our economy to return to normalcy, I will exert every effort to make a vaccine available for every Utahn and use public messaging to explain the benefits of herd immunity that arises from a vaccinated population.
Wright: The proper role of government in a pandemic is to give us information and then allow us the freedom of choices to make our own decisions. That's what we should do with the vaccination: give Utahns the pros and the cons, the ingredient list, and then we allow them to choose. That choice is an important principle and especially important given that vaccine manufacturers are exempt from any liability. That freedom of choice is something I value, I will make that decision for myself and my family.
Utah's tax methodology needs a serious overhaul to better align with current consumer spending habits. What are some specific examples of new tax policies you would like to see implemented?
Cox: I opposed the legislative proposal to increase the tax on food and services, and Sen. Deidre Henderson was one of two Republican senators to vote against it. However, I would like to see the tax on social security income removed. Additionally, Utah's large families were partially harmed by federal tax reform through the elimination of the personal exemption and as governor I would push to fix that.
Hughes: I have a record of cutting taxes when I served in the Legislature. As a key player in the tax reform of 2006/2007 that cut over $400 million dollars in taxes including taking the tax off of food – I know that it led to economic activity and a rise in revenue. I support efforts to find ways to implement reforms so long as they are actually tax cuts and leave more money in the pockets of Utahns. But my main priority related to tax policy is to get this economy open and build it back up. That means focusing (on) economic growth and prosperity statewide.
Huntsman: As a believer in free-market principles, I embrace the concept that we should always look to lower tax rates and broaden the tax base. The government should collect the smallest amount of tax possible to provide essential public services. When serving as governor in 2007, we simplified our tax structure by adopting the nation's first flat income tax at 5% and cut the food tax to 1.75%. Overall, we cut taxes by more than $400 million — the largest tax cut in the state's history. I don't believe it is right to raise the food tax and the people clearly agree. My only regret from our tax reform in 2007 is that we were unable to eliminate the food tax altogether. I will again work to eliminate the food tax entirely. We need to assess our expenditures and our current tax exemptions to determine whether or not they are delivering the value we expect them to deliver. With the dynamic nature of our economy, we should always look for ways to ensure Utah's government has the necessary funding and plan for a rainy day. In a market economy, industries will change, some may become obsolete while new ones will emerge. It would be unwise to have an inflexible tax code, incapable of adapting to changing circumstances. These efforts require gubernatorial leadership. The Legislature doesn't have the bully pulpit to frame the issue and outline the right course to follow.
Wright: The tax policies we introduce and implement should be simple, stable, and fair. Broadening the tax base and lowering the tax rate is the best way to achieve a balanced and steady tax base. But any change that we make to our tax structure should be improved incrementally and with input from taxpayers. Specifically, I'd like to see the tax on unprepared food eliminated completely. However, until I have personally gone over the budget line-by-line to eliminate waste and reallocate our resources to match our priorities, I will not propose new taxes of any kind. I want to keep our local businesses competitive, our families financially stable, and avoid unintended consequences. Utah has a $20 billion state budget, there are enough resources for us to both fund our government and protect Utah's most vulnerable citizens.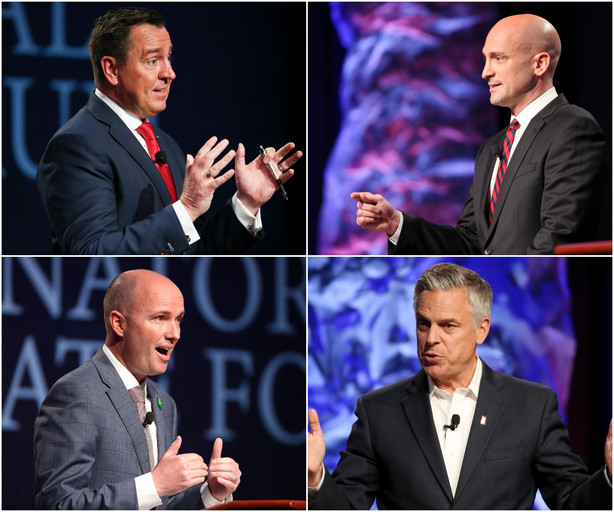 Cox: Yes.
Hughes: Yes. I have a record of voting to pass similar legislation.
Huntsman: I don't believe in addressing hypothetical legislation because the details of a bill matter. That said, I am a strong supporter of the Second Amendment and am committed to working with the Legislature to ensure we protect those rights. I believe Utah's current gun laws are well balanced.
Wright: I will. I'm a firm supporter of the Second Amendment and the right to bear arms.
What are your thoughts on our part-time state Legislature? Is that the right model?
Cox: While no legislative system is perfect, as a former legislator I strongly believe the Utah approach is best. Having a part-time Legislature allows us to have better and more diverse representation from citizens that are closer to their constituents. But more importantly, a short session saves taxpayers' dollars and minimizes the amount of legislation passed. Utah's Legislature should never be full time.
Hughes: By design we have a very short legislative session. Lawmakers get in, pass bills, set a budget and then go back to their normal lives and have to live with the decisions they made. The model works very well.
Huntsman: I believe that the part-time model is correct in that it allows us as a state to save valuable resources and produce meaningful legislation in an efficient manner. Additionally, a part-time Legislature enables legislators to actually go out, have jobs and be a part of our economy instead of serving solely as lawmakers, which gives them industry expertise and a real sense of the challenges faced by everyday Utahns.
Wright: I believe we have the right model. However, one of the things I would like to focus on would be to encourage more collaboration between the Executive Branch and the Legislature. Too often programs and funding goals are at odds, simply because we don't communicate. We have some incredible minds working as legislative staff and executive staff, and we're failing to utilize them because we're not collaborating. We are more efficient when we accept that we're on the same team and work together.
Give me an example of a time when you stood by a position because it was right, even though it was not politically popular.
Cox: Despite being repeatedly attacked by Democrats in the Legislature and progressive media outlets, I remain unapologetically pro-life.
Hughes: In 2015 there was a strong effort to pass Obamacare and Medicaid expansion. It was being pushed by the governor, led by Lt. Gov. Cox, and supported by the Senate. A coalition of special interest groups and media editorial boards joined the effort. The push was strong, and the attacks were harsh. I got accused of everything imaginable. But we held strong to protect our state budget and I stand by that decision today.
Huntsman: The food tax. During my first administration, one of the points of my plan was cutting the sales tax on food. This was not a popular position amongst the legislators and state officials at the time because our state had just seen two consecutive years of budget cuts and the food tax was a significant source of revenue for the state. I wanted to get this done because a food tax on Utahns is not right or the Utah way. It is a regressive policy as everyone has to buy food regardless of their income and this tax forces lower-income households to spend a higher proportion of their money on the same amount of food. I brought the key stakeholders and together we accomplished historic tax reform that cut the food tax to 1.75%.
Wright: While serving on the Utah Board of Regents, I consistently voted against college tuition increases, and in several instances, I was one of only two votes. It's not popular or easy to face large institutions and tell them you disagree, but I did it because I know that the price of college is skyrocketing, our technical schools are going underfunded, and someone has to look out for Utah's students.
×
Related Stories