Estimated read time: 2-3 minutes
This archived news story is available only for your personal, non-commercial use. Information in the story may be outdated or superseded by additional information. Reading or replaying the story in its archived form does not constitute a republication of the story.
SALT LAKE CITY — A dramatic drop in airline travel due to the coronavirus pandemic cut the number of liquor licenses the state could issue for restaurants in the new Salt Lake City International Airport.
But Utah lawmakers intend to remedy that situation in a special session Thursday to ensure the airport has the licenses it needs when the first concourses open Sept. 15.
For years, the Utah Department of Alcoholic Beverage Control has tied liquor licenses at the airport to the number of travelers passing through the terminals — one license per 1.75 million passengers.
"COVID has, of course, just hammered that because ridership has been down so low it really messes with the quota system that was set up to determine how many licenses they would have," said Rep. Tim Hawkes, R-Centerville.
Hawkes' bill, HB5004, eliminates the quota requirement and sets the number of licenses at no more than 13.
The Utah Legislature's Business and Labor Interim Committee endorsed the bill this week.
The airport last year announced 23 eateries, including several brew pubs, that would open in the first phase.
Catherine Brabson, an attorney with Salt Lake City assigned to the airport, said the airport needs eight licenses for phase one this year and five for phase two. Solicitation for dining establishments for phase two go out next spring.
"At some point that number might change, but it probably won't be for several years. It won't be until we get to phase three that we might need to seek more," she said.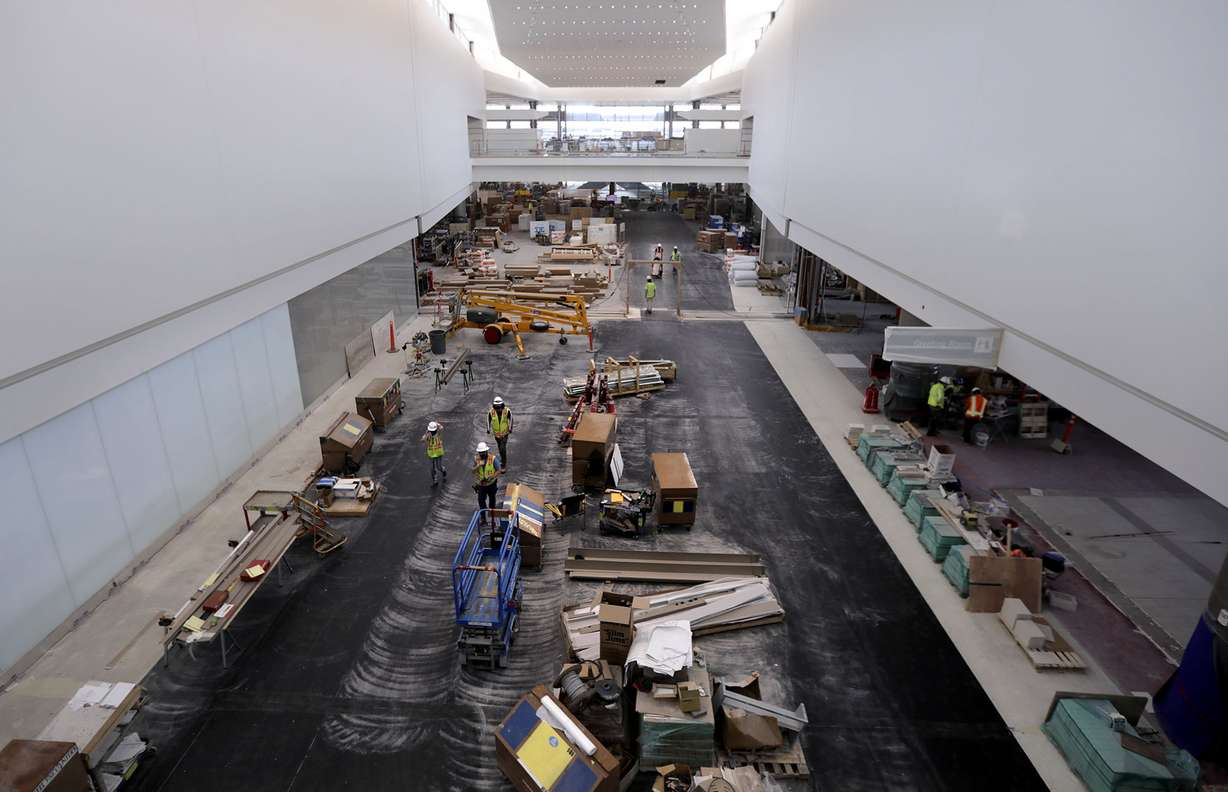 The proposed number of licenses is two fewer than would have been permitted under the quota system based on the 26.8 million passengers at the airport in 2019. But with travel being unpredictable, officials settled on 13 for now.
"We just needed to make sure that we could proceed with our phase two independent of 2020 passenger count because we have no way of predicting what it's going to be," Brabson said.
The legislation also fixes what Hawkes called an "untenable" situation in which restaurants had to drive trucks onto the tarmac and work through airport security on their own to bring in alcohol.
"It just doesn't make sense for a whole variety of reasons," he said.
The proposed law allows a central receiving and distribution center at the airport to obtain a liquor transport license to pick up alcohol from the state or local breweries for screening and delivery to restaurants.
Hawkes said the changes in the law need to be in place before the new airport opens in September.
"I would just like to say hallelujah to that," Sen. Karen Mayne, D-West Valley City, said at the business and labor committee meeting.
Mayne, a member of the airport advisory board, said the changes need to be made so the airport is as accommodating for travelers as possible.
×
Related stories
Most recent Politics stories