Estimated read time: 10-11 minutes
This archived news story is available only for your personal, non-commercial use. Information in the story may be outdated or superseded by additional information. Reading or replaying the story in its archived form does not constitute a republication of the story.
SALT LAKE CITY — A lawsuit filed in 3rd District Court earlier this month against Gov. Gary Herbert, Salt Lake County Mayor Jenny Wilson, Salt Lake City Mayor Erin Mendenhall and many other Utah leaders may just be the start of lawsuits against local leaders over the economic handling of the COVID-19 pandemic.
For instance, a group of businesses announced late last week that they also plan to sue Herbert and other state and local leaders over the restrictions. Similar lawsuits are beginning to appear in other parts of the country as well. It raises the question — do they have a case against the public health orders that state leaders gave to combat the coronavirus?
There are legal arguments that can be made but "really clear" public health precedent seems to indicate it could be difficult to win cases, said Tenielle Brown, a professor of law at the University of Utah's S.J. Quinney College of Law.
"The test for that, the backstop is obviously you can't violate people's constitutional rights without some due process. And you have to make sure that the actions of the government were not so arbitrary or so capricious that they're violating those rights," she explained. "But that gives the state and local governments a lot of discretion to do something that they think is reasonable."
Lawsuits against the state response
The first lawsuit, which was filed on June 4, lists Salt Lake County resident Russell Jensen as a plaintiff. Utah Department of Health leaders, Salt Lake Chamber President and CEO/Utah Economic Response Task Force member Derek Miller, in addition to an unspecified number of unidentified individuals, are also listed as defendants.
Joseph Alamilla, the lead attorney representing Jensen, told KSL.com that the lawsuit was filed in conjunction with a group called the Constitution Defense League.
The suit centers around the state code regarding disasters and its wording. Jensen argues that the code specifically states there has to be an emergency that overwhelms local resources before a state emergency can happen. There was no local state of emergency before Herbert issued the order on March 6, which was a week before Herbert went on to order the "soft closure" of public schools, signaling the beginning of pandemic-related closures across the state.
"The State cannot make a pre-emptive State of Emergency, it must follow the statute, and there must be a local call for assistance based upon the rules regarding the same, in order for the Governor to declare a state of emergency in order to utilize state funding for the local emergency," the lawsuit states.
"Because the underlying conditions for declaring a state of emergency did not exist under the statute, the Governor's actions were illegal and the justification for subsequent executive orders were similarly unsupported by the law," it goes on to say, adding "any rules or regulations that were passed without proper notice are void ab initio and are not enforceable."
Alamilla said the Constitution Defense League is in the process of serving those named in the lawsuit to get a response. They also plan to seek an injunction from a judge to lift the state COVID-19 restrictions during the course of the trial.
The complaint, he added, was drafted to challenge the government's authority in how it made its decision because those filing the lawsuit felt like officials didn't follow the letter of the law.
"We think that the government holds us accountable; for example, if you go 3 mph over the speed limit, the officer catches you and the officer holds you accountable for that. You're taken to court and you get to speak your piece about whether or not you violated the statute," Alamilla. "What we're saying is we think the government acted illegally in the method it executed the statute. So that's what we're arguing. Who is holding the government accountable?"
On Friday, a few Utah businesses announced they were planning to sue Herbert, Wilson, Lt. Gov. Spencer Cox, Summit County Health Department director Richard Bullough and "other officials and unelected health department employees" who were behind rules placed on businesses beginning in mid-March.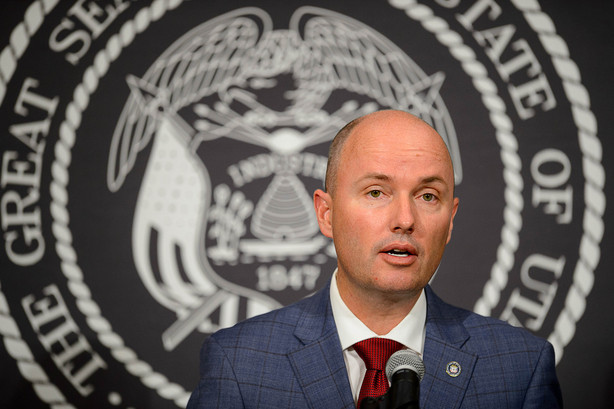 The lawsuit, attorneys said, is expected to be filed later this month. It will assert that state and local leaders made "bad decisions based on bad data" and that large corporations were allowed to do business while small businesses suffered. Officials pointed to the Imperial College model that projected 2.2 million Americans as "entirely false." As of Monday afternoon, Johns Hopkins University reported there have been 116,000 U.S. deaths — 143 of those in Utah, according to the state health department. In all, there have been more than 2.1 million cases in the U.S., including 14,608 in Utah.
Of course, there has been economic fallout from pandemic-related closures too. The state has handled more than 200,000 jobless claims and paid out over $645 million in unemployment benefits since March 15, according to the Utah Department of Workforce Services.
One of the local businesses to be listed as a plaintiff is Epic Party Events, owned by Kerby Barker. In a statement to media outlets, Barker said his business was doing well and had just acquired its competitors before March. In addition, he and his wife welcomed their third child in April. When the state implemented closures, it jolted his business and made money tight.
"When the governor and lieutenant governor shut down the economy, my business went from thriving to $0 in revenues overnight," he said in the statement. "Because of the amount of debt we took on to acquire our competitor, we were not able to get the government bailouts that got many small businesses through the last few months."
Barker went on to say that even after the state's economic committee voted to move most of Utah into the state's "green phase" of its restrictions, state leaders ultimately stuck with the yellow phase for nearly the entire state. That came as cases in the state have risen at the fastest rate since the pandemic began. But that's also made things difficult for businesses, Barker said.
"This has caused catastrophic harm to my business, and I wonder if these government bureaucrats understand the stress and damage they inflict on Utah families who own businesses or work for them," he added.
Looking at precedence during this unprecedented time
The current and pending lawsuits are two of a growing number of lawsuits filed across the U.S. based on how pandemic closures were handled. For example, a group of small business owners in Massachusetts filed a lawsuit against their governor in response to the pandemic, the State House News Service reported on June 1. The New York Post reported that Catholic and Jewish leaders in New York filed lawsuits against state and local leaders there too.
And there could be more. Chris Hicks, an attorney in Mississippi, told the Pine Belt News that he expects that many businesses may file lawsuits in the coming years.
"There are businesses who have been shut down by state and local governments, and they are seeking injunctive relief in the courts," he told the Hattiesburg, Mississippi, outlet. "I expect there will be continued litigation against local, state and maybe even national authorities regarding these various executive orders."
Brown scanned through Jensen's lawsuit and was informed of the projected basis for the Utah business lawsuit. She said the lawsuits and others may struggle to win in court due to rulings from previous public health emergencies.
The most cited-example is the 1905 Supreme Court case known as Jacobson v. Massachusetts regarding vaccination. There, the court found that some of the constitutional rights can be deprived in order to protect public health.
On top of that, Brown said there have been previous examples worse than what has happened in Utah in 2020. That includes governments ordering people to have signs placed in their front yard telling others to avoid that home because they were sick and or even housing people in prisons to quarantine them.
"There is considerable Supreme Court president and appellate and federal precedent saying the state can do much more than what Gov. Herbert did if the threat was serious enough," she said.
How this might end
Brown said she doesn't see a strong case made at the moment, adding that Utah's directive was also not very heavily enforced. States, unlike the federal government, also don't need special grants or statutes for public health law because it's something under its purview, she explained.
Alamilla said he is familiar with the 1905 case and public health cases in the books and thinks the lawsuit filed in 3rd District Court earlier this month is "narrowly tailored" to be different enough to make an argument in court. The case, he said, is looking more at Herbert's ability to issue a state of emergency when he did.
As for which businesses can and can't remain open during the pandemic, states have the right to decide that too, Brown said — as long as it's not arbitrary or capricious. In this case, that would mean the government was within its rights as long as it isn't making its decisions "on a whim" or through a random assortment of closures. They would just have to prove that the decisions were made through "some understanding" of science or COVID-19 at the time a decision was made.
That's what might make COVID-19 lawsuits tricky. Even if COVID-19 turns out to not be as severe as some projected, that alone may not be enough to convince the court that rights were violated.
"The test here is not 'were the governor's directives 100% perfect hindsight' — that's a very high bar. They don't need to reach that. It just needs to be reasonable and not arbitrary or capricious. … With hindsight bias you can say 'let's question whether or not it was an imminent threat,'" she said. "I think given what was happening in New York, Italy and elsewhere, I don't think it means to say that your hands are tied and you can't plan for a pandemic."
Brown's not sure if the current Supreme Court would view the Jacobson v. Massachusetts case the same way the court did more than a century ago.
It's possible one case from COVID-19 could end up in the Supreme Court one day, especially since pandemic law precedents are aging. This pandemic may lead to important questions for how future outbreaks are handled.
"There may be a more modern iteration coming from these cases now because we've had over 100 years of history," Alamilla added.
Those laws, Brown said, may look deeper into the balance between public health restrictions and freedoms. One possible scope could look into how long they remain in place. It's something she believes is more likely to happen if new restrictions or rules are implemented in the future, especially if they differ from the science we know now.
"There's a question of 'for how long should these restrictions go on? How broad can they be?' Those are all questions of degree that are allowed under this kind of analysis," she said. "We could see cases coming up to the Supreme Court if more strict directives are going on and on, and there doesn't seem to be scientific data or best practices reducing the spread of the virus."
If it goes that far, it could be years before the legal aspects of some cases are decided.
×
Related Links