FARMINGTON — Saturday's championship of the Graduation Cup will never take the place of the lost season and state tournament for the Westlake boys soccer team's Class of 2020.
But if the tournament spread out into two divisions could come remotely close to deciding a state champion, Thunder senior Zach Lifferth didn't want to leave a doubt.
Lifferth scored two first-half goals to help the Thunder roll to a 3-1 win over Corner Canyon in the Pomp division title match Saturday morning at the Legacy Events Center.
Even if it doesn't go down in the official Utah High School Activities Association record book, Saturday's win was validating for a senior class that helped turn the Thunder program around.
"It means a lot. Four years ago, Westlake was always a pushover," said Lifferth, who also had a goal in the Thunder's 2-0 win over Murray in Friday's semifinals. "It was an easy dub on the schedule.
"Now everyone is worried about us. They've got to play their best game against us. It's cool that we changed the program that quickly in just a few years."
Westlake survived five straight days of competition, a loaded group schedule, and was determined to fill its trophy case with something — anything, really — to validate its rise.
Organized by Wasatch Soccer Club director Nisa Hancock with a hefty assist from Scott Harwood, whose children attend Davis High, the 28-team tournament brought some of the top teams on the Wasatch Front together for one final — if not hectic — week of soccer. It also helped lead to some nontraditional matchups, eschewing the traditional six-classification setup and instead installing a group stage to determine two divisions: "Pomp" and "Circumstance."
"Pomp" was considered by many to be the top division, and it showed in the reaction of Westlake's club after clinching the title.
"It means everything to us," senior Kamden Beck said. "We put everything into this match and this tournament. To come out on top is an unbelievable feeling." Beck gave the Thunder a 1-0 lead just 11 minutes into the match, and Lifferth doubled the lead less than 10 minutes later.
The senior notched a brace with a 27th-minute rip off the inside of his left boot into the far post, and Westlake took a 3-0 lead into the halftime break.
"That was an awesome moment," Beck said. "It set everything else in motion." Corner Canyon's Mac Olsen pulled one back with a header off Jake Bend's close-range free kick just three minutes into the half. But the Chargers could get no closer.
"Everything was perfect," Beck said. "The moment, the game; everything."
Circumstance division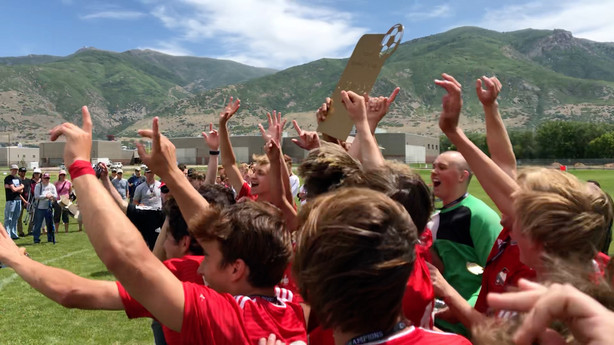 Park City needed less than five minutes after halftime to turn a 1-0 nailbiter into a more comfortable win in the 'Circumstance' division title match.
Isaac Hinojosa opened a second-half scoring burst with the first of two goals just over a minute apart to lead the Miners to a 3-1 win over Morgan.
"It feels great to win a tournament like this, especially for the graduating seniors," said Hinojosa, whose team has seen significant time in the 4A state tournament, including a state championship appearance two years ago. "It's a great tournament, and it was pretty fun.
"I was trying my hardest, and I know the whole team and every team were giving 100%, especially for us."
Connor Campbell scored a 30-yard screamer to open the scoring in the 35th minute, lofting a shot on frame that took advantage of a plume of wind to give the Miners a 1-0 lead at the break.
"I just hit a cross, and the wind kind of took it in," Campbell said. "It's fun to give the seniors a good sendoff.
"This helps a lot, since we're mostly seniors."
Hinojosa finished off a well-placed ball from Jack Skidmore in the 44th minute to double the lead, and Martinez Pena slotted home a goal of his own off the restart for the 3-0 lead.
"We knew we had to put it away," Hinojosa said. "We got those first two goals in the second half, and we knew we put it away.
"That's a great team of hard workers (in Morgan), but we knew if we'd come out stronger, it would be fine."
Morgan senior Sloan Calder scored in the final minute of regulation to prevent the shutout.
×
Related Stories