HERRIMAN — For a full decade since the school opened in 2008 until Saturday's Class 4A state final, the Desert Hills boys soccer program had yet to reach the state championship match.
Walker Heaton and Kelton Holt began playing soccer together about 2008, at age 8, in youth leagues in St. George, club programs, and finally, for the Thunder the past three seasons.
On Saturday, the duo helped put Desert Hills' championship drought to rest.
Heaton scored two goals and an assist, and Holt scored twice to lead the Thunder to their first soccer title in school history with a 4-0 win over Park City in the 4A title match Saturday at Zions Bank Stadium.
"This year has been so different. The way we came together as a team, and we peaked at the right time. It's awesome," Heaton said. "The last couple of years, we had a player or two that was all about themselves. But this year, our second game of region, we lost to Dixie and that did it. We put everything aside and played for each other. That's what did it."
Class 3A championship
There was no better way to end the running of this year's senior class, Desert Hills coach Benji Nelson said.
"Ever since they began playing for me as sophomores, they both started," Nelson said of his star duo. "Both of those guys, there is nobody better."
Holt opened the scoring for Desert Hills (13-2-4) with five minutes remaining in the first half. The senior striker took a well-placed through ball from classmate Heaton, and struck a low shot that rolled underneath Park City goalkeeper Wesley Hoglin en route to the Thunder's 1-0 halftime lead.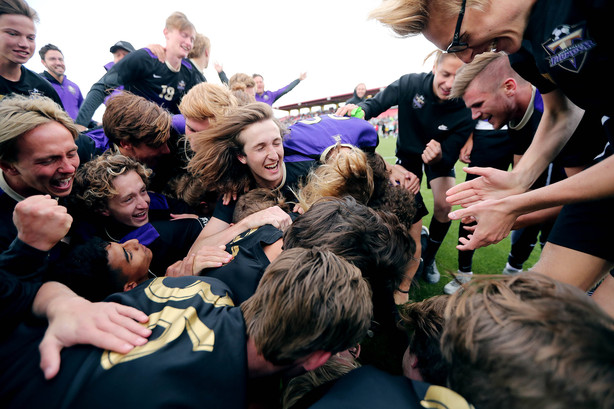 Holt doubled the advantage less than two minutes into the second half with a wonder strike inside the far post that he promptly celebrated with a standing backflip.
"Garrett Cottle played a beautiful ball. I saw it, and just dropped it in," Holt said. "It was a beautiful ball and a great feeling. Every game, the kids say if I score, I need to do a flip. There it was."
Heaton scored a goal of his own, converting a penalty kick four minutes into the half. The senior left the keeper flat-footed with a low shot into the left corner for the 3-0 advantage.
Heaton finished off the scoring in the 63rd minute, deftly dribbling around the edge of the 6-yard box before banging in a ball off the far post for Desert Hills' fourth goal of the match.
"I've had a lot of teams and coached a lot of years," Nelson said. "But this was a different team. The kids were special.
"We kept talking to our guys that if we want to do this, we had to be positive, support each other and be together no matter what. Thunder family; it's right there."
Desert Hills wins its first soccer title in school history with a 4-0 win over Park City in the 4A final. #kslprepspic.twitter.com/86OoXNYX2r

— KSL SportsBeat (@kslsports) May 12, 2018
×
Related Stories